Pros: Nice looking, easy to hit, modest loft and offset, good balance, price, custom fitting options
Cons: Black finish wears off fast; Slightly too much offset for a better player
Let's get this out of the way: my review may be a bit biased, as this is the first set of golf clubs I purchased that I did any research on whatsoever. I played golf sparingly for about 2 years from 2001-2002, and I used a set of $100 R-flex graphite-shaft irons called "Spiders" (gotta believe that was some Taylor Made clone from way back when) that I got in a second hand store. When I picked the game up again in late 2010, it seemed logical to look for better equipment, but I was just starting out so I didn't want to drop $800 on big-name clubs. I started digging around in cyberspace and found Gigagolf. I had been fitted in a store for clubs before, and after putting my specs into their online E-Fit tool, the results came out the same, so I was intrigued. After comparing a few other online retailers, I settled on these clubs for my iron set and, for me, it was the right choice.
Gigagolf allows you to adjust loft/lie/shaft length and grip size at no extra charge for all of their clubs, which I thought was an excellent deal. Some places I've been charge almost as much as these clubs do finished just to make the adjustments you want. I think I finally got them at $195 for a 4i-PW set, though this was over two years ago so I can't recall exactly (they currently have a big sale in place and their prices have changed since 2010, so I'm not sure what the price was then). Gigagolf offers True Temper "Feather Flight" steel shafts in L, A, R, and S flex as their standard option. I believe these are similar to the TT Dynalite series, which are about 20g lighter than the standard Dynamic Gold shafts. Gigagolf offers a DG upgrade for $7.50 per club and a DG with Sensicore for $11.50 per club. Still not a bad deal. The Feather Flight shafts seem to work for me, but again, they were my first rodeo, so I got accustomed to them. Gigagolf advertises them as a premium shaft, and actually offers a discount if you want the most inferior TT product - the Pro T Light - so I've got to believe these are at least adequate for a mid-handicap golfer. Gigagolf also offers a selection of grips from Lamkin, GolfPride, and Winn for an extra fee, but they also have their own brand "Sensatec" for no extra charge. I ordered the now discontinued Winn DSI red-black grips, which were only $3.00 extra each and looked very sharp with the black club heads. 
Following are the specs for the set:
| Head | Loft | Lie | Length | Bounce | Left Hand | Swingweight |
| --- | --- | --- | --- | --- | --- | --- |
| 3 Iron | 20° | 59° | 39" | 3° | N | D1 (+/-1) |
| 4 Iron | 23° | 60° | 38.5" | 4° | N | D1 (+/-1) |
| 5 Iron | 26° | 61° | 38" | 5° | N | D1 (+/-1) |
| 6 Iron | 29° | 61.5° | 37.5" | 6° | N | D1 (+/-1) |
| 7 Iron | 33° | 62° | 37" | 7° | N | D1 (+/-1) |
| 8 Iron | 37° | 63° | 36.5" | 8° | N | D1 (+/-1) |
| 9 Iron | 41° | 64° | 36" | 9° | N | D1 (+/-1) |
| Pitching Wedge | 46° | 65° | 35.5" | 10° | N | D1 (+/-1) |
| Approach Wedge | 50° | 65° | 35.5" | 10° | N | D1 (+/-1) |
| Sand Wedge | 55° | 65° | 35.5" | 12° | N | D1 (+/-1) |
Pretty standard for game-improvement irons today, though many now have the 8-9-PW lofts at 36/40/45. The length and lie are pretty comparable to other major-name brands. I've never played the AW or SW, but I don't see why you'd bother. The standard set doesn't include them and Gigagolf sells forged wedges for about $25-$50 each anyway.
The cavity backs in the clubs are mammoth. You could store an energy bar in your 7-iron. Gigagolf says the overall design was intended to provide significant perimeter weighting and MOI, which I can't prove, but believe from experience. Compared to those with the muscle back irons I now am trying to learn how to play, mishits with these things are much less penalizing and flat-out more infrequent. To a neophyte, the design concept seems to make sense and performs that way. I also really love the feel and high trajectory of the irons. A natural shot has a high, penetrating trajectory.  I find it easier to hit low punch shots by adjusting face angle, ball position, etc. than it is to hit high shots with low-trajectory irons, so this was great for me.  As for workability, I never had trouble shaping shots with these clubs. At first, I simply had no idea how to hit a hook or fade purposely (me rookie, remember?). As I learned, though, I hit some pretty darn nice shots with these. My favorite was a 150 yard 8-iron that I hooked around a huge bush maybe 10 feet in front of me to a spot just short and LEFT of the green. It easily hooked 35 yards. I don't think any $2000 set of clubs could have helped me hit a better shot than that.
These clubs remind me a lot of the Taylor Made Burner 2.0 irons (the black clubhead, for starters), but they are less clunky, have a thinner topline, and less offset. Hence, a hybrid between "player's" clubs and "game-improvement" clubs. Below is a picture of the topline. Not quite a razor-thin Hogan-era iron, but that picture is a bit deceiving due to the angle and glare. They truly are thinner than most big-name game-improvement clubs I've tried.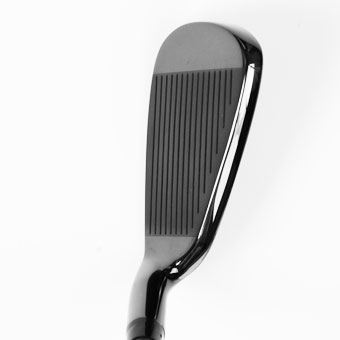 It took me a long time to put these clubs away and pursue some MB player's clubs. I spent the better part of six month demoing Mizunos, Callaways, Titleists, Taylor Mades, etc. and never had any of them feel much better, if any better, than these, whether it was a super-game improvement iron or a tour player's iron spec. Ultimately, because my tendency is to hook the ball, and I figured I would try to play MBs for a year to see if I could do better with them, I found forged MB irons with less offset than these. It was a tough decision, though. I still glance longingly at my old babies in the back of the garage from time to time. If you are a beginner or intermediate golfer and find yourself browsing through Golf Galaxy or Golfsmith looking at $800 sets from all these big names without really knowing why one would be better for you except that a favorite pro plays them and the salesman tells you so, I would, without hesitation, recommend trying these for $200. You even get a 30-day free trial! If after that, you don't like them or your Titleist-snob playing partner laughs at you for using junkyard golf clubs, return them for a full refund, minus the shipping costs. Then go blow $800 or more on name-brands. I'll bet you $600 I can give you a good match play contest with these babies!