More people were following Michelle Wie on Thursday and Friday than any other golfer at the Sony Open. They were more intrigued with the 16-year-old girl who can drive a golf ball upwards of 275 yards than tried-but-true PGA Tour player Jim Furyk, the guy with the funky swing. Both battled the same windy conditions and both golfers live and play in Hawaii but today Furyk headed into the clubhouse in the lead while Michelle headed home.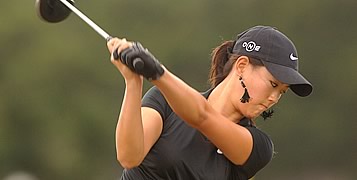 Michelle took issue with the weather and Jim played through it. The struggle took its toll on Wie at the beginning of the first round causing amateurish mistakes which, when Michelle replays the tape, should reveal that she has much more work to do on both the physical and psychological aspects of her game. It looked as if two different Michelle Wies came to play between the first and second days of action. I'm still wondering if the shaky, unsteady youngster who scored horrendously on the first nine holes of play is the same one who scored seven birdies in second-round action.
Will the real Michelle Wie please stand up?!