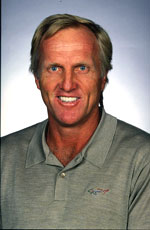 Greg Norman wants to see the the PGA Tour's books. As Tim Rosaforte says in his article, the request is not new. However, this may be the first request from a player with as high a profile as Greg Norman.
Norman is so serious about seeing the books that he's hired high-powered attorney Leonard Decof, last seen representing Ping against the PGA Tour over the issue of square grooves. Though a lawsuit over the PGA Tour's books has not yet been filed, it has certainly been threatened.
Rosaforte says "Norman's view is that as a tour member, he's entitled to see the financials and the minutes of all its meetings." PGA Tour Co-COO Ed Moorhouse told Golf World "We've offered to sit down and answer any specific questions. To this point he has not availed himself of that, but we are ready to sit down and discuss any questions he has."