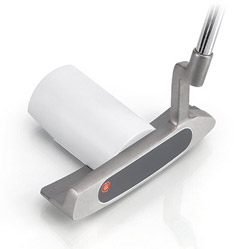 Riding the success of its 3DX hybrid line, Nickent Golf entered the short-game fray last year with the Pipe line of putters. These mallet putters featured a visually distinctive rounded white "pipe" section that served as an alignment aid and as a way to shift weight away from the putter's face.
Let's put it this way: if an Odyssey 2-Ball and a Futura Phantom got drunk and popped out a kid, the Pipe may be it.
Nickent has added two new models to the, uh, Pipe line this year. The Pipe PP004 and PP005 are both blade-style models that feature a modified version of the Pipe design. Is the Pipe hype or is it just your type? Read on to find out.