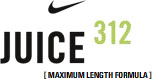 Nike will introduce a new golf ball on November 1. The "Juice" is a 312-dimple surlyn-covered golf ball designed for more carry and distance for the low- to mid-head speed player who "needs a little more Juice."
Nike sent The Sand Trap a unique teaser promotion for the new ball, and though it doesn't quite suit my game (I'm a dyed-in-the-wool Pro V1x kinda guy myself), I've got to give the marketing and sports equipment giant props for thinking outside the box on this one.
We're bored today, as the Ryder Cup is still a few days off, so we'll give this little deal the full treatment. Read on for pictures and more information.