Eidolon, whose V-SOLE wedges have been covered here at Bag Drop, just introduced an entirely new brand (named SCOR) along with that brand's initial product offering in the form of the SCOR4161.
SCOR started over, ditching previous designs and models, and taking a pretty radical approach to the design of these scoring irons and wedges. The question they posed made sense, too – "Why is it that the 9-iron and pitching wedge in your set match the long and mid-irons, and not your wedges?" It's certainly an interesting question to raise, so let's take a look at the SCOR4161 set and what they do to give an answer to that very question.

The SCOR4161 line is a new take on the scoring clubs (short irons and wedges) and intends to erase the line in the sand (or fairway) that separates them. Their patent-pending technology provides players with the ability to create a perfectly tailored set of scoring clubs from 41° up to 61°. The intention of the SCOR4161 is to give players of all skill levels improved shot-making ability through the use of the proprietary technology found in these new clubs.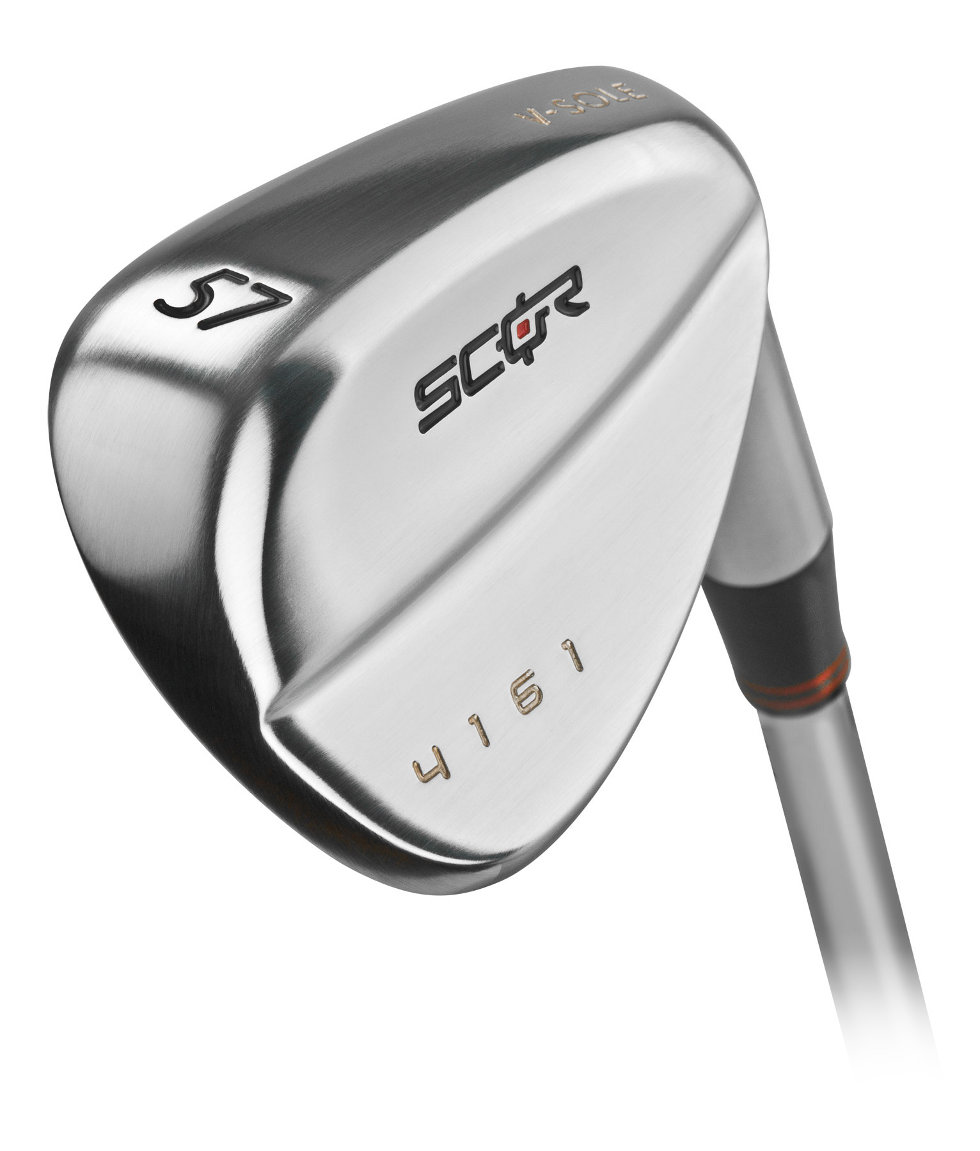 SCOR Golf is a brand focused solely on innovative solutions to help golfers improve their performance with their scoring clubs and we have challenged almost a century of conventional wisdom in iron and wedge design. Short irons that look like middle-irons don't work as well as they should, because the difference between a 6-iron and wedge is the same difference as that between a 5-iron and 3- wood. And it makes no sense for all your wedges to look alike, as the loft difference between a pitching wedge and lob wedge is the same as that between a 4-iron and driver. We all know what happened when hybrids came along – long irons have become extinct. SCOR4161 can do the same to conventional wedges and set-match short irons.

Terry Koehler, President of SCOR Golf
How about we go ahead and get to the details? The SCOR4161 is Tru-Form-Forged (SCOR's forging process that combines the precision of casting with the feel of forging) out of 8620 mild carbon steel. According to SCOR's press release, "each head is super-heated and compressed under 800 tons of forging pressure to re-align the granular structure for unprecedented feel and responsiveness." I'm not going to argue that. Mostly because I'm not sure what granular structure needs re-aligning.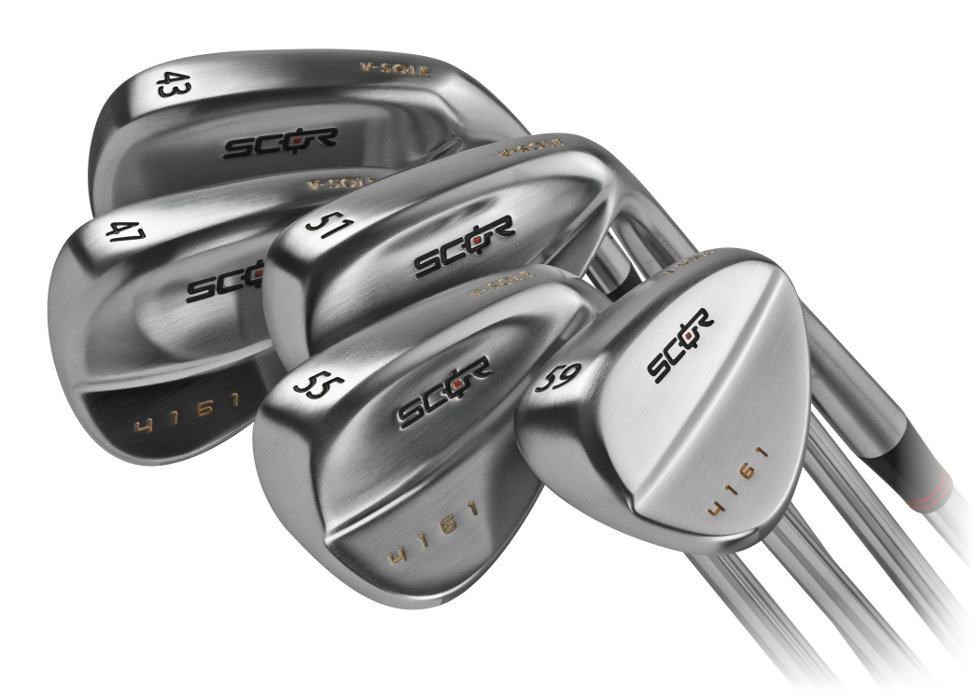 Also found on the SCOR4161 is the patented V-SOLE, which was also found on the Eidolon wedges we linked to earlier on. In short, the leading edge utilizes a high bounce to prevent digging in softer turf. The main section keeps the bounce low to promote great performance in tight lies as well as the fairway.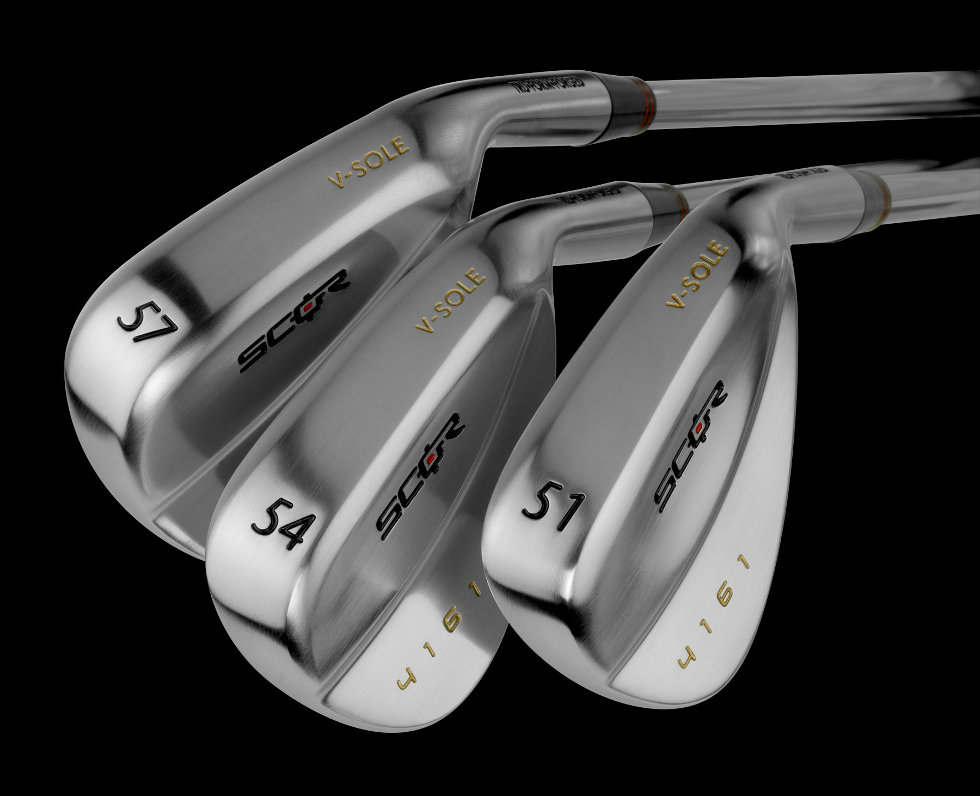 Another interesting feature of the SCOR4161 set is the SGC3 (Short Game Control x 3 – trajectory/distance/spin) which is a design technology that implements weight distribution differently in each club head for a great balance of forgiveness and accuracy, depending on the loft of the iron. Lower lofted irons have a bit of extra perimeter weighting along with a thicker face and higher center of gravity. As the set progresses up through higher lofted models, the center of gravity is situated lower in order to launch the ball high and provide pinpoint control. All models come equipped with new conforming grooves.
We'll get to the available options in a sec, but it's worth noting that each loft isn't just a bent version of the next one in the lineup. Instead, each and every loft, in single degree increments from 41° up to 61° is independently designed and crafted. This allows for a set if a precisely matched and fit set of 5-6 scoring clubs.
At SCOR Golf, we're keenly focused on the scoring clubs, those over 40 degrees of loft. These are very different tools from middle irons. The result of over two years of research and testing manifests in SCOR4161, and it represents the most comprehensive package of scoring technology ever assembled. Every feature of these clubs is there to provide measurable shot making and scoring benefits for golfers of all abilities. For the first time in golf history, golfers can specifically put together just the right set of precision scoring clubs that will deliver improved trajectories and better accuracy while offering optimum forgiveness. In addition, SCOR4161 delivers better spin with the new groove geometry, along with extraordinary feel. We know that golfers will reap the benefits through lower scores.

Terry Koehler
Options and Availability
Just to reiterate, there are 21 precise lofts available, ranging from 41° up to 61°, allowing for a set to be tailored to the individual's game.
The shaft options are pretty intriguing too, as SCOR created, in partnership with KBS and UST Mamiya, a shaft they've named GENIUS. The result is two different weights of graphite shafts along with a single standard weight steel shaft, both of which are available in two or three flex options. The reasoning behind that many options is so that the player will walk out with the best fit possible, and ultimately a club that puts the player closer to the pin.
Topping off whichever shaft you choose is a proprietary SCOR grip. This custom grip was created with assistance from UST Mamiya, and designed to improve short game performance. The upper half of the grip is a harder material interwoven with soft cord, ensuring a secure grasp on the handle. The bottom half is a softer material that accentuates feel and promotes good touch for short greenside shots.
As you've probably gathered, SCOR is big on making sure the scoring irons fit the player as well as possible. That's why every set comes custom fit, and built to order. They want to ensure their product will give the player the best chance of scoring low as possible.
There is an added bonus that should be mentioned – with every set of SCOR4161 comes a copy of the book The SCoR Method. The SCOR4161 scoring irons are available now at scorgolf.com and should be available at select golf retailers closer to the middle of this month. The suggested retail price for the standard set of five clubs is $649. They also give you a low score guarantee – test a SCOR4161 for up to 60 days and if it isn't the best you've ever played, you can send it back for a full refund or a replacement with any competitors make and model.