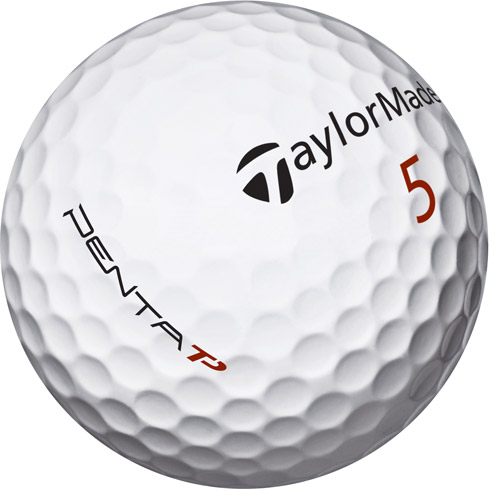 TaylorMade can't be accused of shying away from technology. If anything, the company behind "MWT" and "FCT" and countless other technology acronyms is one of the most technologically adventurous around.
With the Penta TP, TaylorMade has moved the golf ball into new territory: the Gillette razor blade land of "more is better." In shaving equipment, it's the number of blades. In golf equipment, it's the number of layers.
Joking aside, the buzz around the Penta TP has been tremendous since the ball was given to pros late in 2009. Can one ball – albeit one with five layers – really fit everyone? From the guy who is happy to reach the occasional par four in two to the guys who routinely reach par fives in two on our televisions each weekend?
Let's find out.

Design and Technology
As we said in our Bag Drop article on the Penta TP, the Penta TP is one golf ball, not a line of balls with a common name. Premium golf balls have traditionally existed in a two- or three-ball lineup, with each model offering varying amounts of spin, softness, and distance. The Titleist Pro V1/V1x, Callaway Tour i/ix, the various Nike models (they keep getting renamed), the Bridgestone B330/B330s/B330RX. All of these balls come in multiple offerings in order to fit the widest range of golfers.
Rather than offer two or three variations, as even TaylorMade has done with the TP Red and the TP Black, The Penta TP is singular, a "one-for-all" model. How? Essentially, TaylorMade claims that one of the five layers will work for every golfer, for every club in his bag, and on every shot he wants to play.
The ball's five layers are:
Outer Layer – "Cover"
This layer is responsible for most of the ball's spin, particularly with the shorter clubs and shots from inside of 80 or 100 yards. The ball isn't compressed at these swing speeds and with higher-lofted wedges and irons, so the cover primarily interacts with the clubface in these situations. The outer cover of the Penta TP is urethane like every other premium ball on the market, but a softer urethane than most.
Second Layer – "Outer Mantle"
The outer mantle helps the player achieve an optimal spin rate on their short irons by placing the fastest mantle immediately under the cover. TaylorMade claims that an optimal shot with a short iron will check up but won't zoom backwards. TaylorMade also claims that this layer is of great benefit to the player with a slower swing, as it helps him achieve a higher ball speed and greater distance even if he's unable to compress the ball much at all.
Third Layer – "Middle Mantle"
This mantle aids in the prevention of ballooning (which will lead to distance loss) and promotes a mid-launch trajectory and medium spin. These characteristics are a result of the semi-firm and fast material used in this layer.
Fourth Layer – "Inner Mantle"
The Inner Mantle of the Penta is softer than all the outer layers already mentioned, though not as soft as the core, and is one of the contributing factors to the softer feel of this ball with the longer clubs, which will compress the ball to this layer fairly easily regardless of swing speed.
Fifth Layer – "Core"
The innermost layer of the Penta is the core. This layer employs the softest, lowest compression material found in the ball, leading to low spin and a high launch, promoting longer distances off the tee. TaylorMade says that despite the fact that the core is low-compression and soft, it is still very fast, and will promote faster ball speeds to those players that put it out there between 140-180 MPH. They also claim that the Penta TP will be most likely be longer than their current ball.
Progressive Distance
The basic idea behind these five layers is that as the golfer swings faster – due to their use of longer clubs or their increased swing speeds – more layers of the ball will be brought into play. TaylorMade calls this "Progressive Distance." In a graph, it looks like this:
LDP Technology
Prior to introducing five layers to the world, TaylorMade claims to have made good advances in aerodynamics with their "LDP" technology ("Low Drag Performance"). TaylorMade claims that LDP maximizes distance on off-center hits through the use of special aerodynamics. The dimple pattern on the Penta TP was taken from the TP Red and TP Black, and was designed to reduce the effects of wind on the ball.
Distance
Premium golf balls go a long ways these days. Golf balls have gone a long way for years – decades – but the modern premium ball has added short-game feel and control to the distance balls of yester-year. The modern ball lets you have your cake and eat it too.
The earlier premium balls still didn't give you all the distance you could get with a Pinnacle or Top-Flite or even some of the mid-level surlyn balls, which spun less and went farther. The early premium balls spun a lot more… and didn't go as far.
About a decade ago the premium ball closed the gap with the move to a solid core. Steady advances have been made, and the modern premium ball is within a few yards of the modern "distance only and forget the short-game spin and control" balls. The modern premium ball is nearly every bit as long as the surlyn balls that you can find for a buck a ball.
The Penta TP, like its brothers in the $10+/sleeve aisle, is a long golf ball. Though every golfer's specific launch conditions vary, I'm confident that the Penta TP is within a few yards – shorter or longer – than the ball you play now.
Tests with drivers, hybrids, and irons resulted in virtually identical distances when compared to Pro V1x, TP Red and Black, the Burner TP (an "iothane" ball), and a few surlyn models. I swing a driver at between 105 and 110 MPH most days, and I hit the same clubs as I've hit for the past few years. The Penta TP is every bit as long as any other ball I've played.
Trajectory was perfectly well within the middle window I prefer, and the ball came out of the sky gracefully. TaylorMade's LDP technology – its dimple pattern – which supposedly works to maximize distance on mis-hits but which likely has a larger effect on ball flight and wind performance, continued to perform well. The TaylorMade LDP balls are some of the best wind balls I've played, particularly into the wind as the balls will resist ballooning fairly well.
Performance with the irons was similar to my experience with the driver: a mid-height launch and a good landing angle. Even long irons climbed nicely, plateaued, and fell with little roll-out. Short irons launched on a good lower trajectory and reached a late peak height before falling at what I consider my standard distances.
The Penta TP bills itself as the ball for everyone, even for those with slower swing speeds. Within the past few years companies have released "premium" balls for "slower" swingers that sought to maximize distance (often by adding a little backspin so the ball would stay in the air a bit longer). I'm familiar with the games of a few slower swingers, so I gave them some balls and had them hit a bunch of shots to compare. Suffice to say their results mirrored my own. We saw no appreciable change in distance with any of the balls – premium urethane, surlyn distance, or otherwise.
So, distance? As I said, this ball's got it, but that's not really a story these days. Every ball gets out there when you hit them these days.
Feel and Spin
For as long as they've been available, I've played the Titleist Pro V1x (the Pro V1 spun too much for me). I flirted briefly with the TaylorMade TP Red and TP Black following my review of the original models (pre-LDP), but I never settled on one and, frankly, the confusion (particularly after some performance features switched in the LDP models) over which model offered what played a role in staying with the Pro V1x. Of course, there were times when I might want a little more spin than my Pro V1x could generate, particularly with delicate shots around the greens, but if the perfect golf ball is a 100, the Pro V1x rated a solid 95 or 96 for my game.
I always assumed that improving on that 95% might not be possible unless I won several majors and had a major manufacturing R&D department at my beck and call, but the Penta TP has shown me once again how dumb it is to assume. With one model, the Penta TP does away with the confusion and adds significantly to the 95%. It's as near to a perfect ball as I've ever played.
Feel is soft without being mushy with every club in the bag. The putter is where you'll notice this most easily, and with a metal face (I'm not an insert guy), contact offers a muted click that's music to your ears. This muted click carries over to every other club in the bag, from wedge to hybrid, with obvious allowances for the sound of individual clubs to overpower the ball sound.
As for spin, well, I'm starting to wonder if the core layer isn't misnamed. Rather than calling it the "Core," I think TaylorMade should have named it the "Brain" or "The Mind Reader." The Penta TP has the unusual knack of spinning the exact amount I need for virtually every shot I play. It didn't matter what kind of shot I was looking to play, the ball reacted as if we were somehow linked in spirit and mind. I could bore you by reciting as many different short game shots as I'm likely to play over 20+ rounds of golf, but in the end I'd just say that the Penta TP handled them all. If I wanted the ball to spin and check to a stop, it would. If I wanted the ball to release up a tier in the green, it would. From the bunkers, the fairway, the rough – and even a few times from pine straw and bark – the Penta TP did exactly as I expected.
This is perhaps most obvious with the tweener shots. In my game, tweener shots fit between "greenside" shots and full-swing shots, typically 40-80 yards or so. These shots can be tough, as even small differences in contact quality, the lie, and the conditions of the green or your grooves can make a difference. I found that even with these shots the Penta TP reacted well. A 70-yard shot could be made to roll out a few feet or come back a bit. Mighty impressive.
Durability
Perhaps it's because I know what a "smiley" is (and no, I'm not talking about an emoticon), but I've never really felt as though any modern golf ball suffers from poor durability. Sure, some last longer than others – much longer in some cases – but you won't find a ball that becomes unplayable as quickly as the balls in the early and mid-90s.
That said, I'm happy to report that I played a single Penta TP for 47 holes before misjudging a four-club downhill par three and depositing the pellet in the pond. Turns out it was only three clubs downhill…
The outer layer of the Penta TP feels about as firm as any other premium ball, but it holds up better than most. This ball does a good to great job at resisting scuffing, cutting, and shredding, even when it encounters the roughest cart paths and sharpest wedges. I'm not guaranteeing you're going to get 47 holes out of yours, but I think you'll get more play with a Penta TP than at least 70% of the other premium balls out there.
Conclusion
Jokes about how TaylorMade will probably introduce a six-layered ball in two weeks put aside (rumor is it's three weeks, anyway), I continue to be impressed by the Penta TP.
Early on I gave a half-dozen balls to a friend. He's no ordinary golfer – he played on the Nationwide Tour, has worked with some of the game's best instructors, and is quickly becoming one of them himself. I asked him to give me his thoughts.
Each time I heard from him he was more and more enthusiastic. At first he'd say "I like 'em, they seemed to be at least as good as the ball I use now." The next time he told me about some nifty little shots he played with them in the wind or from a tricky greenside lie. The next time it was something else. Finally, when he'd exhausted all of his options and played just about every shot he could think of, he said "I've thrown everything at this ball and I like what it does in every situation. I'm blown away. This is my ball in 2010."
His experience parallels my own. Like him, I'm incredibly picky about my golf balls. Neither of us will switch balls for a small improvement because, in his words, "confidence built up over years playing with one model can more than make up for a small performance gain." Between two virtually identical balls, it may come down to something as small as which has the best cheater line (side stamp alignment marking).
Considering small details like the side stamp is a waste of time with the Penta TP. It's not a better ball by a small margin – it's a better ball by a sizable margin. I don't know what the future holds, so they still don't rate 100% on my scale, but they're awfully darn close.
TaylorMade has a winner on their hands with the Penta TP. Perhaps one size (and five layers) really can fit all? If you're a premium ball player, you owe it to yourself to find out for yourself.