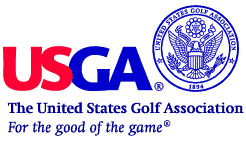 E. Michael Johnson of Golf World has published an article which says that the USGA sent a memo yesterday to manufacturers announcing a proposal to limit the moment of inertia (MOI) in drivers. If adopted, the proposal will go into effect March 1, 2006.
Moment of Inertia has been a hot selling item lately… on putters, but its use in drivers has taken a back-seat to two other existing limitations – head size (460cc) and Coefficient of Restitution (or CoR, capped at 0.830). MOI is a measure of a clubhead's ability to resist twisting on off-center hits. High MOI = more forgiving clubs. In March of this year, the USGA said that MOI had tripled in drivers since 1990 (yes, since the persimmon days). The March notice also mentioned three other areas would be looked at: spin generation, MOI, and the adjustability of woods and irons (see: TaylorMade r7 Quad).

Under the latest proposal, drivers (technically "driving clubs," which may or may not include 3-woods and driving irons) would be limited to an MOI of 4,750 g*cm2 for the MOI around the vertical axis through the clubhead center of gravity, plus a tolerance of 50.
The reason for this change? The USGA believes that the clubhead size limitation will not effectively limit increases in MOI, as lighter titaniums become available and more clubmakers shift weight low and away from the clubface to increase MOI. Thus, a separate MOI limit is needed. "We had thought maybe clubs had reached a natural limit on MOI with the head size of 460cc, but with further research and analysis we came to a different conclusion," said USGA senior technical director Dick Rugge.
Golf World goes on to report that most large-headed drivers in the market today are currently in the 4,000 to 4,300 MOI range. Part of the document sent to manufacturers explains the USGA's decision to investigate the MOI limit, saying that "further increases in MOI could reduce the challenge of the game by reducing the skill required to hit the ball straight. In addition, that could also result in an increase in average driving distance by reducing the likelihood that swinging faster will produce a poor result."
Naturally, some clubmakers are pissed. John A. Solheim, chairman and CEO of Ping, says:
They are eliminating the things we can do and I'm worried about the long-term effect on the game and the industry. It scares me. It could have a huge effect on the health of the game. Our kids are not going to be able to get significantly better clubs a few years from now. It's going to get to the point where golf clubs are merely a commodity and it won't matter where they come from or who makes them. The tradition of the game has always included innovation.
Matt Ipsan (whose initials are also "MOI") has more on this story. Hey, Matt, at least they're not going after your balls!