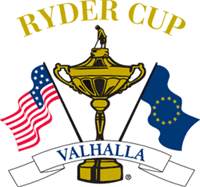 The 37th Ryder Cup has come down to the final day - something you couldn't say the previous two years. Of course, the last time the U.S. took a 9-7 lead into the final-day singles matches, they lost - in 1995 at Oak Hill in Rochester, NY.
Like 1995, the U.S. team is playing without Tiger, but the comparisons will likely stop there. This Ryder Cup, unlike others in recent years, has seen a sort of role reversal. Sergio Garcia and Lee Westwood have records of 0-1-2 and sat out a match for the first time in over a decade. Rookies on the U.S. squad have stepped up, like Boo Weekley and Hunter Mahan. In short, the U.S. team has been making the clutch shots and holing the key putts, while such instances for the Europeans have been much fewer and farther between.
It's all shaping up to be an exciting final day at the 37th Ryder Cup. Click through to read along.