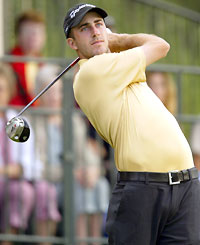 7:27 - Johnny Miller: "I've never seen such a finish in championship golf."
7:11 - Phil plays the last two holes at the U.S. Open +3 to lose to 29-year-old Geoff Ogilvy.
7:07 - Phil runs his ball into the thick greenside rough from the bunker. I think I've seen a lot of miracles in my day, but holing out here may just top them all. It would top Tiger's 16th-hole chip-in at the 2005 Masters. Barring this miracle, Geoff Ogilvy is the 2006 U.S. Open Champion.
7:05 - Johnny Miller: "Man, he [Phil] got a couple bad breaks on the lies, didn't he?" Uhhmmm, no??? Only the two bunker shots in the last two holes.
7:03 - Phil hits his third shot into the greenside bunker. Par is virtually out of the question now. He has to get up and down to get into a playoff or Geoff Ogilvy will win the 2006 U.S. open. Johnny Miller again: "just crazy shot selection."