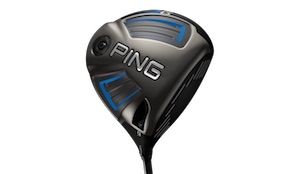 It is often said that nature often inspires the best designs. It is evolution that often provides the simplest and most beautiful solution to many problems. So when PING engineers sat down to improve upon one of the best drivers on the market, the G30, they looked to nature. The engineers who worked on PING G driver looked to nature to inspire and improve their design; in fact, they looked to the wings of a dragonfly.
One of the key features of the extremely popular G30 was the turbulators that were added to the top of the clubhead. The features the PING engineers gleamed from the dragonfly were geared to further improve the airflow of the clubhead. More speed to help you hit it farther. The idea being that larger clubheads particularly ones that are 460cc do not need to trade off aerodynamics. So PING set out to make a driver that has the aerodynamic features of a 3 wood, but the forgiveness and power given from a driver.
For this review I was give a 9° PING G driver with an stiff Alta shaft. Let's dive in to see if this merger of nature and technology helped me hit it any farther.