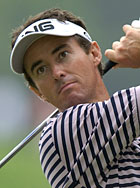 Mark Hensby isn't one to keep his mouth shut. First he ran his mouth about Michelle Wie, saying "I don't think a 15-year-old girl who's done nothing at all should get a sponsor's invitation to a PGA Tour event." A lot of articles start the same way this one does, "Australian golfer Mark Hensby has slammed (fill in the blank)."
This week, the tiny Australian's target is none other than the gigantic Greg Norman. Norman's fault, which Hensby can't resist pointing out? The Great White Shark, recently voted Australia's golfer of the century, apparently doesn't do enough to support Australian golf.

Said Hensby, "I can't see why Greg Norman is not doing anything. To me, he should be doing a little bit more to make sure it [the Australasian PGA Tour] doesn't go downhill." Three of the six Australasian Tour events are co-sponsored by either the European Tour (Johnnie Walker Classic) or the Nationwide Tour (Jacob's Creek Open, New Zealand PGA Championship).
Hensby describes Norman as "a very powerful man" who he feels should use his experience to help young Australian golfers.
Aussies Robert Allenby and Stuart Appleby were quick to defend Norman. Allenby went so far as to call Hensby's comments "pretty sad" and to say Greg is Australian golf. He doesn't owe the tour anything." Allenby then pointed out that Norman sponsored the Greg Norman Holden Classic for years. "I didn't see the Mark Hensby Holden Classic," he said.
Stuart Appleby also supported Norman, saying "Greg has done a huge amount for Australian golf. I don't think he can make a huge difference now."
Adam Scott is widely known as a Greg Norman supporter as well, and credits Norman with much of his own success on the PGA Tour. Many will recall that last year both Adam Scott and Greg Norman took flak from Bruce Devlin for missing the 100th Australian Open.
Here's a tip for Mark Hensby: put up or shut up.