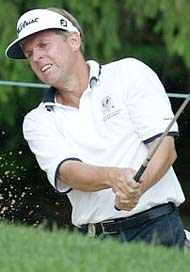 Wayne Levi, 52, carded a second straight round of 68 (-4) to win the Constellation Energy Classic. Levi led wire to wire to beat Hale Irwin by two strokes, finishing at -16 (200).
Irwin lead a charge, shooting an 8-under 64, and Rodger Davis took third place at -13. Fan favorite Jim Thorpe and the plodding Graham Marsh finished another stroke back at 204.
This is Levi's second Champions Tour title, having previously won the 3M in August, 2003.
Levi Strauss and Company was unavailable for comment.