It's political season, and if you thought you could get away from it even in the golf world, think again. There's a long history, stemming back to the early days of golf in this country, of U.S. Presidents spending their down time on the links.
As the business community has shown us, the golf course is a great way to schmooze clients and get business done on the go, and at the very worst it's five hours of walking and staring at your phone.
From President Clinton's "footwedge" to the Eisenhower Tree, let's take a look at the most notable White House golfers.

Number One: William Taft
President Taft was the first U.S. president to hit the links (though some have said that Theodore Roosevelt might have played on occasion), and despite his size he is said to have been an avid sportsman. Golf was foreign to much of the country at the time, and Taft was accused of being "immoral" for spending time on the links during his presidency. Over the course of his time in office, however, the number of golfers who played on public courses doubled.
Taft, who shares his birth state of Ohio with Jack Nicklaus, enjoyed the seclusion that the pre-cell phone days of golf came with, saying, "You cannot permit yourself to think of anything else" while you are playing.
It wasn't all eagles and long drives on the course for Taft though. The 20-handicapper took 27 strokes on one hole (the 17th at Kebo Valley Golf Club in Bar Harbor, Maine), and was once struck in the thigh by a golf ball off the clubface of his military aide, Major Archibald Butt (who later died aboard the Titanic).
Number Two: Woodrow Wilson
Taft's successor, President Wilson still holds the record for most rounds played while in office. He made it out to the course on over 1,000 occasions during his time in the Oval Office, which equates to a round nearly every other day. Wilson began to take the sport more seriously at the beginning of his presidency, and he went to great lengths to play even as the weather got bad. It has been said that Wilson would have the Secret Service paint a batch of golf balls black, and he would go out in the snow and whack them around the North Lawn. I can only imagine that the water fountain played as a hazard.
Wilson kept on golfing even as the U.S. entered World War I, though he did cancel his afternoon round the day he learned of the sinking of the RMS Lusitania. Unfortunately, a stroke during his second term all but ended his golfing career.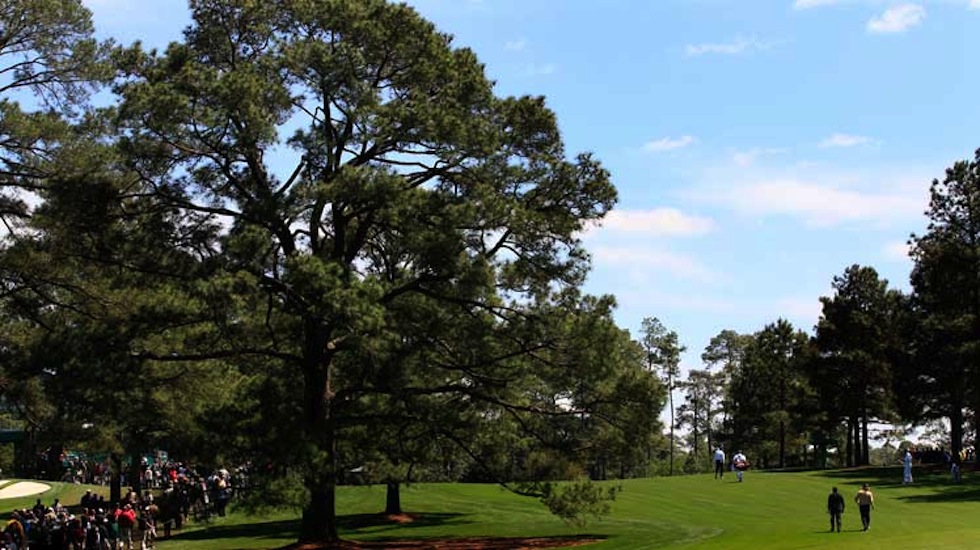 Number Three: Dwight D. Eisenhower
Dwight Eisenhower started playing golf at the age of 37, while still a general, and is largely known as the most prominent presidential golfer. He played over 800 rounds during his eight years in the Oval Office, more than half of which were at Augusta National. Ike spent so much time in his metal golf spikes that he carved up many of the White House's hardwood floors.
Eisenhower's legacy in Augusta is mostly held by the tree that bears his name left of the 17th fairway. Eisenhower, while serving as president, proposed in a club meeting that the tree be cut down, only to have Clifford Robinson immediately adjourn the meeting. The tree was in the news recently when Tiger Woods sprained his left knee and ankle while attempting a hero shot from under a low-lying branch during the 2011 Masters.
Number Four: John F. Kennedy
JFK's golfing obsession didn't really come out until after his death, but he is generally considered the best presidential golfer. He had a fluid swing that was later derailed by back problems, but he did manage to get his handicap down into the single digits. The purchase of his golf clubs at an auction even made its way to the plot of an episode of Seinfeld (season seven, episode 21/22, "The Bottle Deposit").
JFK's VP and successor, Lyndon Johnson, was not the skilled golfer that Kennedy was, but it is said that he secured key Senate votes for the 1964 Civil Rights Act while schmoozing on the golf course.

Number Five: Richard Nixon
Richard Nixon is maybe the least athletic of any of the golfing presidents, but he did get out to the links on occasion. Nixon took up the game in his 40s, and while he only drove the ball 175-200 yards (which, given the clubs available at the time, isn't all that bad), Nixon is said to have had a decent short game.
Nixon's handicap is said to have been 12, though given his swing, the chances of that seems about as minute as George McGovern's chances in the 1972 election.
Nixon's VP and successor, Gerald Ford, was possibly the most natural athlete to hold the country's highest office, and was a legitimate 12-handicap. He played occasionally with Arnold Palmer, and it said to have outdriven The King on occasion.
Number Six: George H.W. Bush
George H.W. Bush is the second U.S. President to be enshrined in the World Golf Hall of Fame, after Ike, and H.W.'s grandfather, George Herbert Walker, is the namesake of the Walker Cup and the former President of the USGA. H.W. also served as the honorary chairman of The First Tee.
Bush 41 was known as a solid golfer who took immense pride in playing at a rapid pace, including one round of 18 he played in under 90 minutes. His swing is a bit herky-jerky, especially as he has gotten older, but he strikes the ball solidly, and is held back by his short game.
Bush's predecessor, Ronald Reagan, was not an avid golfer, but was once playing Augusta National when a gunman took the pro shop hostage and asked to speak to the president.

Number Seven: Bill Clinton
Bill Clinton is probably the most infamous golfing President. He plays with 16 clubs, if you include the two footwedges he employs often. All bets are off as to the accuracy of his handicap, but he claims that he lowered it from 16 to 12 over the course of his two terms, and broke 80 for the first time in 1997. No reports are available on how many "Billigans" he allows himself per 18.
Clinton caddied as a teenager during PGA Tour events in his home state of Arkansas, and he possesses an aggressive, if wild, swing that he says never returned after the heart surgery he had a few years ago. These days, Clinton's life in golf is limited to being the face of the Humana Challenge (the former Bob Hope Classic), as his foundation is one of the primary sponsors.

Number Eight: George W. Bush
Bush 43 is every bit the speed demon on the links as his father was, though he took a much-publicized sabbatical from the game starting in 2003. After an attack on the United Nations headquarters in Baghdad killed a top U.N. Official, Bush said, "I don't want some mom whose son may have recently died to see the commander-in-chief playing golf. I feel I owe it to the families to be in solidarity as best as I can with them." President Bush said that he heard the news of the death of U.N. Official Sergio Vieira de Mello while on the golf course, and continuing to play while in office just wasn't worth it.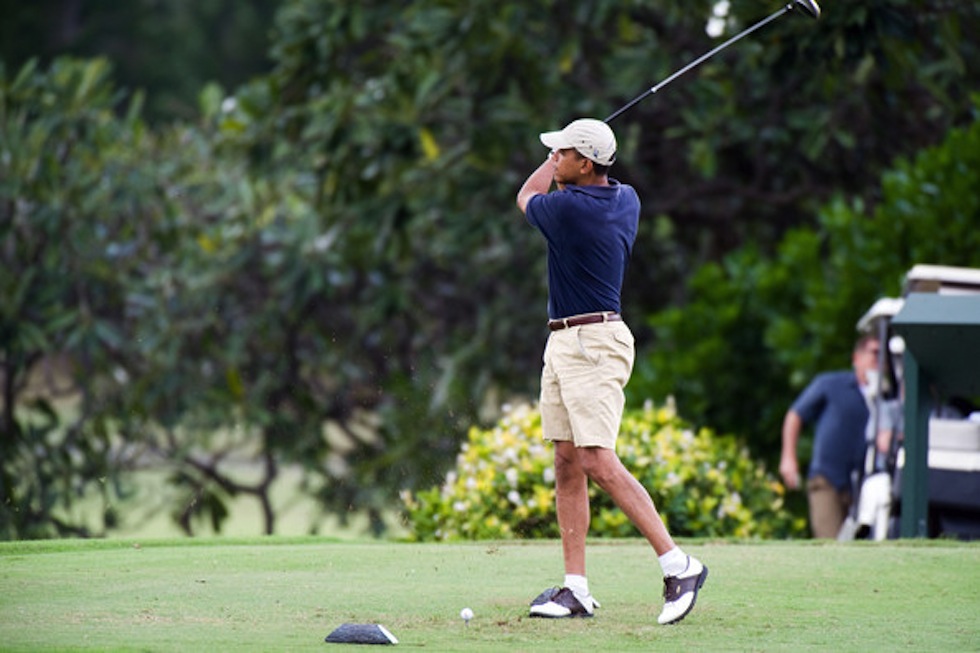 Number Nine: Barack Obama

The first left-handed golfer in the white house, Obama doesn't take golf nearly as seriously as he takes basketball. President Obama's over 100 rounds played don't seem to have improved his swing much, as he still hacks it around pretty bad.
Obama's opponent in the 2012 election, Mitt Romney, is not a golfer (though he reportedly used to be), opting instead for water sports and those of a more equestrian variety.
Photo Credits: © Sam Greenwood, © Jamie Squire, © FlynetPictures, © Bauer Griffin.