Unlike sports like baseball or football, golf's eras have been primarily defined and dominated by a key one or two players. While baseball is divided into eras based on the differences of the game (Dead and Lively Ball Eras, Integration Era, Free Agency Era, Steroid Era) and football and basketball are mostly defined by mergers, golf's era are most easily divided by the dominant player, and these great players actually cut up the history of golf up quite well. Because 150 years of golf is tough to cut down, today we'll look at everything before Arnold Palmer, right up to and including the Nelson/Hogan/Snead Era.
From the ancient history of the early Open Championship days, to the relative parity of the 1980s and early 1990s, to the modern Tiger Woods era, golf is just begging to be split up and defined. So let's do it.

Hole One: Tom Morris – Old and Young, 1860 to 1870s
This is also what I like to call (starting now) the prehistoric era of golf. The Morris era was like pre-Cy Young baseball or pre-Mikan basketball. The very first Open Championship was played on October 17th, 1860 at Prestwick Golf Club in Scotland. Old Tom Morris, born in 1821 in St. Andrews, won the Open four times four times between in 1861 and 1867, including one 13-stroke victory. He also amassed three second-place finishes, and was in the top-10 at every Open until 1874 (there was no tournament held in 1871), including 18 of his first 23.
Young Tom Morris, born in 1851 also in St. Andrews, amassed a similarly impressive record in the Opens. Young Tom withdrew from his first Open in 1865, but was in the top-10 at every Open from 1866 until 1874. Young Tom died in 1875 at the age of 24, just four months after his wife and newborn baby also passed. Young Tom won the Open four times, in 1868 (beating his father by three strokes), 1869, 1870, and 1872. All of his his (and his father's) wins came at Prestwick Golf Club, as the Open didn't start moving around until 1873, and Young Tom's four consecutive Open wins is a record that still stands today (again, no tournament in 1871). The rest of the 1800s saw a few nice careers (Willie Park, Sr. won four times, Bob Ferguson and Jamie Anderson won three times, and Willie Park Jr. won twice) but nothing resembling the Morris dynasty would be seen until the very end of the 1800s.
Hole Two: The Great Triumvirate, 1890s to 1910s
Harry Vardon is considered by many to be the first modern golfer, and far ahead of his time. Vardon was born in 1870 on the island of Jersey, off the coast of Normany, France. Though his father was not supportive of the golf interests of him and his brother, Tom, Harry developed a rigorous training program in his 20s, and he won the first of his six Open Championships in 1896. Over his career, Vardon amassed in incredible record in the Open. In addition to 1896, Vardon also won in 1898, 1899, 1903, 1911, and 1914. Because of World War I, the Open was not played between 1915 and 1919, and one could argue that it's likely Vardon would have picked up another victory. Over his career, Vardon recorded four second-place finishes, and between in first top-10 in 1894 and his last one in 1922, he placed in the top-10 in 20 of 24 Opens.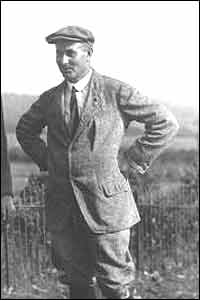 Vardon also played well in the new U.S. Open, which was first played in 1895, at Newport Country Club in Newport, Rhode Island. He won the sixth U.S. Open, played in 1900 at Chicago Golf Club. As Mark Frost and, unfortunately, Shia LaBeouf have made famous, Vardon lost in his second attempt at the U.S. Open in 1913 to Francis Ouimet at The Country Club. With Ted Ray in tow, Vardon shot a 77 to Ouimet's 72 in an 18-hole playoff, losing to the 20-year-old Brookline, MA, native. Vardon's third and final U.S. Open came at the age of 50 in 1920 at the Inverness Club, where he again placed second. Ted Ray won that year, and Ray's only other major victory was the 1912 Open Championship.
The second leg of The Great Triumvirate was John Henry Taylor. Taylor, like Vardon, assembled an extraordinary record in Open Championships around the turn of the century. He won five times, between 1894 and 1913, and also recorded six second-place finishes. Taylor made the top-10 in his first 17 Open Championships, plus 23 of his first 28. He also played in two U.S. Opens, coming in second to Vardon in his first in 1900, and tying for 30th in 1913.
The third was James Braid. The most unheralded of the three, Braid won five Opens, in 1901, 1905, 1906, 1908, and 1910. Amazingly, between his first Open Championship top-10 finish in 1894 and his last in 1914, Braid missed the top-10 just one time (in addition to a DNP in 1895). Braid never played in the U.S. Open, and his play steeply declined after the war.
Hole Three: Walter Hagen, 1910s to 1920s
Walter Hagen was born in 1892 in Rochester, New York. Hagen developed his love for golf as a caddy at the Country Club of Rochester, and began his professional career at the age of 19. In 1912, Hagen placed 11th in the Canadian Open. He used his club professional status at the CC of Rochester as a jumping off point for his career, and he won his first major at the 1914 U.S. Open. Also a burgeoning baseball player, Hagen gave that career for golf. He won the U.S. Open again in 1919, and though that would be his last win, he missed the top-10 only five times in the U.S. Open between 1913 and 1935. After World War I, Hagen began playing the Open Championship, and he would win it four times during the 1920s.
The PGA Championship began as a match play event in 1916 at Siwanoy Country Club in Eastchester, New York, but Hagen did not return until 1921 after playing the inaugural event. That year was his first of five PGA wins, as he would also win every year from 1924 through 1927. Hagen's five PGA wins are tied with Jack Nicklaus for the most of all time. The Masters was not played until 1934, and Hagen never won the event. He did, however, win the Western Open, which is generally considered to have had near-major status, five times, and the North and South Open three times.
Known as an extravagant and eccentric fellow, The Haig is credited with being possibly the first millionaire-dollar athlete, and he spent it lavishly, mostly on clothing.
Hole Four: Bobby Jones and Gene Sarazen, early 1920s to mid 1930s
Bobby Jones was born in Atlanta, Georgia, in 1902. Jones won his first golf tournament when he was six, after a childhood riddled with health issues. At the age of 14 he won the Georgia State Amateur, and he played in his first U.S. Open in 1920. He was paired with Harry Vardon and Jones finished T8. From that year until his last U.S. Open in 1930 (Jones' last season), Jones was in the top 11 every year. He won the U.S. Open four times between 1923 and 1930 and won all three Open Championships he entered (except a WD in 1921). Jones also often played the U.S. Amateur, and won five times between 1924 and 1930. Finally, Jones played in the British Amateur twice, winning in 1930 to complete the Grand Slam. An amateur his entire career, Jones was ineligible to play the PGA, and Jones created but never won The Masters.
Gene Sarazen is from Harrison, New York, and was born in 1902, the same year as Jones. Sarazen played in his first U.S. Open in 1920, and won for the first time two years later. He would also win the U.S. Open again 10 years after than, and over the 20 years from 1922 to 1941, Sarazen placed in the top-10 14 times. Sarazen first played in the British Open in 1924, and won his only British in 1932. He also enjoyed a long run of success in the PGA, winning in 1922, 1923, and 1933. In 1935, The Squire won his one and only Masters, jarring a 235-yard 4-wood on the 15th hole for double eagle. Sarazen is also credited with inventing the modern sand wedge (though his initial design was deemed illegal), and he won 39 PGA Tour events over his career.
Hole Five: Byron Nelson, Ben Hogan, and Sam Snead late 1930s to early 1950s
The Nelson/Hogan/Snead Era is one of the strangest ones. Despite the fact that he has more PGA Tour wins than anyone in history, Sam Snead gets lost a bit among the fervor over Hogan's swing and Nelson's tantalizingly brief career. Snead, Hogan, and Nelson were all born within a seven-month stretch of 1912, Hogan and Nelson in Texas and Snead in Virginia.
Hogan dropped out of high school as a senior and turned pro just shy of his 18th birthday. He struggled for a long time, and was consistently dirt-poor. He won his first major at the 1946 PGA, and would win another PGA two years later. Before his devastating car accident in 1949, Hogan won only one more major, the U.S. Open in 1948. After the accident, Hogan also won the U.S. Open in 1950, 1951, and 1953. That year, the only time Hogan played across the pond, He also took home his only Open Championship. This earned him the nickname "Wee Ice Mon" from the locals, a comment on his steely demeanor. Hogan won his first Masters in 1951, and would win again two years later. The Hawk won 64 total PGA Tour events, including the Western Open, the North and South Open, and the Bing Crosby Pro-Am. He also won the Hale American Open in 1942, one of the most prestigious events played during World War II.
Byron Nelson grew up caddying and playing throughout his teen years, and had an on and off friendship with Ben Hogan. Nelson's major championship career was short but eventful. He won his first major, The Masters, in 1937, and won his second five years later. Lord Byron won one U.S. Open, two PGAs, and no Opens. Nelson's career is defined by his streaks, namely his 11 straight wins in 1945 (a record that still stands) and 113 made cuts (later passed by Tiger Woods, though the Tour has since changed the way that stat is calculated).
Sam Snead began his golf career as an club pro in Virginia, first as as assistant at The Homestead in Hot Springs and then as the head pro at the Greenbriar Resort. Snead joined the U.S. Military in 1942, and served until 1945. He amassed 28 victories before the war, including his first major, the PGA Championship in 1942, but his career really kicked unto gear after the war, winning 11 events in 1950 (including the LA Open, the Bing Crosby Pro-Am, the Western Open, and the North and South Open, but no majors), a record for single-season wins that still stands. After the war he won a single Open Championship, two more PGAs, and three Masters. Snead's 82 PGA Tour wins gives him the most all time, and he also holds records for the most wins at one event (the Greater Greensboro Open), the oldest player to win an event and to make a cut, and the first pro to shoot his age. Astoundingly, Snead is also the only man to ever win an LPGA event, a feat he established when he beat 14 LPGA golfers over 72 holes at the par-three Palm Beach Golf Club, in the second and final playing of the Royal Poinciana invitational in 1962. Jimmy Demaret and Bobby Locke are other excellent, if unsung, players of this era.
Join us again next week, as we'll be back with more, starting with Arnie and finishing with Tiger.
Photo Credits: © BBC, © Augusta.com.