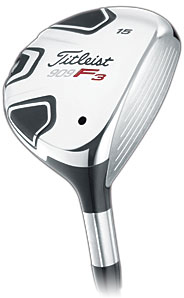 Without even looking at my Titleist 906F4 review, I almost began this review the same way: "Fairway woods rarely get the credit they deserve…" Of course, that's as true then as it is today, and as my game evolves and improves, I find myself relying on my 3-wood more and more, particularly from the tees of holes on which I used to hit driver.
I carry only one fairway wood. It's a 15° 3-wood sandwiched between a driver and a 17° hybrid that serves as my 5W/2I replacement. Except my putter, you could probably remove any club in my bag without affecting my final score by much, but remove my 3W and I might lose between half a shot and a full shot every time I would have needed it.
The 3W may not have the versatility of a hybrid, the sex appeal of a driver, or the scoring impact of any of my wedges, but when I need my 3W - when I pull it from the bag - it's often for a situation that only a 3W can handle: from the tee on a tight par four, finding the putting surface on that incredibly long par three, or setting me up for an eagle on a par five.
I'm picky about my 3W, and you probably should be too.