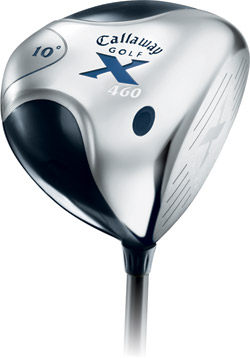 Starting with the original Big Bertha, Callaway has always been associated with quality, high-performance drivers. Nearly every company has rushed to the 460cc limit, although Titleist took their time getting the 905R out. Callaway quickly released the Big Bertha Titanium 454 and came close to the limit but the Fusion
FT-3 was actually the first Callaway driver to reach 460cc. So what could Callaway possibly do to improve on the already popular 454 and, more importantly, does the X460 pass the grade?
Golfers all seemed to like and praise the 454, including David Mobley who used a 454 to blast a 377-yard drive to win the 2004 RE/MAX World Long Drive Championship. Callaway wanted a driver to not only replace the 454 but to also improve performance and provide an alternative to the FT-3. The FT-3 remains Callaway's flagship driver, but not everyone can get used to the corked sound of the titanium-composite driver. So the engineers sought out to make not just a replacement to the 454 but a quality, tour-performing driver.