Dave Koster is very different than many of the players we analyzed in previous articles. Dave hits the ball 290 yards with a slight draw. He plays scratch golf. He has won his club championship. Simply stated, Dave Koster is not a beginner. The catch is that like all of us – including Tiger – as he can definitely improve.
Identifying problems in Dave's swing is not very hard. However, given the fact that several of his problems are clearly offsetting each other, our challenge will be to identify what problem is holding him back from going even lower.
Read on to see Dave's swing and the fixes I've outlined for him.
The Swing
Dave's swing can be seen here as a QuickTime movie. This shows the down-the-line and face-on angles with his driver. I would highly recommend that you to watch the video, identify what you think is his root problem, and then read on.
Beginner v. Scratch Golfer
There are obvious differences between a beginner and a scratch golfer. In my mind, beginners have very little "grooved" into their swing and are considerably more malleable. What is perhaps more important is that a major swing change does not effect a beginner as much because they only have so far that they can fall. However, scratch golfers and pros are very different. After thousands of golf balls, scratch golfers have developed a swing which they can rely on. Their muscles have been so ingrained with their swing that any little change can devastate their game. And by devastate, I unfortunately do not mean that they go from shooting 73 to 75; I mean that they could go from breaking 70 to struggling to break 90.
So the first question that we need to ask ourselves is what are the goals of this golfer. Dave plays a 15-yard draw with his driver and is not hoping to end up hitting the ball dead straight but instead to become a little more consistent and to eliminate his tendency to snap hook the ball. He is not looking for more distance.
Given his wishes, my first thought is to look at the parts of his swing that directly relate to accuracy. Just as review, those would be: 1) ball position, 2) club face, 3) leading shoulder, and 4) swing plane. If all four of those are perfect then he should be hitting the ball like the Ping Man. Unfortunately for Dave, they are not all perfect.
Swing Plane
People make swing plane much more complicated than it has to be. Swing plane is the optimal path that your club should take to hit the ball. To figure out what your plane line should be all you need to do is draw a line through your shaft at impact.
Thus, if your club follows this line during your down swing, you are on plane. If your club is over or under this line, you are off plane.
Dave's Swing Plane
For the sake of simplicity, let's start at Dave's impact position and work backwards to find out what is the root of his swing plane problem.
Impact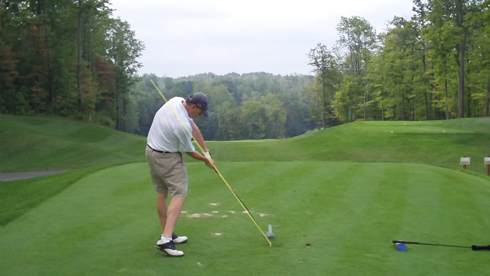 As you can see above, this is a picture of Dave at impact. The line that is drawn through Dave's shaft is Dave's plane line. Ideally, Dave would trace this line during his down swing.
Arm Horizontal

It may be somewhat hard to see but Dave's shaft is close to horizontal to the ground. At this point in the swing Dave should absolutely be on plane. However, Dave is clearly inside of his plane line meaning that he is off plane.
Top of the Swing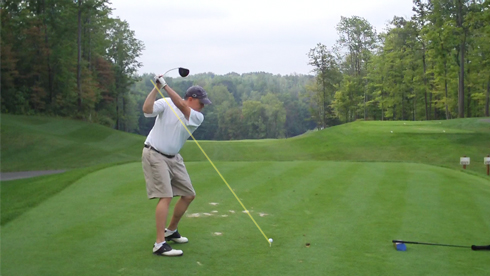 I don't even have to draw line 4 to tell you that Dave is crossing at the top. When you cross at the top of your swing your hands have to make a significant adjustment coming down to have any chance of hitting a good shot. Many high handicap players don't make any adjustment which causes them to come straight over the top and hit a terrible slice. On the other hand, low handicappers tend to error on the side of over-adjusting. By dropping his hands too far from this position, Dave has ended up under his plane line.
Fortunately, Dave is not going to lose nearly as much distance coming under plane because it will result in a strong draw. Moreover, a draw is significantly more predictable so he can still play very high caliber golf. However, when your timing of this move is just a little off, it can easily result in a block or a hook. If you are planning on a 15 yard draw with your driver and end up blocking the ball right or hooking the ball left, you could easily be off by 30 or more yards from your target. If Dave wishes to improve, I would highly recommend fixing the top of his swing so he can get on plane.
Potential Fixes
You may notice other things in Dave's swing which you believe are not correct. If you did, I would respectfully remind you that we are doing more of a tune up than a rebuild of his swing. Our goal is to find a swing thought that Dave can take to the range and work with over the next week to two weeks. Here's what I would suggest.
Video Camera
I would highly recommend that Dave bring a video camera with him for his practice sessions. I am going to suggest a couple of different feels for him to try in an effort to fix the top of his swing but he needs to be able to monitor which feel is working for him. After all, practice does not make perfect; perfect practice makes perfect.
Pointing the Shaft
One of the easiest ways for a player to feel the proper position at the top of their swing is to focus on where the shaft is pointed at the top of the swing. If you look at the top of Dave's swing, he is currently pointing the club to the right of the target. Ideally, Dave should be pointing the club either dead down his target line OR just to the left of his target. I would probably suggest he start by trying to point down the target line. If that doesn't work, then he should gradually try to point the club farther and farther left of his target until he starts to see results.
Pointing the Grip
While some golfers find pointing the shaft easy, others have a hard time thinking about where their shaft is at the top of their swing. A different approach to take is to focus on where the butt of the club is pointed. As you can see, Dave has the butt of his club pointed towards the bottom left corner of the screen. Ideally, the butt of the club would be pointed either straight back at the camera or to the bottom right corner of the screen. I would often set up my golf bag at a point where I was hoping to point the club just so I could have something to aim at.
Other
These two thoughts primarily use your hands to adjust the top of your swing but there are numerous other ways to approach this as well. Whether it is trying to tuck your right elbow closer to your body or trying to focus on keeping your left wrist flat at the top of the swing, you need to find the swing thought that works best for you.
Time Line: Correcting the top of your swing can be extremely frustrating if you do not monitor with a video camera. If you do, then this can be a problem that can take around two weeks of solid practice to fix. If you don't use video though, don't be surprised if this takes months to ingrain in your swing.
Be sure to monitor… Your swing plane. Seems obvious enough but if you are a player that is already making a strong drop with your hands before you accelerate then you are actually going to want to continue making that exact same move once you achieve the proper position at the top of your swing. If you don't then all you are going to do is teach yourself to come over the top.
Conclusion
Dave already has already achieved so much. However, whether you are a professional golfer or a duffer, achieving proper swing plane should be one of your top priorities. If Dave can get himself on plane I wouldn't be surprised if we hear that he has abandoned his 15 yard draw and replaced it with a longer, straighter drive.
---
Your Turn!
If you're interested in having your swing analyzed in a future edition of Swing Check here on The Sand Trap, check out the requirements page and submit your videos today!