Mitch Brinton and Ron Wade had a dream and a passion for the game of golf. The high school pals wanted to live at and play on the best private courses in the country, and they wanted to let others do the same. With The Markers Club, they've done so.
The Markers Club is perhaps best described as an exclusive, virtual golf club. With membership and luxury homes at 11 of top golf destinations in the U.S., Mexico, and Scotland and an additional 13 planned, including spots at St. Andrews and in Ireland, The Markers Club has gotten quite a start on the dream.

The dream, however, does not come cheap. Markers memberships start at $150,000 and go up to $375,000 for corporate memberships. Annual dues start at $9,500.
In exchange for that lump of change, Markers members will enjoy between 28 and 56 days per year in any Markers residence and, while there, golf privileges at the host club. As with many exclusive clubs, membership is by invitation only, but The Markers is currently offering a limited 12-month Preview Membership for $18,500 (a veritable steal!), allowing approved prospective members to try the club with no strings attached.
With 11 current locations ranging from the golf-centric Southern Pines, NC to the more exotic Cabo San Lucas, Mexico, and from St. George, UT to Scottsdale, AZ, The Markers Club already offers a wide variety of golf destinations.
Mitch Brinton, who co-founded Campus Pipeline, Inc., grew up on a golf course and "did all the things like father/son outings." Brinton says "but 10 years at the same club on the same golf course got boring! There was no variety."
Brinton and Wade have taken a unique approach in this industry by positioning golf first. Each of the residences sit on a great golf course, with a wide variety of other golf courses nearby. Though activities outside of golf (perhaps for non-golfing family members) are considered, "the availability of world-class golf courses is our primary focus," says Brinton.
"The Markers delivers a destination club product based solely on the game of golf, from our locations and home amenities, to the activities members will have the chance to experience," he added. "For us it's really about being in the top destinations – places like Scottsdale and Pinehurst – where you can play every day for a week and never hit the same course twice."
Brinton means what he says, for several members of The Sand Trap will be giving the club a "test run" this weekend at the Stewart Residence at Southern Pines. Our schedule includes eight rounds of golf at courses like Mid Pines, Talamore, Tobacco Road, Pine Needles (site of this year's U.S. Women's Open, won by Cristie Kerr). The home sits on the fifth green at Jack Nicklaus' famed National Golf Club, where we'll be treated as full members with clubhouse, driving range, and golf privileges.
Dinner reservations, tee times, and even pre-arrival shopping and stocking of the refrigerator are done by a local concierge. "We want our members to enjoy their time, not worry about the details," said Brinton. "We also want them to enjoy their stay," and Brinton and his team have chosen multi-million dollar homes in order to accommodate members bringing foursomes and spouses, one big family, or eight golfers on a guy's get-away. The Stewart residence, named after the late Payne Stewart, is a 4-bedroom/5-bathroom house with high-speed internet, a large-screen TV, a Viking grill, marble countertops, and all of the amenities.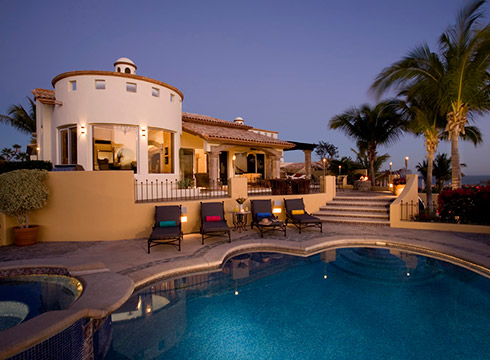 If 11 prime, current locations and 13 in planning don't meet your needs, The Markers Club acquired an equity interest in the Private Club Network in April of this year. The partnership extends the privileges of Markers Club members to a network of more than 200 golf clubs in 38 states. Members can enjoy playing courses in Boca Raton, San Diego, and many other locations for only a $25 cart fee.
We'll report back soon on our trip and experience, but if you're interested in joining The Markers Club, contact them today. The limited-time membership offer ends soon.