We're only a month into the year, but the signs are all there. The world's top two are suddenly PR nightmares. We've already had a dreaded Monday finish. The European Tour is churning out young stars at an eye-opening rate, and the Champions Tour is reminding us of what golf was like pre-Woods with the recent Couples-Watson showdown.
It's only Week Five, but it's becoming obvious: this will go down as the worst year for the PGA Tour since 1995 (aka, the year before Tiger turned pro).


Picture the scene: it's December of 2009, and we're sitting in PGA Tour central command. All the honchos are huddled around the table wondering just how 2010 will play out with everyone's meal ticket – including their own – focusing on fidelity (and no, not the investment firm).
"It's fine, we were in the same spot last year," says one portly fellow with all the buttons of his polo shirt fastened, making his head look like a lollipop. "Plus, when's the last time golf was splashed all over the front pages? In December, no less."
"That's true," says a guy in glasses, the hired gun consultant who talks with the confidence of someone who knows he's getting a big check regardless of where his advice leads the group. "You guys are golden. Scandals cement celebrity, and you're lucky to have the most famous golfer in the world chasing tail across the globe. Whether good or bad, golf is being embedded into the public consciousness."
Before he can finish, the youngest face in the room lights up. It just hit him. "We're going to make a FORTUNE on his first tournament back." The rest of the room, uneasy that this glorified intern just had the misfortune of saying what they've all been thinking for weeks. A collective mutter fills the room.
"But until he gets back, what better guy to hand it over to than Phil," the chubby guy says, letting the kid off the hook.
He's right. Tiger's #1 in the standings, and draws more eyeballs to tournaments and to TV. But Phil is Mr. Charisma and charms his way into galleries and living rooms nationwide. With his wife's health improving, Mickelson closed the year on a roll, knocking off Tiger twice in the fall and ending 2009 on a two-tournament win streak.
"Let's just hope he doesn't Winged Foot it," the fat guy says, thinking he's funny. The rest of the room can only cringe, realizing it really could get worse.
As we sit here in the first week of February, it turns out that fat guy was right.
Tiger's still gone, having more trouble learning that fidelity thing than cutting a 2-iron around a dogleg. And instead of carrying the torch, Phil has landed on Yahoo's front page, branded a cheater and greeting everyone as they checked their email last week. You and I may agree that he's completely in the clear. But how about your wife, who asks why that nice guy you're always rooting for is a cheater?
As rough as this year promised to be, yes, it's gotten worse. So much worse.
This is the time of year that half the country is stuck inside. One of the real joys as a golf fan is spending a cold Sunday afternoon in your den, being whisked away to Riviera or Pebble Beach. If you're lucky you'll have a great duel down the back nine while the pot roast cooks away. There's a built-in audience of millions of cabin fever suffering golfers. So when your best player is busy taking 13 cold showers a day and Number Two is cutting off his nose to spite his face over the minutia of the golf equipment approval process and turning off a wide swath of fans, you better hope something like the Super Bowl will show up as a distraction.
Finally, the Tour gets a break.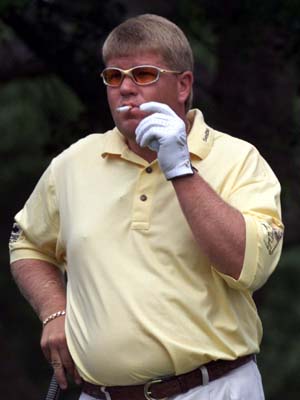 Now, how can 2010 rebound? A month ago I told you that John Daly was going to surge back onto the scene and help ease the absence of Mr. Woods. So far he hasn't even sniffed a cut. All we needed him to do was toss a top 30 up there, give us some face time on a Sunday afternoon. Make us gawk at those pants and keep alive the hope that he can catch lightning in a bottle.
Instead, he quits. Or at least he thought about quitting while the cameras rolled. Now he's tweeting that we read too much into it, and he'll play Pebble, then Mayakoba. Is he a sympathetic character, or veering toward pathetic? I'm hanging my hat on him getting into a groove and posting a few numbers. In both starts this year he's improved dramatically from his first round to his second, so there's at least some cause for hope.
Secondly, the Tour needs those Young Guns who were starting to flourish a few years ago to take that next step. They're a few years older, but players like Anthony Kim and Camilo Villegas have the swagger and the pizazz. And how about Adam Scott reclaiming his spot as a top-five talent and top-three needle mover? He wrapped up 2009 with four top-ten finishes in his last five starts overseas, and he's got a good record at the Northern Trust (winner in 2005 and runner-up in 2006). How good would it be to see those three trading birdies on the back Sunday? You might even flip from the sixth hour of Super Bowl pre-game to check it out.
But the truth is, we are where we are: one month in, top two stars tarnished, and the reclamation project ready to throw in the towel. What's the rest of the year got in store? If January is any indicator, we'll watch Heath Slocum out-duel John Senden at Augusta, ever-exciting Steve Stricker flirt with the top spot in the world rankings, and Tiger will return with much fanfare in time for the majors, only to post finishes of 26, MC, 57, and T31.
But hey, there's good news for those guys sweating it out at PGA command central. They're not working for the LPGA. At least not yet.
Photo Credits: © Getty Images, © NNDB.