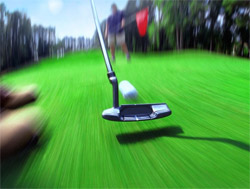 You can build your own outdoor putting green or you can have one built for you if you've got $5000 (or more) to spare. You can buy a typical roll-out indoor putting "carpet" for $20-$50. You can't build your own 8′ x 8′ indoor putting green for less than $250. Or can you?
I live in Pennsylvania, making "winter golf" a matter of either visiting the nearby golf dome or playing Tiger Woods PGA Tour on my GameCube. Eager to maintain my putting stroke during the snowy months, I sought to build an indoor putting green that would adjust to provide adjustable break and putts up to about 10 feet in length. Perhaps it could even allow some gentle chipping from a nearby mat.
The journey – and the project – is documented here.
Continue reading "Build Your Own 8′ x 8′ Indoor Putting Green (Cheaply!)"