The FedExCup, aka the "Playoffs," began this week. Did you notice? Has your office lost productivity this week because of all the trash talk and speculation surrounding your FedExCup pool? No? My office is the same way. Ask folks about the FedExCup and many will counter "Is that a tennis tournament?"
With all of the money the PGA Tour and FedEx have sunk into this event, you'd think there'd be more buzz. But even the guys who make a living on TV talking about golf seem more excited this week about the U.S. Amateur than the "Playoffs."
Personally, I've always thought that the idea of a season-long competition to track the best players on the Tour would be a cool idea. Now that it's here, the format leaves something to be desired. It's complex, confusing, and not entirely logical. But we're stuck with it (this year anyway). So, here are five more things you may or may not have heard about the FedExCup. The original five are here.

Number Five: The Players Are Digging It! Right?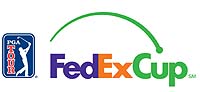 If you watch those wonderful FedExCup commercials, it seems like the players are all on board with this "Playoff" system. There's Trevor Immelman announcing his own victory in the bathroom mirror when Vijay walks in. There's Tiger whistling Eye of the Tiger as he puts on his golf shoes. Or there's Phil Simms advising Ernie Els how he used to get psyched up for the playoffs by bashing his head against a locker. After Els tries it out, Simms adds, "Of course, Ernie, I had a helmet on when I did it."
Like Ernie, a lot of players seem to have a headache from this FedExCup. One just doesn't get the feeling that they're entirely sold on the idea. Which seems odd for an event with a $10 million prize (oh, that's right, it's more of a pension).
Tiger is too tired to show up for the first tournament. Adding to the ennui, PGA Tour Commissioner Tim Finchem sees Tiger's absence as both a positive and a negative. And speaking about the subject to the Greensboro (NC) News-Record, Jeff Maggert said, "Probably half the players out here couldn't care less about it. The other half are indifferent."
Ouch! That little Maggert!
Number Four: The PGA Tour Is Praying that Tiger Wins
What? The PGA Tour can't root for a particular player…
Well, not out loud, no. But you can bet, behind closed doors, there are votives being lighted on small Nike-swooshed shrines. Here's why: a Tiger win will help validate the concept. A win by someone a bit back in the field that most people haven't heard of – say, a John Senden, currently 48th, or Steve Marino, 63rd (both fine players, by the way) – might well make the FedExCup look a little gimmicky, or at the very least, like just another mini-season (or silly season).
"The Reset" is designed to give every player a chance, but in reality no one should be close to Tiger this year. As the Money List vs. FedExCup Points List article shows, Tiger has earned roughly 11,000 more FedExCup points and $3 million more than the second-place player, Vijay Singh. In each case, he's earned about 150% more than his closest pursuer. Yet, he now magically leads the FedExCup by 1,000 points. If the FedExCup is truly to be the championship for the season, then surely Tiger should be that champion this year.
The best player or team does not always win the championship, it's true. But when something is touted as a season-long competition, you would think that the season itself would have a little more to do with determining the champion. Imagine if someone way back in the points standings – like Rich Beem, currently 134th – has the same kind of August he did in 2002 when he won two events. That kind of hot streak could win a player the FedExCup despite finishing the season near the bottom of the points race.
The folks in Ponte Vedra might not be too upset if Boo Weekley won, however. He'd be a publicist's dream and a fun foe to position head to head with Tiger. They can call it Florida A&M vs. Stanford or International Harvester vs. Buick.
Number Three: Saving the Greenbacks… for Later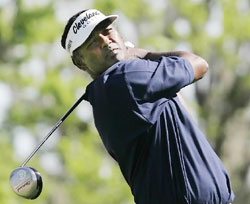 The FedExCup money will be available to the player when he turns 45. Vijay (birthdate: Feb. 22, 1963) will only have to wait about six months until he's eligible. Tiger (Dec. 30, 1975) will have to wait until 2020 (and really almost 2021) to see any of that money.
Each can then choose to defer payment until they turn 60 or play in less than 15 events in a year, or he can start taking monthly payments for the following five years. Let's see, $10 million over 60 months is $166,666.67 each month. (Think you could scrape by with that as your "fixed income" in retirement?)
Number Two: Psst… They're not Really "Playoffs"
"Playoffs" in professional sports generally feature the better 50% of the league in post-season competition to determine the league champion.
That's the stated purpose of the FedExCup, but the "League Champ" has basically already been determined. Right? Well, though a Tiger win would help validate the playoffs, saying he's the champ at this point is a little like saying the NFL regular season champ should just get handed the Super Bowl trophy. Still, calling the FedExCup the "Playoffs, is a little far fetched.
Here's the math: the top 144 players make the "Playoffs." Only 125 players will even keep their cards at the end of the season. So, 19 players who qualify to play for the FedExCup will have to go to Q-school to earn a spot to play next year. What other sport has more teams in its playoffs than it has in the league?
The FedExCup is not exactly single elimination or even double elimination. You can finish 30th in each tournament and still play in every round of the "Playoffs" (actually, you can do quite a bit worse than that and stick around, provided you're in the top 30 in FedExCup points).
If they'd just stop calling it the "Playoffs," it wouldn't bother me so much. But if you're going to call it a "Playoff" it really should be a match play format, or head-to-head stroke play at the very least. Shorten the field to 128 players. Seed them #1 v #128, #2 vs. #127, etc. And have them play 36 holes to decide who advances. So Thursday and Friday of the first week would narrow the field to 64, Saturday and Sunday would get it to 32, and so on. On the fourth weekend it would be down to mano y mano for all the marbles. Wouldn't that be cool!
The problem is TV. The last round of such a format does not make for thrill-packed viewing. There are just two players. Sure, it has its moments, but overall it takes a long time to complete, and the networks are just not going to go for it.
Number One: Winning the Cup
To win the FedExCup, it will take a relatively decent starting position and three or four solid weeks of play. That said, if someone goes out and wins two of the four tournaments (no matter where he started), all bets are off. The eventual winner will probably need to win one of the events anyway; but if a different player from back in the pack wins each week, two top ten finishes and another couple in the top 25(ish) will probably get it done.
The other players should be stoked that Tiger is skipping the Barclays. He has five wins in 13 starts this year. That means he's won in 38.5% of his starts this year (and finished in the top 25 92% of the time). If he'd have played the Barclays, the odds are he'd have won at least one of the FedExCup tournaments. As it is, well, the odds are still in his favor, but there's a glimmer of hope for the field.
So who has the best chance besides Tiger? I'd take KJ Choi. Even though he hasn't won since way back in June, he has been consistently in the money over the last couple months. Honestly, I would have picked Jim Furyk, but for his ailing back. Brandt Snedecker also would have made my list, but he went and won last week so he might just come out and play "satisfied."
Who do you think will win? Forum members can chime in here. And if you just want to keep track of where your favorite players are in the standings, the PGA Tour is providing live points standings based on the players' current positions on the tournament leaderboards. Hey, there's something they are definitely doing right with this thing!
Photo Credit: © AP Photo/David J. Phillip, © 2007 The Sand Trap.com All rights reserved.