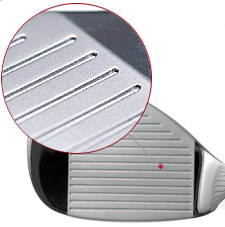 Many people think that grooves exist to impart backspin. This is not true. In tests with Iron Byron, ungrooved irons imparted 98% as much backspin as grooved versions of the same model iron. The main purpose of grooves is to collect dirt, grass, and water, thus increasing ball/steel contact. Think of car tires: in dry weather, racers go with "slicks" and in slightly wet weather, they must use tread. Tread isn't used to "grab" the pavement, but to channel water away so rubber/cement contact can be maximized. Some deformation of the ball occurs at impact, allowing the grooves to "grab" parts of the ball, and this grabbing accounts for the 2% differential seen in the smooth vs. grooved club test.
Keeping your grooves clean is important in maintaining consistent ball/steel contact, which in turn leads to consistent distance, height, and backspin from your irons. Today's tip is more science lesson, but the tip is this: keep your grooves clean. Wipe them with a soft towel, clean the grooves with a sharp end of a tee or a groove cleaner, and keep your clubs dry. If your grooves are already filled with water, they won't do much good.
With "dirty" balls, ungrooved clubs in the Iron Byron test imparted as little as 60% as much spin. Why doesn't your driver have grooves? Because the ball should be relatively clean when you're teeing it up.
Photo Credit: © Unknown.