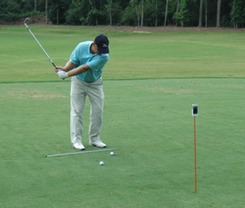 I'm sometimes asked why I got into golf instruction, and the answer is very simple. I am passionate about the game, and by helping others, and improving their ability to play the game, I am acting as an ambassador for the game of golf, and bringing a little bit more joy to the lives of others.
One of my favorite sub-forums on the forum section of our site is the Member Swings sub-forum. In here, forum members post videos of their golf swings, drills, putting, and more, and the knowledgeable members of the forum along with my co-owner Mike McLoughlin and myself help them out.
There's a common saying in the world of photography that the best camera is the one you've got with you, and more and more, smart phones these days are equipped with some pretty decent cameras capable of capturing good video at high frame rates. My iPhone 5S, for example, records 720P video at 120 FPS, and I've always got my phone with me.