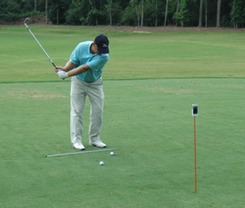 I'm sometimes asked why I got into golf instruction, and the answer is very simple. I am passionate about the game, and by helping others, and improving their ability to play the game, I am acting as an ambassador for the game of golf, and bringing a little bit more joy to the lives of others.
One of my favorite sub-forums on the forum section of our site is the Member Swings sub-forum. In here, forum members post videos of their golf swings, drills, putting, and more, and the knowledgeable members of the forum along with my co-owner Mike McLoughlin and myself help them out.
There's a common saying in the world of photography that the best camera is the one you've got with you, and more and more, smart phones these days are equipped with some pretty decent cameras capable of capturing good video at high frame rates. My iPhone 5S, for example, records 720P video at 120 FPS, and I've always got my phone with me.

The ready availability of cameras in smart phones has lead to a lot of Member Swings threads! There's a link at the top that encourages members to film their golf swing from the right angles, and that's been difficult in the past with smart phones. We've seen videos that are clearly hand-held, videos where the user seems to prop the phone up on the floor, and everything in between.
In the vein of "the best camera is the one you have with you," I'd like to point out that the best tripod is also the one you have with you, and encourage readers to spend between $18 and $37 to back a project on Kickstarter: the X Mount smart phone holder. I've already backed this project, and would love to see it succeed in reaching its funding goal.
Last year, a company called ProtoSports came out with a solution for iPhone users to allow for hands-free video anywhere on the golf course. Over the last year, I've probably bought 10 of them and given them as gifts to students and friends. Some used their iPhones in a pinch, and others used them exclusively. Some used them only on the range, others on the course. The girlfriend of one recipient was quite grateful, as she no longer had to record ten videos an hour of her boyfriend. Another was happy not to have his phone keep falling down into his bag, as he'd previously propped it atop his bag to film his swings.
I kept one of the holsters for myself, though to be honest I didn't use it much. I put my phone in a very thin case – primarily to protect the back from scratches and make it easier to see, and I didn't want to keep taking it in and out of the case just to use the holster.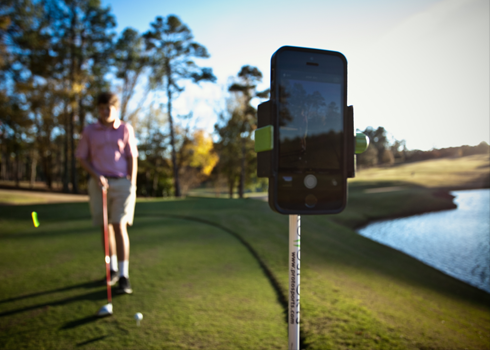 I noticed a few days ago that Protosports was coming out with an upgraded holster they've called the "X Mount." I checked around and found that it's being funded via Kickstarter, and you can view the X Mount project on Kickstarter right here. As a fan of the holster, and particularly the changes made to this upgraded version, I immediately pledged some cash to help fund the project. In fact, I chose the X Mount Total Package, as it includes a collapsible alignment rod and, more important to me, a clamp with a bendy neck that will let me clamp my phone onto all sorts of things – my golf bag, a golf cart, a table or chair, or more.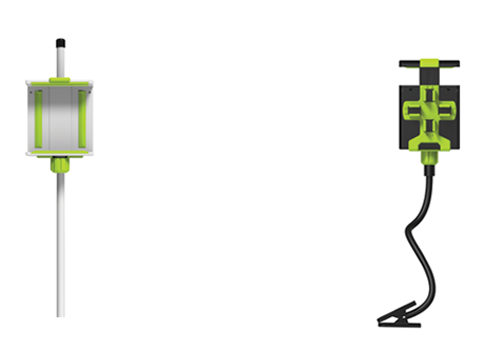 Here are some of the new features and some photos I grabbed from the Kickstarter site:
Spring Loaded, Fits All Phones
It is spring loaded and adjustable to fit all smartphones and still attaches to all alignment rods in both portrait and landscape.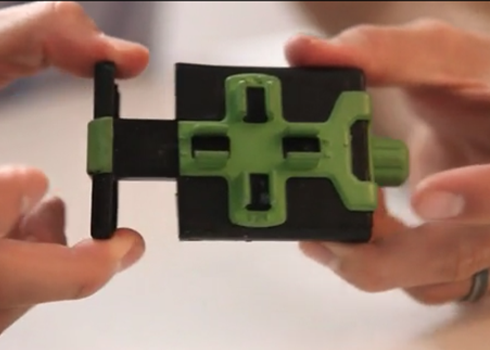 This new spring-loaded feature means that it can fit all phones and it can also fit my phone with a case. This is great for me not only because I like to keep my case on when I am at the course, but also because I don't have to worry about my students having the iPhone. This is a great adaptation.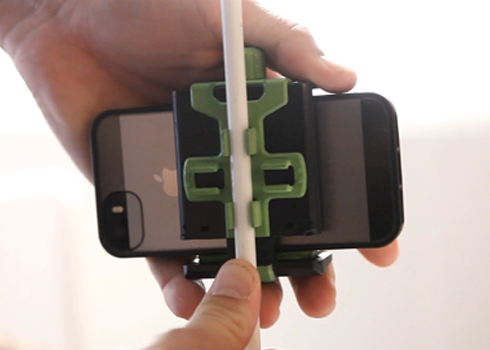 The addition of the spring-loading mechanism hasn't robbed it of the nice cross-clip backing, which allows you to record in portrait or landscape. Though I typically record in landscape (to avoid vertical video syndrome!), there are plenty of times when portrait orientation makes sense (particularly for some non-golf purposes – like recording panoramas).
Clamp with Bendy Neck
It has a clamp attachment that can clamp to any surface. This is my favorite and will come in handy quite often, particularly on the golf course. And I don't just mean to record my swing, but rather, to just hold my phone. It'll do a much better job than tossing it in the cart cup-holders, I guarantee it.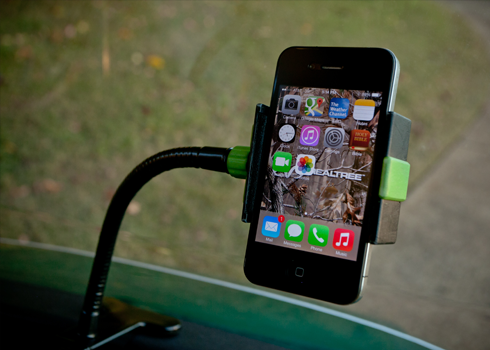 As an addition to the X Mount's ability to clamp to an alignment rod (i.e. driveway stick), ProtoSports has included an attachment with a bendable arm and a clamp that attaches to virtually anything. The thing that first got my attention was that it opened up possibilities for guys who practice on hard surfaces. You can now clamp it to a hitting bay or to your golf bag. It won't matter what kind of surface you are on, you'll likely be able to find a way to clamp it to something to record your golf swing from the proper angles. As I said, you can attach the clamp and use your phone as a GPS, watch and record videos, or keep your scores or stats.
Works with a Tripod
The holster has a built in tripod adapter in case you want to use a GorillaPod or full-size tripod of some sort with your phone.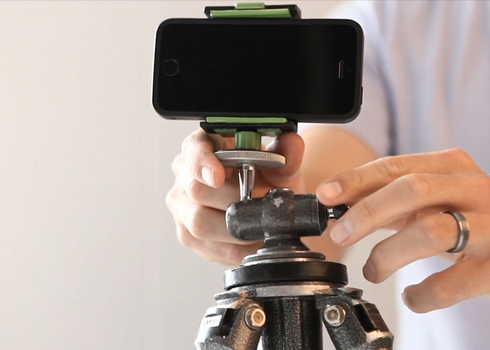 If you happen to have a tripod that you like to use, then this will work with it. I'm a golf instructor, and this is a golf site, but smart phones are producing beautiful images these days, and so I'd be remiss if I didn't mention that I plan to use this holster for all sorts of things. Phone cameras are pretty amazing cameras by their own right these days, and this clamp will probably see more action off the golf course than on it.
I asked, and was told that ProtoSports is launching their product on Kickstarter for a couple of reasons. It allows golfers like me and you the opportunity to pre-order the X Mount. It helps manage funds for the cost of tooling and manufacturing.
ProtoSports told me that the Kickstarter "contribution" prices are less expensive than the final retail cost, and you can follow the progress of the campaign with email updates. Kickstarter is an all-or-nothing site, though, so if this project doesn't reach its goal, then you don't get your X Mount and ProtoSports does not get the funding they need.
That's why this article exists. I've already contributed, and I'd like to see my credit card charged, because that will mean that the project has been successfully funded. If it's not, I may not get this awesome little device.
So I'm urging you to pop over to the Kickstarter page for two reasons:
The product will help you record better videos, which will in turn allow us (or others) to give you better analysis.
I want one, darnit! And I won't get one if the project doesn't meet its funding goal!
I don't endorse products very often, but I like to share products to our members that we think would be useful to them. I feel that the versatility of this product makes it well worth the $18-$37.
You can see it and make your contribution right here. Check it out and let us know what you think!