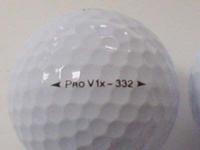 The rumors are flying: Titleist is readying an update to its Pro V1/V1x golf balls. A retail-purchased late 2004 Pro V1x has markings like this.
◀•Pro V1x 332•▶
The arrows look like those in the image to the right, but something as subtle as that dash between "V1x" and "332" indicates a new ball.
What changes can Titleist make to an already quite capable ball – one that won every PGA Tour Major last year? The rumors are flying. One claim states that the both the V1 and the V1x will be longer than last year's, but the V1 will maintain the same spin. It may do this by spinning similarly around the greens but less off the driver. Another claims that the spin on the V1x has been reduced on short irons and wedges and that it will feel softer around the greens. Other rumors say the V1x will simply spin less all around.
Rumor mongers routinely check the USGA's list of conforming balls to look for new additions. Just search for "titleist" "pro" and "v1" to see a complete list.
What's in store for Titleist's premier ball? I guess we'll just have to wait and see.