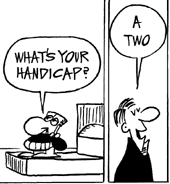 What's your handicap? If the king asks, don't answer!
History
In the early 20th century, the United States Golf Association (USGA) introduced a handicap system aimed at allowing players of all skill levels to compete against one another. In other words, and theoretically, the handicap system allows a player who has trouble breaking 90 to compete against Tiger Woods. This is done by granting the weaker player "strokes." On tough holes, the less skilled player is allowed to take a stroke (or more) off of his score.
The USGA handicapping system was fitted in the 1980s with a new gadget: the "slope rating." The slope rating aimed to level the playing field (pun intended) by accounting for the relative difficulty of different courses. Thus, handicapping involves three numbers: your score, the course rating, and the slope rating.