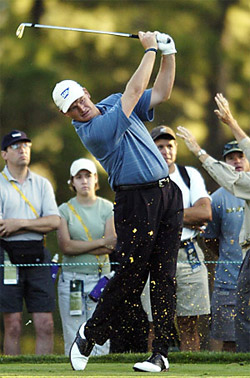 Ernie Els must wait until Monday morning to claim (most likely) his third victory of the year at the BMW Asian Open. A three and a half hour delay on Sunday morning due to the threat of thunderstorms left 24 players on the course and in Shanghai for another day.
At the end of play on Saturday, Els had a five-stroke lead over Simon Wakefield and was able to open up his lead in his limited play on Sunday. The Big Easy is eight strokes in front of Wakefield and his lead is likely to go to nine first thing Monday, as he has a five foot birdie putt waiting for him on hole seven.
Els has carded two birdies on the six holes he's completed while Wakefield has carded one bogey to fall eight strokes back.
Continue reading "Darkness Postpones Inevitable for Els at BMW Asian Open"