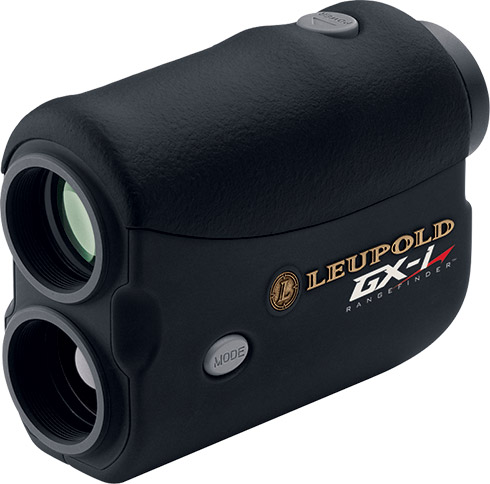 I started a Bushnell PinSeeker 1500 review in 2005 with the sentence "Tiger Woods has long said that the secret to good golf is always being pin high." A lot has changed since 2005, but Tiger's advice still rings true.
What has changed is that three years ago rangefinders and GPS units were a rarity. In 2005, these types of devices were illegal. Since 2006, they've been legal for tournament play under a local rule, and it seems as though every serious golfer has one (or more!) in their bags. The market has expanded quickly, and the early guys in – Bushnell with laser rangefinders and SkyGolf with GPS – are being challenged at every turn.
One of the challengers in the laser rangefinder category is longtime rifle scope-maker Leupold (& Stevens) with their GX-I and GX-II laser rangefinders. These rangefinders notably improve upon the venerable PinSeeker 1500 in just about the only ways I think a laser rangefinder can really be improved: by adding features, making it smaller, and shaving a hundred bucks off the asking price.
I've put the GX-I to a thorough test. Read on for my results.

Technology and Specs
The GX-I is a vertically held unit which measures distances in either meters or yards. You point it at your target, press or hold a button down, and read the measured distance. The functionality is very simple: laser pulses are sent from the unit, bounce off of whatever's out there to bounce off, and return to the unit. Because the speed of light is constant, the GX-I (like all laser rangefinders) determines the distance to an object by timing how long it takes for light to be reflected back to the unit.
The GX-I features "PinHunter™" technology, which is a fancy way of saying that the GX-I will report the closest distance it measures. That ensures that the GX-I can pick out the flag against a background of grass or trees.
The GX-I supports Scan Mode, which will continually update the distance measured as you keep the button pressed. Distances are accurate to within +/- yard. The Quick Set Menu lets you change settings (meters/yards and PinHunter primarily) quickly. The GX-I magnifies 6X and includes seven selectable reticles. The optics are multi-coated (to reduce glare and improve accuracy), and the stated limits are 750 yards for reflective targets, 600 yards for trees, and 350 yards for a flagstick/flag.
The GX-I is weatherproof, weighs only 6.8 ounces, and measures 4″ x 2.75″ x 1.5″. It comes with a one-year warranty and the included battery is stated to be good for 2000 actuations. The included Cordura carry case comes clips to your bag, and if you prefer to carry a rangefinder around your neck, Leupold has included a strap for that, too.
Note on the GX-II: The GX-II offers "True Golf Range," a formula that measures how much a shot is playing uphill or downhill and, based on yardages you've pre-entered, gives both the "it's playing this long" yardage and recommends a club. This added functionality tacks $100 onto the price, and it's worth noting that rangefinders that measure slope (inclination) are illegal for use in tournament play. We've not reviewed the GX-II and cannot comment on how well the True Golf Range or inclinometer function.
Performance
The first thing you'll notice about the GX-I, particularly if you've used someone's Bushnell 1500, is how small and light the unit is. It's not so small that it won't fit larger hands comfortably, but it is noticeably smaller in every dimension – 4″ x 2.75″ x 1.5″ versus 5.1″ x 3.7″ x 1.7″. Naturally, it weighs a fair bit less as well – 6.8 oz. versus 11.9 oz.
The exterior shell appears to be made of very sturdy plastic, and the top section is a grippy rubber. The eyepiece is large enough for a great view. Twisting the viewfinder adjusts the focus over quite a large range to suit your eyesight. With glasses or the naked eye, the viewfinder is comfortable to use. The subtle ridges and contours on the GX-I make it comfortable and easy to use – the valley in which the power button sits, for example, offers a nice touch and automatically guides your fingers to the right spot(s).
The two buttons are made of a firm plastic. Once I set up the GX-I (which simply involved confirming the pre-determined settings), I never had to use the "Mode" button. The power button on top is used to turn the unit on and to take a measurement. It has a bit of a "clicky" feel that took a little getting used to, but in the end I appreciated over the 1500's softer feel – it let me know when I was actually pushing down.
Actual use is simple and straightforward. I hate to borrow a computer phrase, but it's true point-and-click. Yardages are displayed in a fairly large type within the viewfinder, making reading the distance quite simple. In scan mode, the yardage updates every second or so as you pan across an area. I rarely found myself using scan mode simply because I'm usually able to point at the target and acquire a yardage quickly, though I can see scan mode coming in handy in windy conditions or for those who have a little more trouble remaining stable.
The GX-I measures things accurately and quickly. I tested the GX-I on a shooting range and against other laser rangefinders, and the GX-I provided the same yardages as more expensive models. I was able to acquire every flag inside of 300 yards as well as one or two over 400 yards away (just for the heck of it). The stated measurement limits for trees is 600 yards (not that you'd ever really need to measure anything that far away), and I've never found
Obviously, rangefinders require line-of-sight in order to measure, but I've never had to walk more than about 15 steps sideways or crouch slightly to shoot between tree trunks to acquire a yardage to the flag. 95% of the time I don't have to move at all. My GX-I's laser seemed to maintain a rather small spot beam diameter and was nicely aligned, as I never had trouble shooting through even somewhat small holes between tree trunks, leaves, golf carts, people walking in front of the flag, or other objects.
To assist me in aiming, I used one of the nicer features offered with the GX-I – the availability of seven different aiming reticles. Though I never had any problems using the circular reticle on the Bushnell models, I appreciate the extra personalization options, and I settled on the smallest one to help me
The GX-I feels somewhat rugged and has endured a few months of treatment. I've dropped it to the ground, chucked it in the storage compartment of my golf cart, and used it in mists, rains, and both cold and warm temperatures. It shows virtually no signs of wear and still works perfectly.
Despite those months of use, I've yet to have to replace the battery, which still shows a near-full charge in the viewfinder. The battery isn't a 9V or any other "standard" size battery. No doubt this is a size consideration, as the battery – a cylindrical 3-volt "CR2" battery commonly found in small digital cameras – is a good bit smaller than the blocky 9-volt. The batteries sell for about $7 and can be found at Wal-Mart, photography stores, and plenty of other places (Best Buy, Circuit City, etc.).
Accessories
The GX-I ships with a fairly sturdy cord lanyard that attaches to the bottom rear of the GX-I. I never used the lanyard, but I can see how it would come in handy if you were a caddy or a spotter or something. The GX-I also comes with a carrying case. The carrying case can clip to your belt with the attached strap. The case also includes a sturdy plastic clip, and I've used that clip to attach the carrying case to my stand bag. The GX-I is a bit of a tight fit in the case, so I carry the GX-I itself in another more readily accessible pocket on my golf bag (typically the one I'm supposed to keep the scorecard in), slipping it back into the case at the end of the round.
Conclusion
At a retail price of $299, the GX-I compares favorably in size to the Bushnell Tour V2, a similarly sized, vertical laser rangefinder that costs a full $50 more. Again, I personally find a range finder more useful than a GPS, and at $299, I think this one may be the best bargain out there.
The GX-I excels at what it does: finding the distance to the flag or whatever you're targeting with the reticle. It's a no-hassles way to improve your golf game by knowing the exact distance.
The GX-I is small, lightweight, and reliable. It has nice features like your choice of seven aiming reticles, and it works quickly. Battery life is exceptional and rangefinders don't require subscription fees or preparation: they're ready to use out of the box. I've sold my Bushnell rangefinder and am using the GX-I exclusively.