Ever since seeing The Golf Channel's Playing Lessons from the Pros with Cobra Long-Drive Champs Jason Zuback and Brian Pavlet, I've been intrigued by the "Stinger tee." Zuback and Pavlet recommended it as "necessary equipment" that gives them an advantage. When LPGA cutie Laura Diaz professed to using the same tees in her Playing Lesson I had to give Earl Weiss, owner of Stinger Tees, a ring.
A few days later, I had my grubby paws on some 2¼" and 3″ Pro XL Competition Stinger tees. The tees are as attractive – the natural wood grain doesn't leave paint marks on my clubs – as they are functional. The thinner tees are easier to stick into hard ground and the sharper points make these tees great groove cleaners. My course's superintendent is a fan of Stinger tees too: "they don't chew up our mower blades as much as thicker tees or those damned plastic tees."

The theory behind the Stinger tee is the same as we've seen with the Epoch and Brush-T: less tee touches the ball, minimizing clubhead deflection and drag. The ball launches with less resistance and lower spin.
Long drive champions opt for the competition tees, which are made from slightly harder wood with less grain and smaller tops. Stinger tees snap more easily than regular tees, but if you're striking the ball well they don't break. In practice, trying not to snap the tees resulted in smoother swings, much as the Brush-T encouraged a "sweeping" motion. I found that even the 2¼" tees worked well for my oversize (365cc) driver as well as my 3W and irons. The trick for the driver is simply not to stick them into the ground too far. A good swing plucks the tee out of the ground, flicking it in the air just like you see on TV. 🙂
The Stinger tee is available in just about as many models as you could possibly want: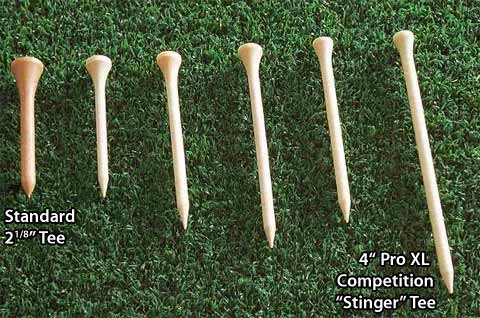 From left to right, you see a standard tee (2-1/8″), a 2¼" Stinger, a 2¾" Pro XL, a 3¼"Pro XL, a 3″ Pro XL Competition, and a 4″ Pro XL Competition. The
Stinger tees have been tested to deliver +2 MPH more ball speed and -500 RPM backspin. The trajectory was higher and the balls carried further. "High launch, low spin" is the mantra of long driving these days, and Stinger tees yielded 14 additional yards in independent testing.
Obviously, nobody can reproduce a swing like an Iron Byron testing machine, but the facts speak for themselves: 14 extra yards is a sizable leap. Stinger tees are used by a number of long-drive champions, men and women tour players, and this humble reviewer.
Stinger tees do what they claim to do better than any of the other tees: they don't break anywhere near as frequently as epochs and they're a lot more inexpensive than Brush-Ts. Even on days when you're not hitting the ball well, at least you've got some good groove cleaners! Besides, Stinger tees cost little more than regular tees – you can pick up 1000 3″ competition Stingers for $53 (including S&H) – 500 natural 3¼" tees from tgw.com cost $19. College golf teams? Save 20% on your Stinger tee purchase, and purchases of 500 are also available.
That having been said, I have but one question for you: why aren't you playing Stinger Tees? You should be.