This week's Bag Drop comes courtesy of Adams Golf in the form of their latest game-improvement irons, the Redline Hybrid-Iron set, and the re-release of the former Yes! putters. Adams' long, successful history in the hybrid really speaks for itself, but another place where their equipment really shines is in the hands of Long Drivers of America (LDA) players. That would lead one to believe that if there's one thing they're familiar with, it's milking every bit of distance out of any and all clubs they produce. Distance, in fact, was the primary design goal in this new Redline set. So how did they go about implementing a set that meets that goal? We'll get to that in a minute, but first we have some other Adams news to mention.
As an added bonus, we take a look at Yes! Golf's new and improved C-Groove putters. In case you weren't aware, Adams purchased Yes! this past January, and now they're pulling the curtain back on the first new putters to be (re-)released since this acquisition.

Adams Redline Hybrid-Iron Set
Going back to that statement above, Adams defined distance as the number one goal of these new irons and in order to achieve that, they took a multi-faceted approach to the design of the new Redline hybrid/iron set. One of the sure-fire ways to produce longer distances is, of course, to increase clubhead speed. As we know, using a longer shaft all but guarantees clubhead speed. So with that in mind, they incorporated longer shafts into the package. The hybrid head is also larger, which allows weight (45 grams) to be pushed back and deep, increasing forgiveness, which can certainly help compensate for any loss of accuracy due to the longer shaft.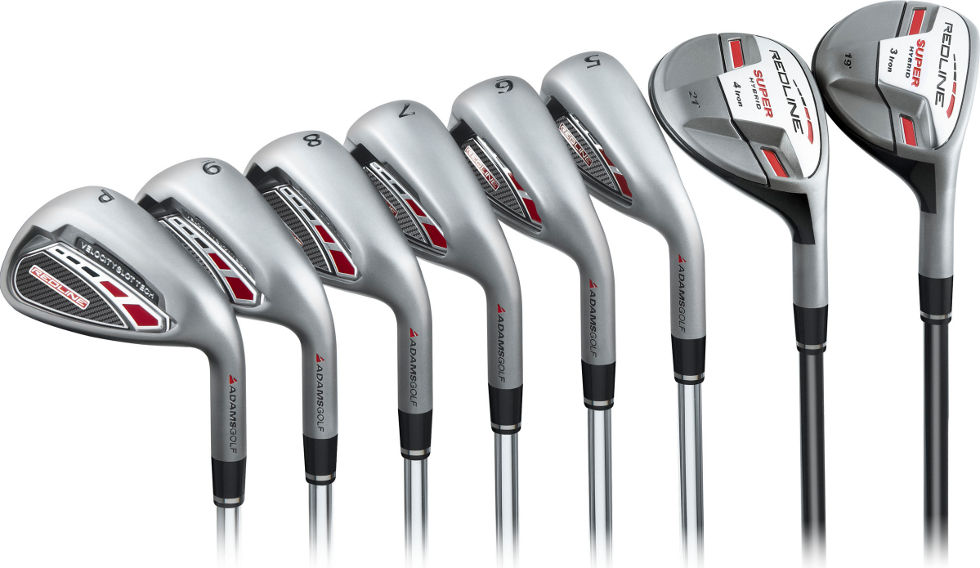 Capping off the hybrid head is an ultra-thin, 2.3mm steel face, which provides a more spring-like effect and according to Adams, launches the ball at faster speeds than traditional hybrids. Helping the hybrids in the Redline move through the turf as efficiently as possible is a tri-level sole design, ensuring the player can be confident regardless of whether they're taking them off the tee or off the deck, or even in the rough.
The irons in the set can't be overlooked either. Adams' engineers tried to take the qualities of the hybrids and apply them to the irons in the set where possible. To ensure less than perfect swings won't be punished too bad, weighting was placed low and deep. Shots will fly not only straighter, but longer as well thanks to the irons' thin face.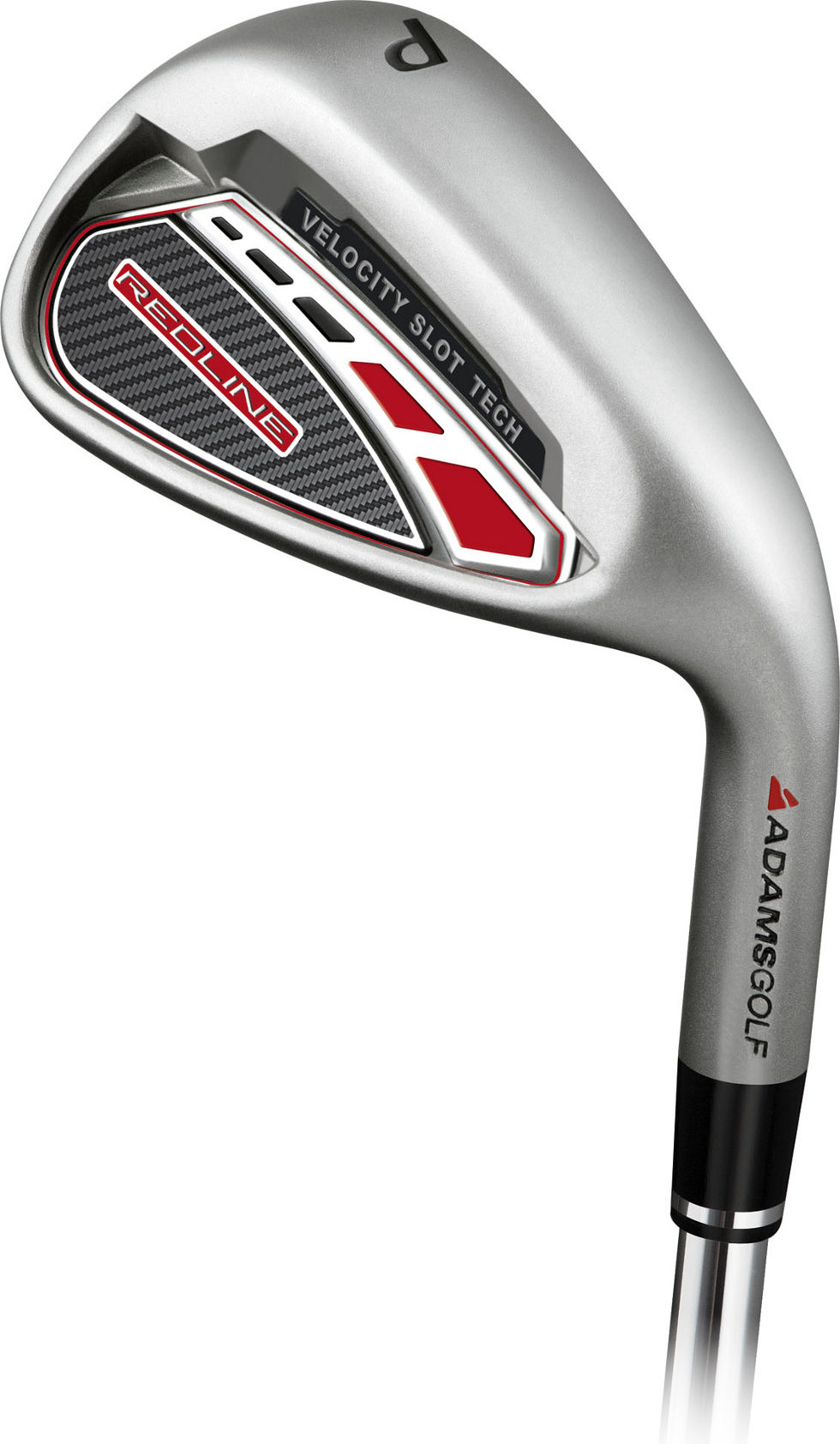 In order to enhance both the sound and feel produced by the irons in the Redline set, TPU inserts were placed strategically in the cavity. Adams also did something we've seen a number of manufacturers do lately, and that is approach the iron design not as a whole set, but instead optimize each one as an individual. The result is that a number of qualities flow or progress as the set moves from long irons through scoring irons. An example of this is the topline, which progressively thins, with the thicker toplines found in the long irons and the thinner toplines in the short irons. Sole camber increases throughout the set as well.
As the leader in hybrid and hybrid-iron design, we are proud to introduce this new line that truly delivers more distance than any other product on the market. We have clearly succeeded in applying new technologies to create a set that outperforms the competition. Giving consumers the ability to customize their set make-up even further enhances the performance capabilities of this innovative hybrid-iron set.

Chip Brewer, President and CEO of Adams Golf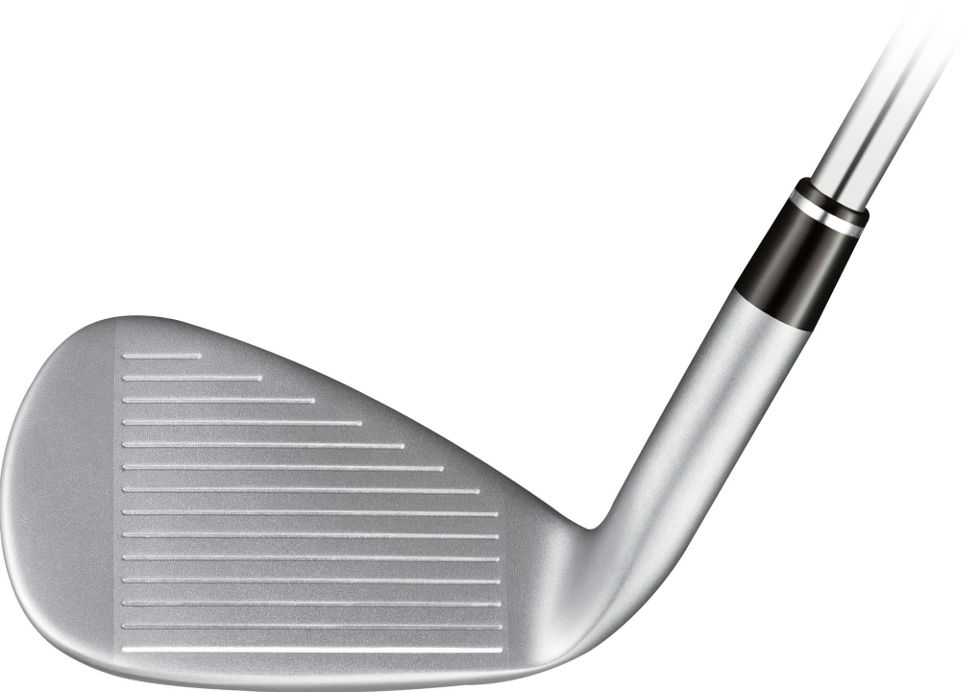 Options and Availability
The first thing you should know is that there are a number of options available for this set with no up-charge. The set consists of eight clubs, but it's up to you to decide the composition; you can get all three available hybrids if you like, or you can choose just one if that suits you better. Again, regardless of what you choose, the price stays the same. The only option that changes the price is the choice of steel or graphite shafts. The stock graphite shaft is the UST Mamiya ATTAS T2 and will cost $899 though if you go with the steel Redline Performance 85 shafts, they will run $799. Regardless of whether you prefer steel or graphite, both are available in flex profiles ranging from A-flex up through X-flex and is available to both right-handed and left-handed players. The Adams Redline iron set hits pro shops today (April 20th).
Yes! C-Groove Putters
In their first new release since being acquired by Adams Golf, Yes! re-introduces eight models in the C-Groove putter family, three of which are new to customers in the United States.
The C-Grooves for which the putter is named are best described as concentric grooves formed in the face of the putter. They're not just a cosmetic feature; they actually improve putting performance by producing a truer, more forward roll after impact thanks to the grooves actually gripping the ball while sending it on its way. As many familiar with Yes! putters have come to expect, these new C-Groove putters also have a soft feel without being devoid of feedback. The eight models are:
Abbie – A chrome-plated heel-toe blade forged out of 2025 carbon steel with a slant neck
Ann – A heel-toe plumbers neck cast of 304 staunless steel with a blast finish (new to U.S.)
Callie – Heel-toe blade with plumbers neck, finished in Nickel Titanium gunmetal
Christina – 350 gram face balanced heel-toe blade cast of 304 stainless steel with a double-bend neck (new to U.S)
Laura (Pink) – Face balanced mallet cast of 304 stainless steel with double bend shaft and pink alignment aids on top rail and cavity (new to U.S.)
Sandy – High MOI mallet created from 304 chrome-plated stainless steel with double-bend shaft
Tracy II – Face-balanced heel-toe blade made of 304 stainless steel with gunmetal finish and a double bend shaft
Victoria II – Perimeter-weighted face balanced large cavity back head with double-bend shaft made of 304 stainless steel
I am extremely excited about bringing Yes! putters back the U.S. market. Yes! putters have had such a strong following by professional golfers for years. Now the everyday golfer will once again be able to purchase their Yes! putter at golf shops nationwide and be able to customize it to further enhance its performance.

Blair Philip, Director of Product Development—Putters at Adams Golf
Options and Availability
Every model of the Yes! C-Grind putters is available now and can be ordered customized to your length, loft, and lie specifications. All models are available for right-handed players, though there are a few available to lefties too, including: Ann, Tracy II, Sandy(long/belly versions are RH only), and Victoria II (long/belly versions are RH only). MSRP on the Allie and the belly and long versions of the Sandy and Victoria II is set at $249.99. All others go for $199.99. For a small up-charge, a number of custom options can be ordered including custom grips and head covers.