The innovative minds at The Oven have been hard at work throughout the year and we're now starting to see details on a few of their latest designs (and improvements on previous equipment/apparel) trickle out. As we've come to expect from Nike (as evidenced by numerous releases over the last couple of years), they've again taken care of the traditionalists as well as those that like their clubs and apparel to be a little outside of the box.
We'll first take a look at the new Limited Edition VR Pro drivers and fairway woods, which do maintain a more traditional appearance and impact tone like those in the VR line before them. Then, we'll jump over to the shoes/apparel side as we take a quick look at some new colorways that have been added to the Lunar Control shoe line. From there, we'll shift gears to the not quite traditional, albeit old-school-cool Nike Dunk NG shoes, and then wrap it up with the all new, athletically-inclined Lunar Ascend shoe. Let's hit it!

Nike VR Pro Limited Edition Drivers & Fairway Woods
Earlier this year, Nike took the next step with their Victory Red (VR) line of woods by introducing the VR Pro drivers, fairway woods, and hybrids, all of which complemented the VR Pro and VR Pro Combo irons quite well. The VR lineup targets better players, and all clubs in this family are designed to be much more traditional in sounds and appearance as opposed to the SQ family, which is geared towards the improving player.
The newest addition to the VR family is the VR Pro Limited Edition driver. Its forged 430cc pear shaped head addresses the low-handicapper (as well as Nike's Tour athletes) needs and desires in a driver by providing great feel, ultimate control, and maximum workability.
The VR Pro Limited Edition driver isn't simply the old model with a forged head however; it brings one of Nike's newest innovations to market in the form of the NexCOR face technology. The NexCOR face technology maximizes ball speed and ultimately distance via the use of a new, speed-expanding multi-face-thickness design. The NexCOR infinity design creates a bridges for an ultra-thin, ultra-hot face and unmatched ball speed.
The NexCOR face works in conjunction with the familiar Compression Channel technology that has been present in Nike's VR woods since their inception. For those not familiar, the Compression Channel is the channel you see on the sole (behind the face) that extends from heel to toe. By allowing the face to flex more, like a trampoline, faster ball speeds and ultimately longer distance results.
Using a true four piece forging process, the face, crown, sole and hosel are combined to maximize the effect of the NexCOR face and optimize the center of gravity for incredible distance and control.
The Nike VR Pro Limited Edition Forged driver will be available in a little less than a month, hitting stores on November 1st. Three loft options will be available – an 8.5° that's available only for right handed players, and a 9.5° and 10.5° that are both available to righties and lefties. The stock shaft is the new MRC Diamana 'Ahina shaft which incorporates Mitsubishi Rayon's Multi-Dimensional Interlay technology in order to deliver a stiffer mid and tip section than previous models.
Along with the drivers come the VR Pro Limited Edition fairway woods, which incorporate a lot of the same tech found in the drivers, such as the immediately noticeable Compression Channel. They come packaged with the same MRC Diamana 'Ahina graphite shaft, and will be available in a 3- and 5-wood (15° and 18°).
Nike Dunk NG
Here's one we missed from late August but wanted to cover. If you're a hardcore traditionalist, this may not be your thing, but coming from an admitted shoe nut, Nike's introduction of the Dunk NG is pretty cool. In fact, you may have seen Michelle Wie wearing them at the Women's Canadian Open, or possibly you spotted Anthony Kim with the Dunk NGs on his feet.
25 years ago, Nike released the original Dunk (a basketball shoe, in case you didn't catch that part) and over the years, it became one of the most beloved shoes of all time. The Dunk NG stays true to the original and they worked hard to ensure that it feels the same as the original Dunks, even though it now comes equipped with golf specific spikes on the bottom as well as full grain, waterproof, golf-specific leather throughout the body.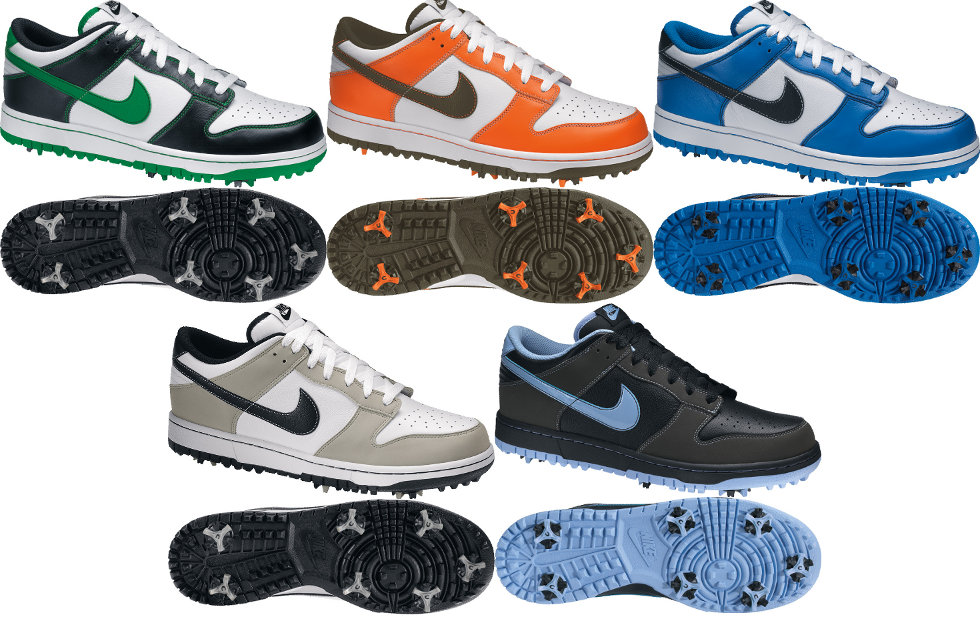 The Dunk NG also looks to be as much about personal expression as it is about performance, as the new shoe allows the player to show their true colors on the course. Coming in colors with names such as Solar Blue and Orange Glow, along with two sets of laces (one in white, one in the color of the accents) the shoes allows you to take either a bold or more subdued approach when coordinating them with your apparel.
Among the other key features is a full-length, contoured sockliner, a rubber cupsole, the familiar Scorpion Stinger spikes (with tri-LOK system) for traction and stability, and a two year limited waterproof warranty.
Available in both mens and womens models, the Nike Dunk NG will come in a wide variety of colors, though not all will be ready on the initial January 1st release date. On 1/1/2012, men will have three colors available including white/black-soar, white/black-granite, and white/cargo khaki-safety orange, while women will have two colors initially, including white/mint candy-granite and white/black-spark. Round two starts on March 1st (2012) with the mens line getting two more color ways (Midnight Fog/Prism Blue-Black and White/Court Green-Black) as does the womens line (Black/White-Check and Orange Glow/White). MSRP is set at $160 for the mens Dunk NG and $130 for womens models.
Nike Lunar Control
In other Nike shoe news, the Nike Lunar Control golf shoes (which I reviewed earlier this year and absolutely loved) are getting a few more color options, which I'm sure will please a number of fans.
For those unfamiliar, here's a quick run down of the Lunar Control: for starters, while it has a classic saddle shoe appearance, it also features a number of Nike's newest and most popular technologies which make it extremely light and comfortable. Among those technologies is the Lunarlon Foam, which is the same cushioning system used in a number of Nike's extremely popular running shoes including the Lunarglide+, LunarElite+ and Lunarswift+ families. Also present is the Nike Flywire Technology, which is used throughout to provide unfaltering support and stability.
Nike Lunar Ascend
Though no official press release has been put out by Nike, while snooping around, I stumbled across these new shoes. If you're a fan of a golf shoe with the style and feel of an athletic/running shoe (as I definitely am) the Nike Lunar Ascend looks to be a great option that will be coming to stores and online retailers in the Spring of 2012.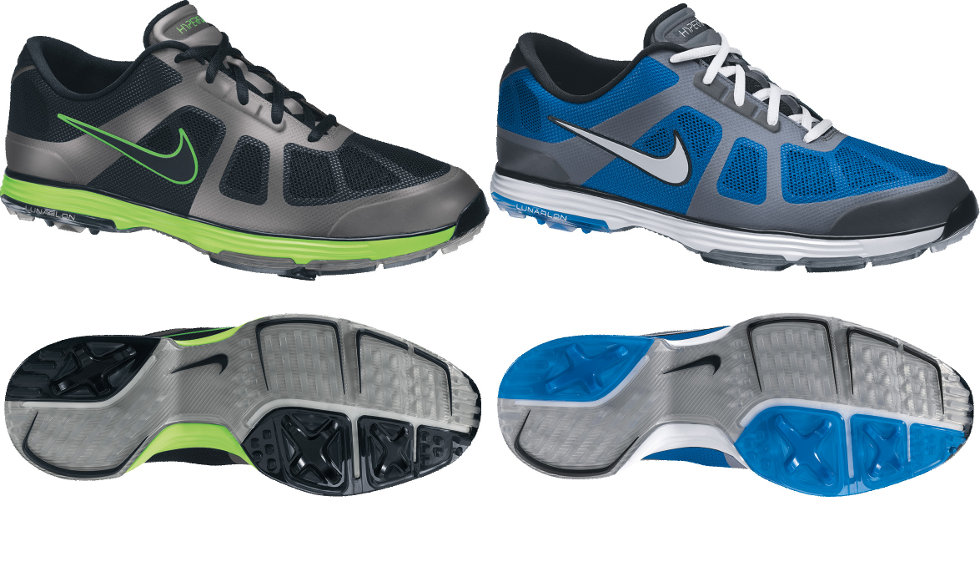 As one can probably gather from the name gives, the Lunar Ascend away, this shoe features a Lunarlon foam midsole (like the ever-popular Lunar Control). Also present is a Hyperfuse composite construction upper for maximum weight savings, breathability, and comfort. Traction comes in the form of molded, non-removable spikes (unfortunately!). Shoes like these are a great option for players that spend the majority of their playing time in shorts and want something with a more athletic shoe style than what most saddle-type shoes provide. As much as I'd love to provide an official price, at the moment, nothing consistent is available. More details will be provided as they are released.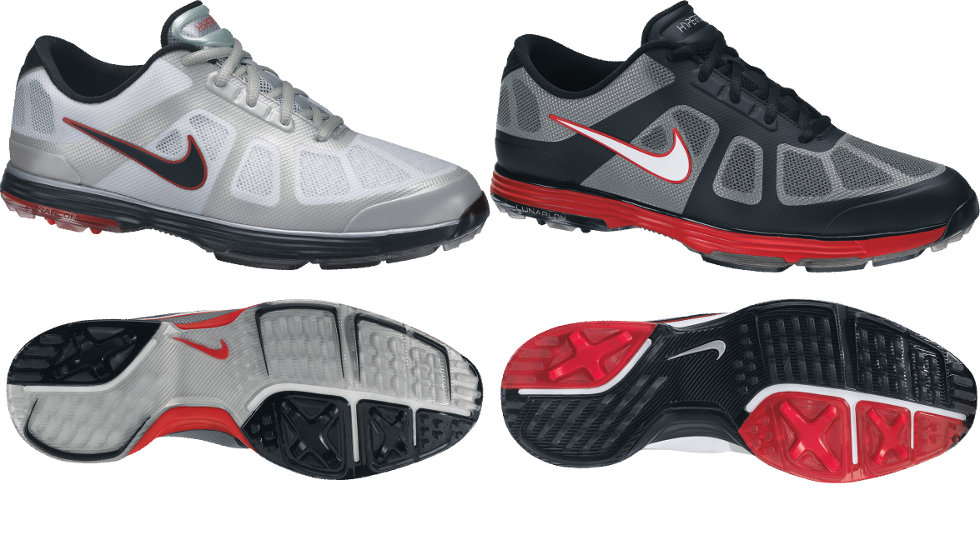 Rumor is there's more to come from Nike in the coming months, including some additions to the VR line of irons, so stay tuned and we'll pass along the info!