Alan's taking a week off from Bag Drop, so I'm filling in with some odds and ends – random little thoughts about golf equipment. I'll write what comes to mind, and share some opinions with you.
This week, I've got some thoughts to share with you on topics ranging from rust to playing the same ball, from the driving range to the video camera, and range balls and clean grooves. Join me, see what you think, and post your own equipment tips in the comments at the end.

Rust
For the last time, people: rusty wedges do not spin more than new, non-rusted wedges. If anything, rusty wedges spin less. Think about it: rust is a fine, flaky material. Would you sprinkle baking soda on your wedge to get it to spin more? Didn't think so.
But if that's not the case, why does Bob Vokey sell "oil can" wedges, you might ask? Because the dull finish is also glare-resistant. The oil can finish wears away, revealing raw metal which can rust. "Can" and "should" are different things altogether. As with all golf clubs, I advise you to keep your clubs clean (no dirt in the grooves) and dry. I've had Vokey oil can wedges for years, and they've never rusted: I keep them clean and dry.
And even if rust did increase spin, why would you want it? One or two shots later and all the rust would be gone, and so now you've got a club that performs differently at the start of the round than at the end. That'd sure be helpful. And finally, a question for you: ever seen a pro with a rusty wedge? Yeah, me neither.
Rust does not increase spin. It doesn't make the club feel "softer." It's all in your head (or flat out false).
What Club(s) To Buy
When asking for advice (particularly in the golf forum), please be aware that almost every question of the type "What _______ is best for me?" will be answered by people telling you to get the clubs they have in their bags. It's simple human nature: for a golfer to recommend something else would mean he's acknowledged that he isn't playing the best equipment."
In reality, such questions rarely result in any helpful advice, because very few people on the Internet understand your golf game. We don't see your misses, we don't see your tempo, we don't know how fast you swing the club, we don't know what kind of ball you play, what kinds of courses you play, or what you want out of the game (more feedback so you can improve or more forgiveness so you can maximize fun and scoring right now?).
So here's the only answer to the question: do a little research to narrow down your list of candidates, then go hit them. And whatever you do, get fit for the club, ideally with a dynamic fitting. The static ("tell us your wrist-to-floor measurement") ones are better than nothing, but barely.
Hybrids

I'm getting awfully tired of people saying "the longest iron in your bag should be a 5-iron." As a low handicapper, I realize I'm a bit of an exception to most such generalizations, but this one's awfully common. I can hit my 3-iron just fine, thank you very much, and I'm much, much more comfortable hitting a low draw with it than I am with my hybrid.
Most golfers would probably do well to follow the common advice of ditching every iron below their five-iron, but I would caution golfers to pay attention to what type of hybrid they choose. Some hybrids perform better with a descending iron-like swing while others react best with a more sweeping swing, like a fairway wood. If you're not very good with your fairway woods, look for a more iron-like set of hybrids (and vice versa).
I've always preferred a hybrid that feels a bit more like an iron. That's currently the Titleist 585.H. I play the 17° model, which I've found nicely fits the gap between my 3-wood and my 3-iron. That's my final big of advice on hybrids: ignore the numbers stamped on the sole. Hit several hybrids on the range (with several shafts, if possible) and find the one that fills the necessary gap and comes off at a pleasing trajectory.
The One-Ball Rule
Find a golf ball you like and stick with it, at least from round to round. I see a lot of mid-handicap golfers playing whatever ball they dig out of their bag. One time it's a Pro V1, and then three holes later when that one's gotten too dirty or too scuffed (or too lost), they'll be gaming a Pinnacle. The two balls might behave similarly off the tee as far as the mid-handicapper is concerned, but they behave completely differently where it count most: around the greens.
I'm not suggesting every golfer needs to play a premium $45/dozen golf ball. But if you like a $25 Titleist DT Carry or NXT Tour, stick with that ball or others very similar to it. If you suddenly swap in a Pro V1, that chip shot you're expecting to release will spin and grab, leaving you above the hole with a 25-footer for par.
Find a ball you like – whatever it is – and stick with it. It's okay to occasionally experiment with different balls, but don't do it every third hole.
The Driving Range
Hank Haney likes to point out that Tiger Woods cleans his club's grooves after every two or three swings on the driving range. You likely don't play with clubs caked in grass and mud, so don't practice like that either. Keep your equipment clean at all times.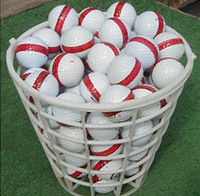 That being said, the range presents a number of problems for the average golfer. On the PGA Tour, the range is stocked with every premium ball on the market. The pros get to hit the same ball they play, and thus, to practice efficiently.
Your local driving range probably has range balls, not Nike ONE Platinums or Titleist Pro V1s. Range balls are have firmer covers, and as such, they tend to fly a little higher and with a lot less spin. If you're serious about your practice, take into account the different way range balls perform. Never use range balls when practicing your short game, because differences in trajectory and spin are pronounced on the short shots.
I have a bag of old Pro V1xs (my ball of choice) that I'll take to the golf course when it's not very busy. I'll go out as a single, avoid the tee if I'm working on mid-irons or whatever, and hit six or seven shots per hole. This lets me see the true trajectory and spin of the ball I play.
And don't get me started on hitting off mats.
The Camera
Vijay Singh long resisted putting his swing on video because he feared that seeing his swing on video would make him want to make pretty golf swings, not effective golf swings.
That's not a problem for most golfers, as "effective" and "pretty" are closer to the same thing than at Vijay's level. Most amateur golfers suffer from a lack of body awareness: we may think we're doing one thing, but in reality, we're doing another thing entirely. For example, I struggle with taking the club back well to the inside and not getting my hands high enough at the top of the backswing. I feel like I am, but video confirms that I slip back into this old habit every few weeks.
I have a Canon SD550. It's a small digital camera that, in addition to taking pretty nice images, also records video. It can record video at 30 frames per second in 640 x 480 mode, but the best thing is its ability to record 320 x 240 video at 60 frames per second.
I'm not a big fan of putting your swing on video all the time, but as an occasional check, it comes in quite handy. This makes my little camera an essential piece of "golf equipment" to me. You don't necessarily need to find a camera that can record 60 FPS, though it helps, and I strongly recommend you find a camera and put your swing on video.
And while you're at it, submit it to our Swing Check column for a free diagnosis.