Ever since I picked up a Fat Lady Swings putter more than a decade ago, I've been something of a Bobby Grace putter fan. His original designs always bear something of a rugged industrial look that just seems to mean business.
His latest line of putters for MacGregor comes with something called "Distance Corrective Technology" (DCT) that allows you to swap between a polymer and a milled titanium face to change the feel and response of the putter.
There are three putters in the line. Two are more traditional Anser-like heads while the third is a high MOI (moment of inertia) mid-mallet that looks a lot more conventional than Grace's past V-Foil putters.

Response DCT Putter
This is the high MOI model that comes in a double-bend heel-shafted configuration. The head is milled from aircraft aluminum that seems to be a favorite material for Bobby Grace. A 303 stainless steel backweight is positioned in the flange extension while two removable weights screw into ports in the sole at the heel and toe.
The polymer face option is supposed to provide a softer feel for faster greens while the harder titanium face is meant to provide more feedback on slower greens. It's my opinion you're better off picking the face with the feel you prefer and then sticking with it no matter the green speed. But that's just me.
Because it's a double bend shaft, I think we can safely surmise it's a face-balanced putter and thus excellent for players with a straight back, straight through putting stroke.
The head features a couple of Grace design trademarks: the stepped down bumpers harkens back to the Fat Lady Swings design and the beveled sole helps prevent snagging the putter on the backswing.
DCT1 and DCT3 Putters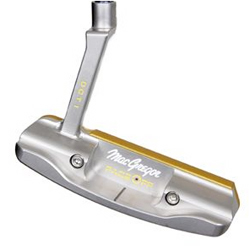 What MacGregor is also calling "Face-Off" technology also shows up in two Anser-like models. The DCT1 comes with a long plumber's neck while the DCT3 features a double bend shaft that connects directly into the clubhead.
Like the Response model, the interchangeable faces are surrounded in yellow so you end up with a pretty vivid top-line alignment aid that I think actually looks pretty good.
The faces are screwed in from the back with a special tool that comes with the putter. While the weights are removable, I don't believe the putters come with other weights so if you want to change you'll have to pop for an optional weight kit.
Grace has always done a good job translating Anser-like heads to his own design and with these latest versions, that trait continues. These are very good looking putters even with the new face technology.
Specifications

All three models come in 33-, 34-, and 35-inch lengths with 3° of loft and a lie angle of 71°. All are available in both left- and right-handed versions.
The real difference between the models (other than look) is in their moment of inertia. MacGregor reports the Response putter's MOI is 5121, while the DCT 1 is 4466, and the DCT3 is 4098.
Price and Availability
The putters have just begun shipping and should be showing up in stores and pro shops soon. Edwin Watts has the Response DCT model in stock in right hand in all three lengths and is selling it for $199.99.
In the End…
As a putter maven it's always fun to see a new model come out, especially from so accomplished a designer as Bobby Grace. I'm looking forward to test rolling some putts with these as soon as I come across them. Who knows… maybe one of these is the magic wand that'll end my life long quest for the perfect stick.