Playing with a couple golf writer buddies the other day, a couple incidents led to this week's column. The first was when our fourth, the son of one of my friends (and an exceptionally strong player), asked me what iron his 20° hybrid corresponded to. I suddenly realized how difficult a question that is to answer.
While 20° is generally the loft in a 3-iron, the answer really isn't that simple. The graphite shaft in most hybrids, varying club lengths, and a hybrid's ability to launch the ball higher means the distance difference between a 3-iron and a 3-hybrid can be significant. Add to that the fact that hybrid manufacturers give different lofts different numbers and it gets even more confusing.
The second thing that happened was that Chuck Stogel, who writes an equipment column for cbssportsline.com, told me about a new hybrid fitting system that Mizuno is rolling out. Voilá… this week's Bag Drop. Thanks, Chuck.

The Hybrid Conundrum
I'm currently reviewing a set of Adams Idea Pro forged irons (I promise you'll see it very soon) and have both their 4-iron and 4-hybrid. The shafts are both stiff, although the hybrid is a graphite VS Proto and the iron is a steel True Temper Black Gold. Both are 23°, yet I hit the hybrid a good 10 yards further than the iron.
Many players today, me among them, already have or are considering replacing irons with hybrids down to their 5-iron. And that means they probably carry a driver, 3-wood, 5-PW, two other wedges, and a putter. That's 11 clubs, leaving room for three more.
So how do you decide to fill the gap between your 3-wood and your 5-iron? Should you get three hybrids? Opt for a 5-wood? Keep the 4-iron? Or do you go completely crazy like Dana Quigley and replace even your 5- and 6-irons with hybrids?
One solution is to get a whole new integrated set like Adams Golf and others are offering. Another is to hit the range with a bag full of candidates and measure your distances. But Mizuno is offering up another answer with their Set Optimizer System.
A New Way to Get Fit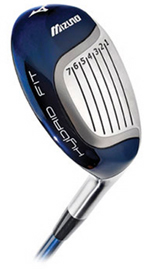 Mizuno's R&D team has developed a hybrid fitting club to be used in conjunction with a clubhead speed monitor. As the picture shows, the sole is marked in numbered graduations. It's to be used with impact tape and a lie board so that scuff marks will indicate the angle of attack or, in other words, whether you're lofting or de-lofting the fit club at impact.
Given that angle of attack number and combining it with the clubhead speed you produce with the fitting club, you and your fitter can consult a chart that recommends three clubs to best fit between your 3-wood and 5-iron. Actually there are two different charts, one for players using game improvement irons and the other for players using "players" irons.
As their charts suggest, better players with higher swing speeds may want to consider staying with a 3- and 4-iron or simply replace those clubs with game improvement 3- and 4-irons. Slower swingers may want to add a 5-wood before dropping down to a couple of hybrids.
As you might guess from a proprietary and patented system, all the recommendations are for Mizuno hybrids and hybrid irons. But still, with Mizuno's many models, I am sure you could apply their suggestions to similarly lofted and shafted clubs from other manufacturers.
The fitting club and system will be available at about 2,500 pro shops and golf specialty stores around the U.S. That our friends over at Edwin Watts are one of Mizuno's recommended online dealers leads me to believe the system will probably be available at their retail locations.
In the End…
It's somewhat amazing to me how many better players I've run into on the course this year who rave about their hybrids. I know I love mine. But as with all the clubs in your bag, you have to know the yardages they produce. With a limit on the number of clubs you can carry, it's critical to have them gapped properly. This Mizuno Set Optimizer System looks like a good way to get the best set makeup you can.