TaylorMade–adidas Golf has keeps pumping out the goods, as they have improved on a number of familiar designs, and unleashes a new Ghost just in time for Halloween. Okay, that was kinda cheesy, I know, but when I see something that easy, I just can't help myself.
Yes, we've got a number of odds and ends from TMaG this week. On the apparel side, there are some very classy new shoes, and some versatile new outerwear just in time for the chilly months. On the equipment side, the Burner line of balls have undergone some improvements, while another one of the popular Rossa putters gets the Ghost white paint treatment. There's a lot to cover this week, so lets get started!

adidas adiPURE Z Footwear
Starting us off this week is the adidas adiPURE Z footwear, which they describe as "infinitely elegant with classic detailing". Who am I to argue that? They definitely are a traditional, classic spin on a modern design and are the successor to the adiPURE shoes that first launched this past spring.
The adiPURE Z was an exciting challenge for our designers. We knew there was a subset of golfers who wanted the unparalleled performance delivered by the original adiPURE in a more refined, sophisticated and contemporary package.

Harry Arnett, V.P. of Brand and Product Marketing, adidas Golf
This new iteration of the adiPURE line is made of hand finished leather (including the lining) and has a mono-tongue construction. As you can see from the picture, gone are the three white stripes. In their place are the three stripes pressed into the leather. Inside, the FitFOAM polyurethane sock liner provides comfortable cushioning and support. By enhancing impact absorption, the internal adiPRENE cushioning technology ensures long lasting comfort. Rounding out the shoe is adidas' adiTUFF technology, which essentially is an abrasion-resistant material that prevents scuffing and excessive wear on the toe and keeps the shoes looking as good as the day they were purchased for a longer amount of time.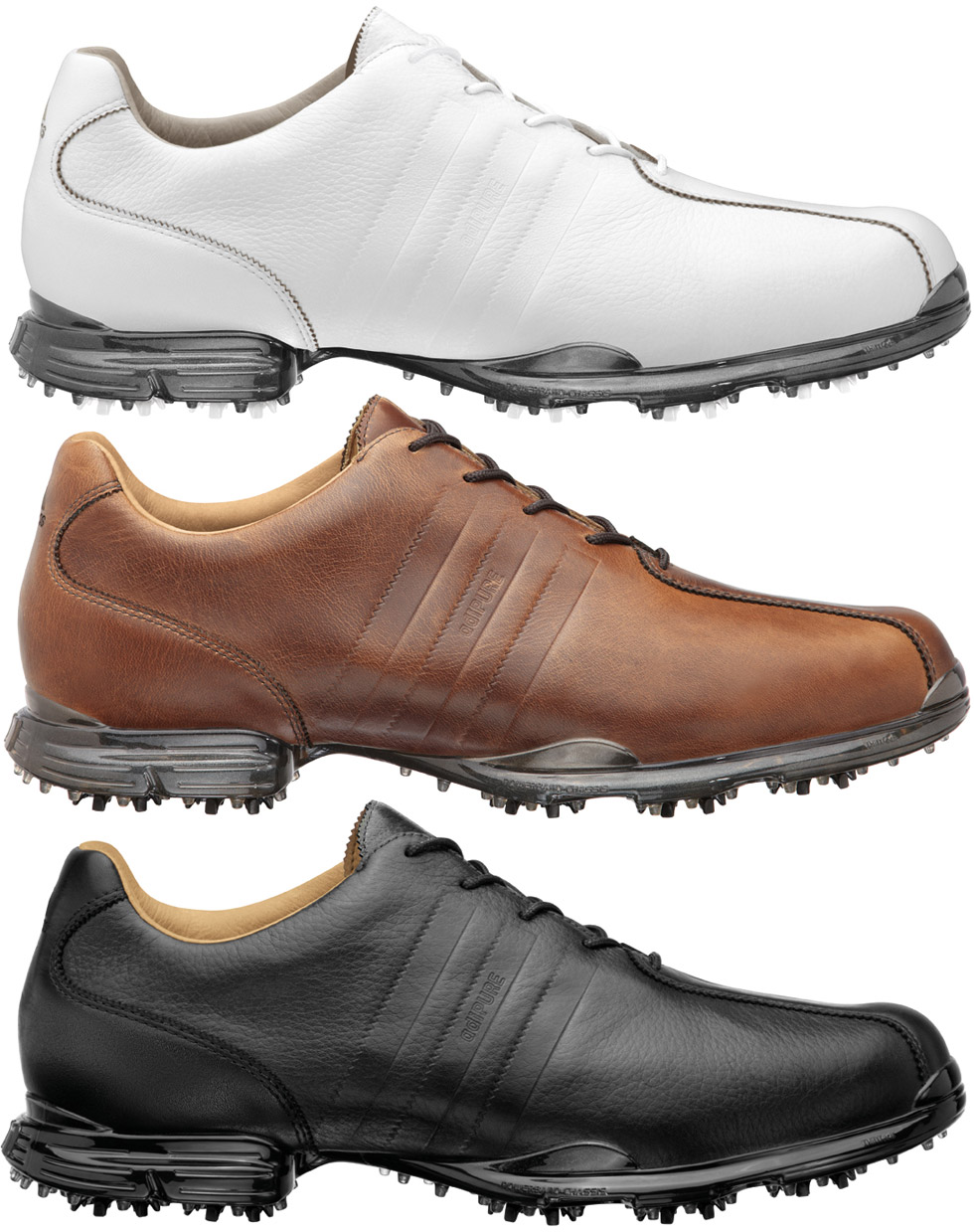 Like most all of adidas' new shoes, the adiPURE Z employs the THiNTech low profile design, which effectively brings the player (and overall center of gravity) lower to the ground, and leads to a more stable base. This low profile design also includes adidas' THiNTech cleat, in a 10-spike configuration on the bottom of the shoe.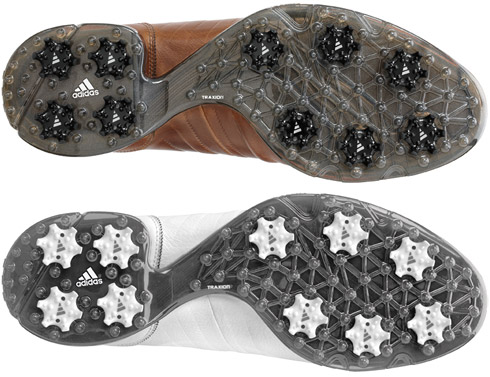 The adiPURE Z comes in three colors: black, white, and redwood (brown) and come with a two year waterproof warranty. You can find them on sale now for $250 per pair.
adidas Outerwear Collection
The next generation of adidas' outerwear actually expands on their popular ClimaProof collection and breaks it out into four weather-specific categories, appropriately named Storm, Rain, Wind, and Wind Warm. In this case, not all outerwear is created equal. The designers at adidas actually launched a detailed investigation in order to better understand the needs of serious golfers.
adidas Golf takes pride in providing the golfer with apparel that is technologically advanced and fulfills every need. The style and innovation that exists with all of our adidas Golf products is displayed in these outerwear pieces, and we believe that our innovation with ClimaProof will provide golfers with the ultimate outerwear protection so that they can continue to play golf year-round.

Tiss Dahan, Senior Director of Global Apparel
Under the Storm category, we have the ClimaProof Storm Ultimate Jacket and the ClimaProof Storm Ultimate Pant. Both
TaylorMade Burner and Burner Tour Balls
Next up is the TaylorMade's updated Burner and Burner Tour balls. Their proprietary REACT Core was worked into both the Burner and the Burner Tour, and helps to promote explosive ball speeds while retaining an acceptable degree of softness. Both employ soft core compressions, with the Burner dialed in at 35 and the Burner Tour at 45. Overall, comprehensive, compression is a different story. The Burner Tour has a thinner and softer cover, which reduces it's overall compression and actually registers below that of the Burner. The trade-off, however, is that the Burner Tour is spinnier, with a softer feel, which can be a great advantage around the greens.
As previously mentioned, the cover is another differentiating factor. The standard Burner cover is made with an Iothane 60D cover, as opposed to the softer Tour model, which uses an Iothane 57D cover. Both are said to be incredibly soft, resilient, and durable.
When we designed the Burner and Burner Tour, we developed core formulations that promote maximum velocity, which translates to maximum distance. To achieve a significant improvement in greenside spin and performance in Burner Tour, we've employed the softest and thinnest two-piece cover of any TaylorMade ball. With the new Burner, the goal was to limit driver-spin and promote maximum carry, which could only be accomplished by combining a soft core and slightly firmer cover.

Dean Snell, Sr. Director of Golf Ball Research and Development
Both balls employ TaylorMade's LDP (Low Drag Performance) aerodynamics. This 342 dimple design pattern promotes a higher ball flight (in turn, more distance) and is also said to reduce side spin.
Both the Burner and Tour Burner balls will be available this coming Friday, October 15th, with price points set at $19.99 per dozen for the Burner, and $21.99 or the Burner Tour.
TaylorMade Rossa Daytona Ghost Putters Rounding out our list of new goodies from TMaG is the Rossa Daytona Ghost putter. The familiar heel-toe weighted Rossa Daytona blade design gets the ghost white color treatment, along with a high contrast alignment aid.
In addition to the white finish is Rossa's AGSI (Anti-skid Groove System Insert). This face insert houses 14 polymer filled grooves, which "grip" the ball slightly at impact. By "holding" the ball in this manner, backspin is negated and the result is a smoother, more accurate roll. Consistency on off center hits is improved as well.
This model has been pretty popular among TaylorMade's staff as well. Players such as Paula Creamer (who had a prototype in her bag during her victory at the U.S. Women's Open), Scott Verplank, Peter Hanson, and Sean O'Hair played with various prototypes throughout the last few months.
The Rossa Daytona Ghost is available in stores now, with a price tag of $129 and comes in both left-handed and right-handed models, in lengths of 34 and 35 inches.