When we talk about the performance of our clubs, there is one desirable quality that's desired by players of all skill sets – good feel. Good feel probably simply described as what the club feels like upon impact, both in the sweet spot and on the outer edges of the clubface. And yes, while the clubhead and shaft play the primary roles in what a club feels like, the connection between your hands and that club goes right through the grip. What you may not realize is that even a pured shot might not feel as good to the hands as it should if the grips on your clubs are old, hard as a rock, and flaking. Not to mention that you're less likely to hit the ball well if you're forced to squeeze your grips because they're old, hard as a rock, and flaking!
Unfortunately, though changing your grips is something a lot of avid golfers do themselves, it's always been a bit more of a hassle than it probably should be. That's where PURE Grips comes in. Not only do they make a line of quality grips, they also make installation simple enough that anyone with a few spare minutes and an air compressor can install the grips without taking paying their local retailer. Couple that with a pretty enticing durability guarantee, and you have an overall product that's definitely worth checking out. Follow along as we take a look at PURE Grips and their products.

Though there's a chance you haven't heard of PURE Grips, they're a company with which you may want to get familiar. Unlike the competition's grips, every PURE Grip is manufactured in Tempe, AZ. PURE seems to be fully aware of their place in the market as the upstart newcomer, and I get the sense that they know they must produce a quality product in order to make an impact.
PURE Grips
Though PURE hasn't been in business all that long, they've certainly hit the ground running. Aside from the qualities of the grips themselves, PURE Grips assures that your money is well spent on the value and durability of their grips by guaranteeing that their grips will not lose tackiness or wear out for 12 months after purchase. If you wear a PURE grip out within 12 months, they'll replace it for free. For those of us that play multiple times every week and spend a ton of time at the range, that's a pretty significant guarantee, as we all know how some grips can wear fairly quickly (I'm looking at you, Winn!).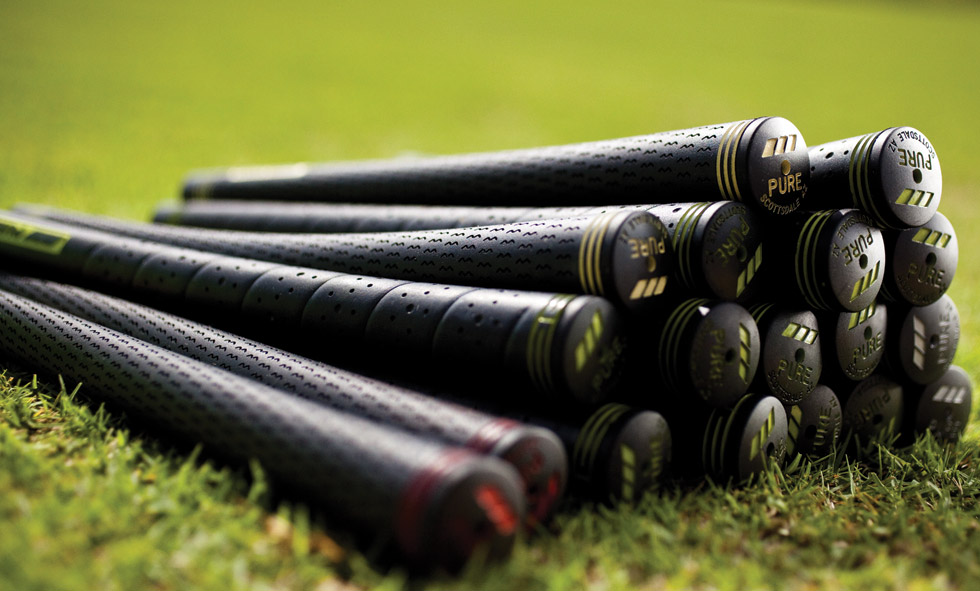 The grips themselves are created using PURE Grips' injection molding process, which forms PURE's proprietary EPDM rubber into shape. The rubber itself is completely absent of plasticizers or any other diluting additives that may otherwise negatively effect the life and durability of the grip. This is in stark contrast to the majority of grips on the market.
PURE holds their products to unwavering standards so that you get the maximum performance out of them, shot after shot. One example of this is the minimal weight variation from grip to grip. In fact, they claim to have the most unvarying weight of any grip on the market. PURE also ensures that their grips have uniform wall thickness throughout the grip for a consistent feel in your hands.
Down here in the southern states, tackiness can be the key in finding the right grip, especially as the heat and the humidity rises. PURE Grips has reportedly taken care of golfers in that arena as well, as their entire line is designed with all weather conditions in mind. The company says their grips are resistant to both extreme temperatures and inclement weather and moisture, so that the club should stay firmly in hand without worrying about them slipping.
As far as feel goes, some players prefer a softer, more cushion-y feeling grip, while others like the feeling of a harder rubber. To accommodate all types of players, each style of grip varies in both texture and firmness, though each share the same qualities listed above. So by now, you're probably curious what styles and models they offer, right?

The PURE Soft Wrap (seen above with red) is described by PURE as "a softer, lightly perforated wrap providing maximum shock absorption and optimal comfort" and has a medium amount of perforation. The overall weight is 54.5 grams, and comes at a price of $5.50 each.
Next up, we have the PURE Smooth Wrap, which is a has the appearance of an unperforated leather wrap, and is firmer than the Soft Wrap, providing a moderate shock absorption. In the picture above, the PURE Smooth Wrap is the blue model. Like the Soft Wrap, the Smooth Wrap weighs in at 54.5 grams, and costs $5.50.
The third wrap in PURE's lineup is simply called the PURE Wrap (the green one), and offers the same firmness and shock absorption as the PURE Smooth Wrap, though it features perforations whereas the Smooth Wrap does not. Again, the weight is 54.5 grams, and is priced the same as the previous two styles.
For those with larger hands, PURE offers the Midsize Wrap, which is much like the regular PURE Wrap, only thicker, and is distinguished by its orange accent coloring. Of course, thicker also means a little heavier, as this one weighs in at an even 64 grams. The cost, however, is the same as the other models at $5.50 per grip.
Last but not least is the PURE Pro, which PURE describes as "a velvet-style, traction-grooved grip providing significant firmness and the maximum shot feedback desired by top players." The black and yellow grip maintains a weight that is equal to the other three standard sized models, and costs the same as well.
PURE Custom Installation Attachment
PURE doesn't just offer grips however. Their tapeless grip installation tool is one that many of you may be interested in. Instead of using tape and solvent, PURE now offers an alternative: a custom installer kit, which consists of an air gun and an attachment that is designed to work with standard air compressors. It's pretty easy to see how this attachment can save you loads of time and could potentially pay for itself fairly quickly. The great thing about it is that the air gun and attachment work with most other brands of grips, just as long as they have a standard sized hole in the butt end. The guys at PURE have even went as far as testing other brands, and found that the only grips that may cause a problem are those with very low rubber content, as those may be more prone to twisting or slipping.
PURE Grips has an enticing offer going right now if you purchase the air gun and attachment. If you spend the $34.99 on it, you can get 13 grips at half the normal price. Not too bad of a deal, considering that some grips now can run as much as $9 or $10 each.
Final Thoughts
With the weather starting to warm up across the country, and the golf season really starting to hit full swing, it may be time to take a look at your grips and decide if it's time for a replacement. From the looks of things, it may be worth giving PURE Grips a shot. The Custom Installation Attachment alone is very interesting, and as I said before, can likely save you a great deal of time and money in the long run. If you'd like to get more info on PURE Grips, you can catch their blog here or follow them on Twitter here, and if you have any experience with PURE Grips, or their installation tools, let us know in the comments.