This week at The Bag Drop we shift gears and take a look at some newsworthy releases you may have missed in the past few weeks. We here at The Sand Trap know you all lead busy lives, and we've taken time to condense some info on some of the latest equipment from various manufacturers for your reading pleasure.
Consider this The Bag Drop's equivalent to a buffet, but with zero calories and some added spice. Follow along as we look at a new full-featured cart bag from Sun Mountain, some hot new shafts from Aldila, and new all-weather apparel from Nike Golf that might make you want to play in the rain!

Is your current bag showing it's age? Have years of abuse, rain, and heat taken its toll? Or maybe you just don't have enough room to carry all of your "required items," you're in luck, as Sun Mountain has a new bag coming our way, and it looks to cover the needs of just about anyone.
Sun Mountain MCB
For many years now, Sun Mountain has produced some of the highest quality bags money can buy. They were the first to use a backpacking strap system, the first to bring a lightweight nylon bag to market, and were also the first to integrate legs, a virtual must-have on the modern carry bags. Now they have designed a bag that leverages their own Micro Cart push cart, released earlier this year.
The MCB, which stands for Micro Cart Bag, has all the features you'd expect from a modern golf bag, and them some. As previously stated, it was designed specifically for use with the Micro Cart. The combination of the Micro Cart and the MCB look to take every need of the frequent walker into account. The molded bottom of the MCB fits perfectly in the Micro Cart, and as a result, bag chatter and club movement is greatly reduced, according to Sun Mountain. There's much more to this bag than a special molded bottom though. Other important components of this bag include:
15-way top
Integrated handles
Two velour-lined valuable pockets
Insulated cooler pouch
Two full-length clothes pockets
Ball pocket with two-way zippers
Accessory pockets located in the front for easy access
Quick-release strap and pocket to store strap when not in use
Umbrella holder
Ball Liner
Two pen holders
Included rain hood
Sun Mountain is also promising a model targeted towards women: it's an inch shorter and comes in color schemes more suitable for the female golfer.
Price and Availability
Expect to pay $209 for the MCB, and if they're not available in your local shop, they should be arriving shortly.
Aldila En Fuego Series Shafts
Next up, we have a new line of graphite shafts from Aldila. The new En Fuego series has been tested on the PGA Tour and are now being offered in some of the newer drivers, fairway woods, and hybrids; most notably the new Ping G15 series.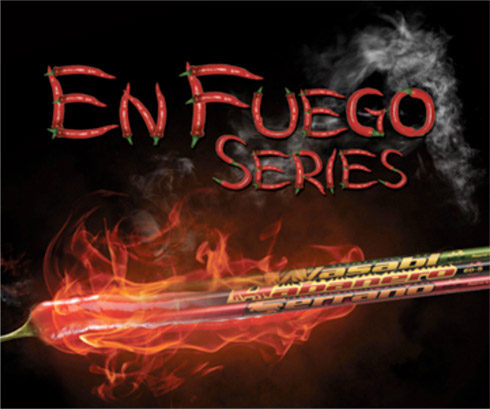 There are three models in the En Fuego series, each promoting a different ball flight. The three models are the Serrano (low to mid-launch option), the Wasabi (mid-launch option), and the Habanero (mid to high-launch option). Like the popular NV series, all three use Aldila's Micro Laminate Technology, which, Aldila claims, produces enhanced power, consistent flex, and precise feel. The Micro Laminate Technology is also said to eliminate shock and vibration on impact. All three models will be available in Regular, Stiff, and X-Stiff flex. They are set to ship October 1, and will have a price tag of $99.
Nike STORM-Fit Elite Outerwear
Nike Golf is bringing to market the newest in their line of STORM-Fit golf apparel. Designed to be flexible, breathable, and comfortable, the new Nike STORM-Fit jackets and pants have a lot of qualities that might make you want to play in the rain.
This new all-weather gear uses a laminate technology designed to protect the body from wind and rain, yet remain breathable enough to keep you from feeling like you're in a sauna. The four-way stretch material was used to allow for an extended range of motion, which means when you pull the club back, the material isn't going to pull back on you. Weight and bulk are also cut down by the use of a no-sew bonding technology.
Price and Availability
There are three versions of the jacket available; a long sleeve half-zip (which retails for $260), a long sleeve full-zip (which retails for $300) and a short sleeve half-zip ($200). All variations of the jacket will be available in black or red. The pants, which will set you back $200, are only available in black. The STORM-Fit gear is available now. I have always thought the STORM-Fit Elite line looks great, the only problem is that I can only afford it when I'm playing Tiger Woods 2010 on my Xbox 360.
Final Thoughts
As the end of the season approaches, take comfort in knowing that we'll be seeing a lot of new equipment drop this off season. Though these items fall into separate categories, they prove their repsective manufacturers' dedication to producing quality items for every facet of our game, from comfort, to appearance, to performance.
Sun Mountain's new MCB bag has so many qualities that just make sense, and the integration with the Micro Cart will surely make anyone owning it strongly consider this bag. The Aldila En Fuego series will also likely prove to be a must have for fans of their shafts, based on the popularity of their previous shafts. The combination of a competitive price and tour-proven technology are sure to have more people looking Aldila's way when considering a shaft swap in their driver or fairway wood. As for the Nike STORM-Fit rain gear, if you can afford it, I'm sure you'll be impressed, as Nike's other apparel has been exceptional up to this point. The Dri-Fit material used in their shorts, pants, and shirts have been a favorite of many, and I'm sure the STORM-Fit would be no different, with the only fault being the huge price tag.
Expect to see lots of new product announcements in the near future, as all the major manufacturers hold their fall meetings. I personally believe it is very exciting, as the competition between them breeds better products at lower prices, and benefits us as golfers the most. If any of the above are an indication of what's to come, prepare to drop some cash this fall and next spring! Got big plans for a purchase this fall? Anything in particular you want to see come to market during the off-season? Tell us about it in the comments!