My grandfather was a farmer and devout Protestant. He would not work his fields on Sunday even if looming weather threatened to wipe out his crop. Back in the day, that same ethic existed at many golf clubs and thus caddies were not permitted to work on the Sabbath.
Hence came the Sunday bag… a small, light bag originally made of canvas that players could use to carry their own clubs on the day of rest. While many believe it went the way of the dodo after Sun Mountain came out with the first stand bag back in the 1980s, it still survives.
And it still makes sense. Half the weight of a stand bag, the couple pounds it saves you (plus the weight of all the detritus it won't hold) makes a difference. Here's a look at some current options ranging from cheap to outrageously expensive…

Titleist 70 Carry Bag

I'm not really a fan of double straps. I've tried all kinds, including the Ogio Schling, and they are just too awkward or uncomfortable for me. Plus, in my opinion, if you need two straps your bag is too heavy.
With a single well-padded strap and weighing only two pounds, the Titleist 70 fits my idea of what a Sunday bag should be. It's also loaded with some convenient features including a velour accessory pocket and a clothing pocket that sort of wraps halfway around the bag.
And there are other nice touches. The 7.5″ molded cuff is big enough so you can easily carry a full set of clubs. Because the stay is split, you can fold the bag in half. There's a water bottle pocket, a webbing loop to stow your glove, and even a slot to hold your Sharpie or pencil. Pretty cool.
It also comes in some cool colors: black, platinum, navy, cobalt, red, orange, and gold. Manufacturer's suggested retail price (MSRP) is $50.
Ping Moon Lite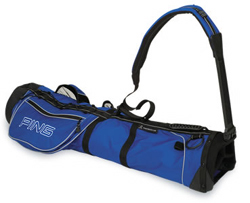 Ping has long been known for their carry bags and their Moon Lite Sunday bag shows the kind of innovation that has made them so popular over the years.
Perhaps the neatest feature is the strap. Using much the same scheme as in their Hoofer and Craz-E-Lite stand bags, this strap stands up from the bag so you don't have to reach all the way down to pick it up. I think that's a great idea even if it does look a little odd.
The molded top is divided into three sections and measures 7.25″ by 6.5″. It also has external ball, beverage, and accessory pockets and weighs in at something just less than two pounds. The light weight comes from the fabric used. Unlike the Titleist model that uses the same material as their stand bags, the Ping bag is made of a very thin ripstop nylon. Think parachute cloth.
The bag comes in black, red, navy, and royal. Retail price is around $35.
Sun Mountain Sunday X-Strap

For those of you who insist on two straps, this is your Sunday bag. Sun Mountain's Sunday X-Strap shares many similarities with the Titleist model, no doubt because they make the Titleist carry bags.
To accommodate the two straps and to make it a little easier to get in and out of the straps, the primary strap is attached to an extension out the top of the cuff.
It has a 7.5″ two-way top, four pockets, a hip pad, and a bungee strap so you can attach a rain jacket or sweater. It also has some other nice touches like a velour-lined valuables pocket and a ball pouch.
Trimmed in black, it is available in lime, silver, red, baltic (blue), orange, and black. MSRP is around $55.
Original and Sunday Mackenzie Walker Bags

If you are willing to pay the ultimate price, this is the ultimate Sunday bag.
Established back in the early 1990s in Portland, Oregon with Peter Jacobsen as a partner/spokesman, the Mackenzie Golf Bag company changed hands in the last couple years but, thankfully, continues to offer their fine line of exquisite hand-made leather carry bags.
They make two different carry bags. The Original Walker has an 8″ cuff and two large pockets, the Sunday Walker has a 7″ top and one pocket. Both are made of a beautiful, soft leather and feature stainless steel and solid brass hardware. The stays are a composite material.
Leather color choices include black, saddle, ivory, chocolate, navy, scarlet red, dark green, and cognac. Because the bags are made to order, you can choose any color combination you like and have it personalized with custom embroidery.
I've seen these bags and they are indeed beautiful. And while I'm sure they're a little heavier than the nylon Sunday bags here, they're a lot heavier in price. Are you ready for this? The Original is $645 and the Sunday $595. If you need to fill up some space on your credit card, you can order one from the website or by calling them directly.
In the End…
Walking is, without question, the best and fastest way to play golf. If you choose to carry rather than push or pull, perhaps the least bag may give you the most pleasure.