TaylorMade has never shied away from taking chances where technology is involved. The company that brought us three different ways to adjust a driver and a slot behind the face of a fairway wood to increase the CoR is back, and continues to up their golf ball game.
Already the first company to introduce a five-layer golf ball, TaylorMade has seen their golf ball line take off recently. The TP5 is the fourth premium golf ball TaylorMade has brought to market since their entrance in the mid-2000s, and they're gaining traction on the PGA Tour as well as in pro shops worldwide. 25 million Pentas were put into play around the globe in 2011, and Darren Clarke used a PentaTP en route to his Open Championship victory.
TaylorMade's golf ball market share doubled in 2011, continuing their inroads into a business dominated by the likes of Titleist, Bridgestone, Callaway, and others, and this year they're aiming to bring their (healthy) obsession with innovation back to the golf ball. Read on to see how they did.

Design and Technology
A few years ago TaylorMade released the PentaTP, the world's first five-layer golf ball. Alongside it was the Burner line of golf balls, with the Burner TP serving as TaylorMade's mid-level golf balls (their NXT Tour, basically). This year they've expanded the Penta line, though only the Penta TP5 has five layers.
The TP5 is, as you might suspect, similar to the original PentaTP, which Erik reviewed here. The design is simple, if not brilliant. Rather than a dual-golf ball lineup, like the ProV1 and ProV1x from Titleist, TaylorMade's only true "premium" golf ball is the Penta TP5 (in the sense that although the TP3 does have a urethane cover, you won't see it being played on the PGA Tour). Throwing tradeoffs to the wind, the Penta TP5 is made to fit most premium golfers.
The TP5 follows the same basic strategy as the original PentaTP: take an already-great, premium, urethane-covered golf ball, and add layers. While most companies attempt to give a convoluted explanation for the difference between three-layer balls and four-layer balls (as TM learned first-hand with the TP Black/Red LDP fiasco), TaylorMade lays it right out on the table for the TP5. Each layer has a purpose, and each is finely tuned for maximum distance and the highest difference between greenside spin and driver spin. As Erik described in his review, TaylorMade used each layer to aid golfers in a different way, and a few extra years of R&D has allowed them to fine-tune that innovation. Let's take a look at it, layer by layer.
"Cover" – Putter/Wedge
As Dave Pelz likes to tell us (over and over and over), most of our shots are played within 100 yards of the green, making the outer layers the most vital and most used part of a golf ball. There are always tradeoffs involved, chief among them the one between softness and durability, and TaylorMade has erred on the side of softness with these. The cover is made of STA-WHITE cast urethane.
"Outer Mantle" – Short Iron/Wedge
The outermost mantle is another of the more important layers. TaylorMade's theory is that most golfers would rather their short iron shots just check up as opposed to zipping back off the green, and they've adjusted accordingly. This is something that better players, who often have trouble keeping full wedge shots from spinning off the front of the green, will appreciate.
"Middle Mantle" – Mid Iron
The middle mantle is a bridge of sorts. It's job is to increase speed, along with the inner layers, and control spin, along with the outer layers.
"Inner Mantle" – Long Iron
Long iron shots are among the toughest in the game, but the inner mantle layer's got you covered. This layer, though not as soft as the core, must be resilient-yet-supple (as TM puts it), so that even players with less-than-Tour speeds get great feel with the longer clubs.
"Core" – Driver
While the mantle has remained much the same the same, the REACT technology-infused core is the layer that has seen the most change. TaylorMade is boasting a 28 percent softer core, which they say is made to decrease driver spin by a few hundred rotations per minute. Because they assert that the driver is the only club that activates this layer, that decrease in driver spin contributes to the sought-after difference between driver spin and short game spin, increasing the versatility of the Penta TP5.
Distance and Spin
While I found the original PentaTP pretty good on distance, the TP5 is just ever so slightly better. Last year, in my review of Bridgestone's Tour B330 series, I said of the PentaTP, "The Taylor Made PentaTP found a permanent spot in my bag. For me it had the greenside abilities of a high-spin ball, and the distance of a low-spin ball." The TP5s have essentially turned this up to 11. They now have the distance of the B330 (and ProV1x, and all the lower-spin premium balls), and they nearly have the spin characteristics of the B330-S (and ProV1, etc.).
In 2012 you simply are not going to find any short golf balls for $40, but some are longer than others, and the TP5 is among the longest I've tried.
One of the biggest features that golf ball manufacturers are after is spin separation. That is, they want high spin with the wedges and low spin with the driver. TaylorMade says that their innovations in the core of the TP5 have improved this, and I found that to be mostly true.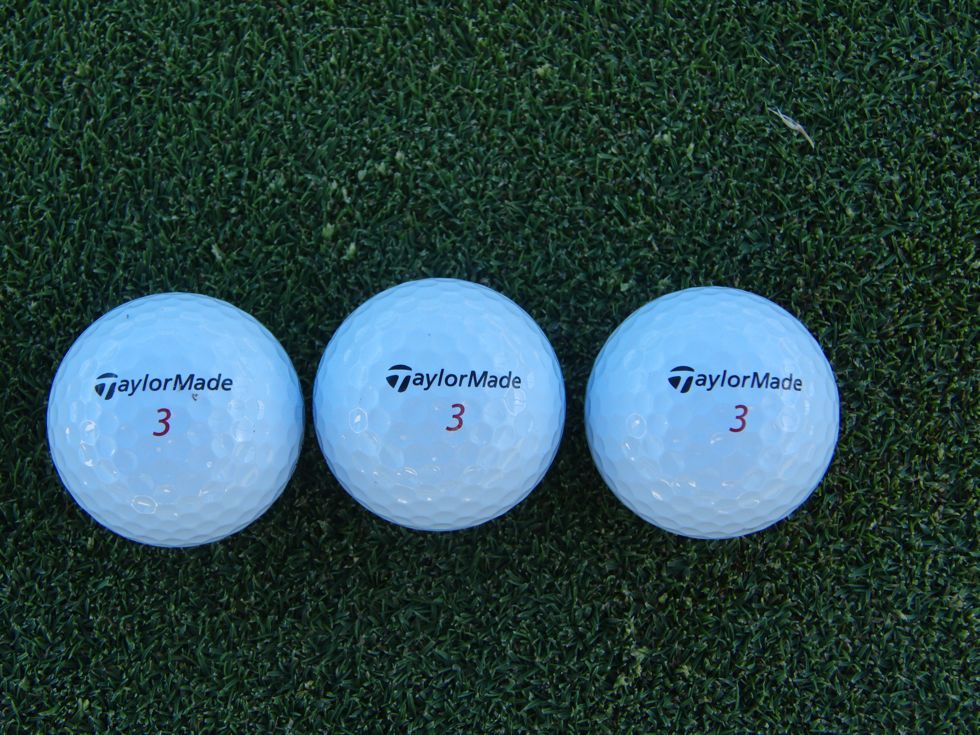 My normal driver trajectory is high and a little too spinny, and I do have a tendency to balloon the ball under some conditions. In even marginally wet conditions my golf ball plugs or even spins back upon impact, due to a number of factors (angle of descension chief among them). With the TP5s I saw absolutely none of this. Every drive at least jumped forward a few feet, and on dry days I actually got a bit of roll-out.
Carry was relatively on par with the original PentaTP, but I got more roll-out than ever before with the TP5. I don't think I had a single drive balloon on me. My trajectory was still nice and high, but, unlike some other golf balls, it never neared the point where I started to lose distance.
The way these balls spin is basically the way TaylorMade describes it. I did indeed find myself spinning the ball less with my driver, but as I got closer to the green I was pleasantly surprised with how easy it was to get the ball to check up. Full wedge shots had plenty of zip but even on greens sloped back-to-front I never got excessive spin-back.
With a ProV1x or a B330 (which go a comparable to the TP5), my stock mid-iron shot hits and rolls out a foot or two. The TP5 is more of a drop-and-stop, and its soft feel makes it much easier to manipulate spin. Half-wedge shots are among the trickiest in the game, and that ability to control spin is vital on those touch shots.
Short Game and Putting
Around the greens, the TP5 is hands-down the softest golf ball I've ever played. It's almost indescribable how soft these golf balls are. Wedge shots are great, but putting is literally stunning. You feel like you're putting a cotton ball, but you don't lose that springy feeling when the ball strikes the center of the face.
At one point I had gotten so used to the soft feeling that when I accidentally putted a range ball, it felt like I hit a rock. The softness can be slightly jarring to get used to, but the feeling is extremely confidence-inspiring.
I suspect some people will not like the softness, but I can't get enough.
If you've ever played the original Pentas, the level of greenside spin will be relatively familiar. It's between the ProV1 and ProV1x, but slightly more on the spinny side. The original Pentas were just about perfect for me in this aspect, and the TP5s keep that up.
The combination of feel and spin allowed me to play just about every shot around the green. I could hit it high and use loft to stop my golf ball, and I could skip it in low, getting the "hop and stop" I was looking for. I never hit a shot that felt came off unexpectedly. When I wanted spin, I got it (unless I mishit it, of course).
I can say nothing more flattering than I always got what I expected from these golf balls around the greens. A large percentage of golfers do not get much spin on short game shots (due to old wedges and, more often, poor technique), and therefore have to play for roll-out. The odd golf ball that does check up is the one that really hurts them, and the TP5s should help them out.
Durability and Esthetics
As I stated in my Bridgestone review, durability doesn't mean all that much to me. I try to avoid cart paths, and my irons conform to the not-so-new-anymore groove standard. If I'm playing in a tournament I've got plenty of golf balls, so if one scuffs I put in another. Any that are sufficiently disfigured are relegated to my shag-bag.
I found the TP5s to be more than sufficient when it comes to the paint actually peeling off, and I never felt like the TP5s got anywhere near hurting my distance or spin due to wear. In fact, the first 18 holes I played with the TP5s saw my golf ball last the entire round.
From a purely superficial standpoint, the TP5s seemed to get discolored much faster (and held their discoloration even after washing) than comparable balls on the market. That's not a condemnation in the slightest, but I did find it a little odd given TaylorMade's marketing (however miniscule) of the STA-WHITE technology in the cover. Brand new, the color is among the whitest I've seen (as compared to some others, which have a slightly yellowish tinge that you can see when held side-by-side).
As you can tell from the pictures, the TP5 golf ball's look is refreshingly simple. The TaylorMade logo adorns the front and back, and is placed above a red number. The words "Penta TP5" are placed along one of the sides, surrounded on both sides by tiny triangles. I like to draw a black line on the side of my golf ball through the branding (I don't actually use it to line up putts, but it's a great identifier in addition to the green dots I draw), so the only way I would be upset about the looks is if it was too busy. TaylorMade has gone minimalist for a change.
Conclusion
As I found out last year when I reviewed the Bridgestone Tour B330 series, reviewing golf balls is different from reviewing a set of irons, or a fairway wood. You buy a set of irons once every few years, and shelling out a grand for a new set is a big deal. But people buy golf balls weekly, and rather than having to convince you that the newest balls are better (or worse) than what you already have, I just have to make a case for why the newest golf balls are better/worse than what else is out there.
Those Bridgestones (the plain Tour B330, to be specific) were better for me because they offered a touch more distance for me than other premium golf balls (ProV1x, 20XI-X, and yes, PentaTP) while maintaining the same level of spin that I had grown accustomed to. The difference wasn't staggering, but it was there.
These Penta TP5s steal back the spot in my golf bag, giving me the distance of the B330 (and ProV1x, and other comparable golf balls), while coming darn close to providing the spin of a higher-spinning ProV1. The original Pentas occasionally lost their spot in my bag because they were a middle-ground. They had decent distance and decent spin, but they weren't spectacular in any one category. The TP5s have gotten just enough better than I don't see putting anything else in play anytime soon. There is no compromise here.