Just a few years ago, Callaway's lineup of irons was bloated, confusing, and redundant. They had a few uninspired options for better players, and had clearly put all of their effort into the game improvement market.
Several years later, Callaway's lineup has been completely transformed. Along with the holdover X Forged from a year ago, they're introduced two new lines: X2 Hot, and Apex.
Callaway didn't approach the Apex line lightly, and it shows. The label was originally made famous as the name of a line of Hogan clubs. After Callaway bought the Hogan brand in the early 2000s, both the "Hogan" and "Apex" names were retired, a development that many better players lamented, especially as Callaway recycled the Hogan "Edge" label into a set of gaudy game-improvement irons and despite Callaway's recent sale of Hogan to Perry Ellis.
As Callaway's most forgiving forged set of irons, the Apex irons need to strike a balance between appealing to both high- and low-handicappers, which is not easy to do. Let's see how they made out.

Design and Technology
The feature of the Apex irons being marketed most heavily by Callaway is the multi-material construction. The body of the clubheads are forged from a soft 1020 carbon steel, and the face is a made from thinner, stronger, 455 Carpenter steel, the same material that makes up the faces of the X Hot line of woods. The face thickness varies from club to club to optimize distance.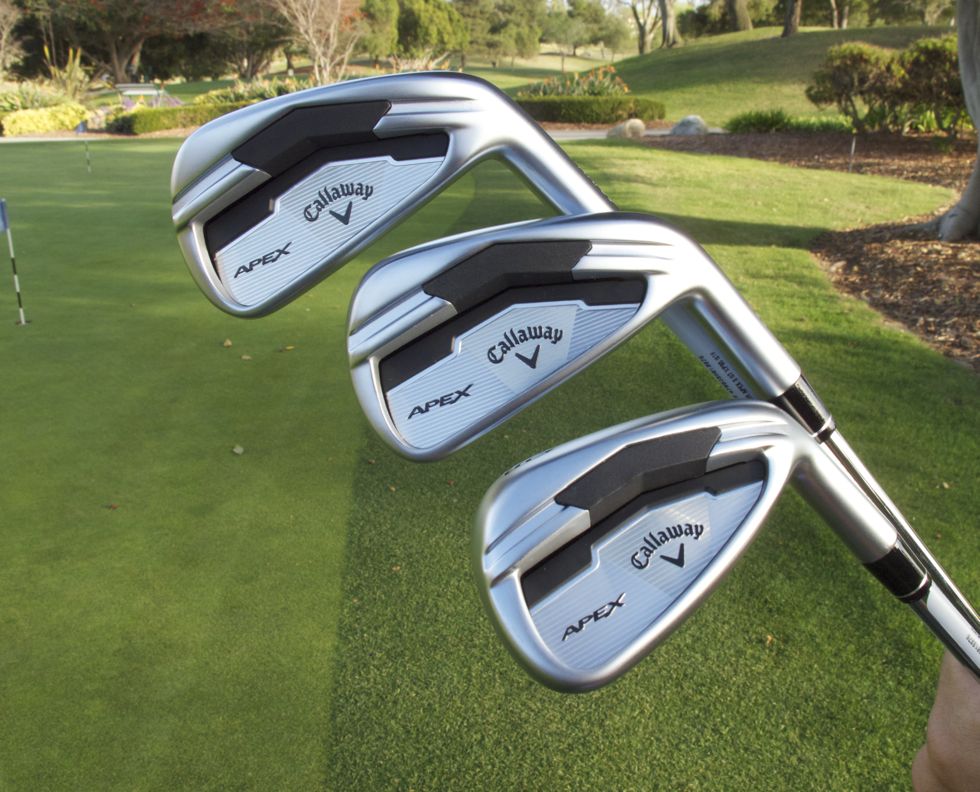 Each of the irons has a plastic insert behind the face, designed to flex upon impact (which should increase ball speed) and dampen vibrations. This is similar to what TaylorMade has done recently with their SpeedBlade, Tour Preferred, and RocketBladez irons, just attacked from a different direction. Callaway cuts a deep cavity behind the face and fills that with a soft plastic, rather than cutting through from the sole and injecting polymer.
The Callaway approach would seen to make plenty of sense even if the technology isn't as apparent. The only advantage of the TaylorMade strategy is that the polymer gets all the way to the sole of the club. This likely improves performance on extremely low strikes, but the replacement of all that steel with polymer makes it tougher to get the CoG super low.
Each of the long irons (3 through 5) also contains a tungsten insert in the sole, which lowers the CoG and launches the ball higher. The insert is made of two tungsten screws drilled into the sole of the club, and the cover that conceals them completely flush – you wouldn't even notice it if you weren't looking for it. Unlike the polymer inserts in some of TaylorMade's recent offerings, there's no way for dirt to collect in the crevices (because there aren't any).
The grooves in these irons are wider, with more space between each groove. Callaway says that this should ensure plenty of spin from a variety of lies. In the years since the groove rule was put into effect, some OEMs have claimed that wider, more spaced-out grooves are better, while some maintain that more thin grooves is optimal. Frankly, I haven't seen much of a pattern. If someone can show conclusively that one style of grooves is better than the other, I'd love to see the proof.
The appeal of these irons is that there should be no compromises. They're players irons that hit the ball a mile and distance irons that even better golfers will want to game.
As an aside, I feel the need to commend Callaway for taking great pains to slim down their lineups of irons and woods. It had gotten out of control, with many different models seemingly competing directly against each other. Just going to the Callaway website would give me a headache. Now they've got the Apex series (forged, classically-styled, satin irons) and the X2 Hot series (cast, less expensive, higher-handicap irons). There's a little redundancy if you scroll down: the X Forged irons are a holdover from last year, and likely a model that Tour pros have gravitated to, while the Edge and RAZR HL hybrid/iron sets are their very inexpensive alternative to the X2 Hot iron/hybrid offerings. What they've managed to do fairly well is offer clubs for all sorts of different golfers without causing every consumer to choose between a dozen different sets, which is terrific progress in just a few years.
Alright, on to the looks.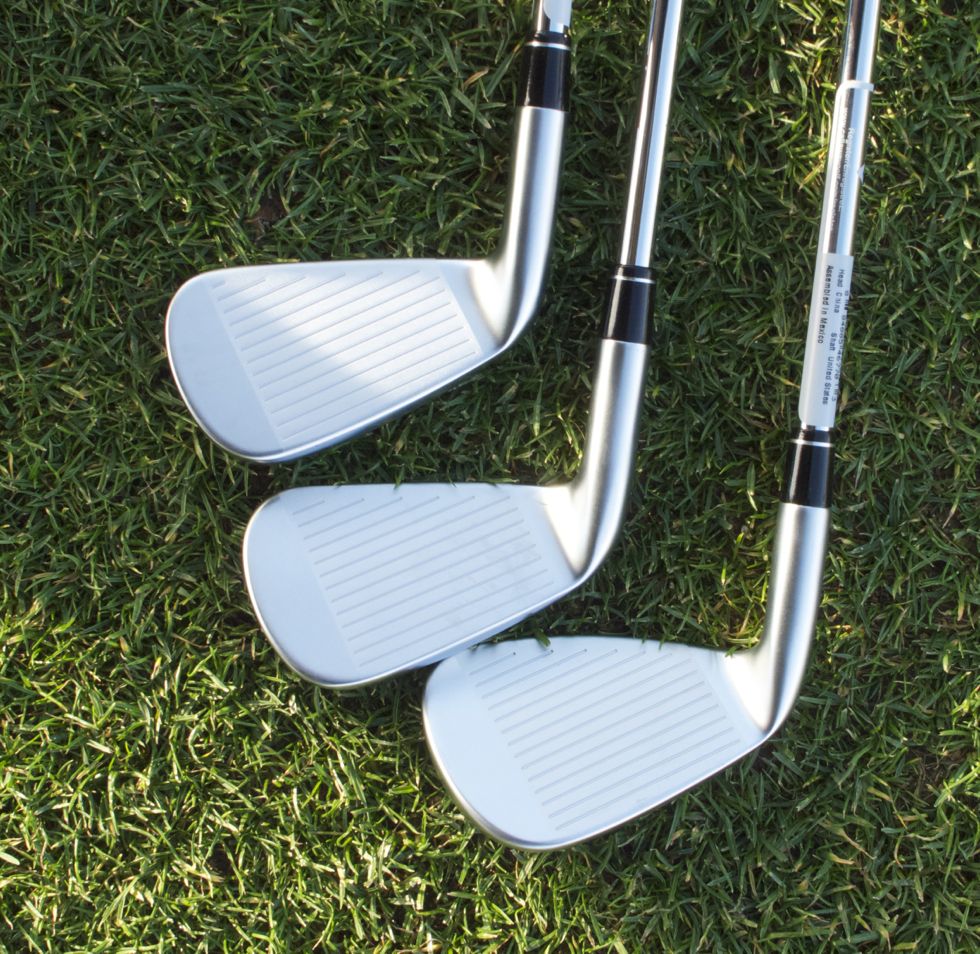 Esthetics
I'm not saying Ben Hogan would ever give these irons the go-ahead, but as far as forged cavity-back irons in 2014 go, these Apex irons are about as clean as you are going to find.
They have an all-over frosted satin chrome finish to them, designed to cut down on glare and just look cool. The backs of the irons have two defining features: the plastic filling in the undercut, and the stick-on badge.
The black plastic filling almost looks like it should slide around, and it fits into a slot in the center of the cavity. I didn't expect to like the look, but I do. It's a very firm plastic that doesn't feel cheap. Tap on it with your fingernail; the sound is a bit metallic.
There's a horizontal groove carved in the muscle (presumably to move some weight around) that almost looks like it should allow the plastic filling to slide (or, ahem, SLD) around the back of the clubhead. (Note: it doesn't. Don't be fooled.)
I was a little less thrilled by the cheap plastic badge. Because it's, well, a cheap plastic badge. It gives these irons, which are otherwise gorgeous, just a slight hint of chintzy-ness.
They're very nice to look at from address, though the sandblasted carpenter steel face doesn't provide much of a contrast against the similarly-textured satin clubhead. The topline is maybe a tiny bit thicker than I would have liked, but not much. Callaway has done a good job of hiding the technology at address; the entire cavityback is concealed.
As I'll get to in the next section, I do wish there was a little less offset. I understand that the Apex Pro model is always there for the better player, but I don't think they've struck quite the right balance in that regard.
Performance
The first time I took the Apex irons to the golf course, they got quite a workout. This particularly course has a bunch of holes with lateral hazards that run perpendicular to the fairway about 200-220 yards from the tee, so my long iron game got a real test.
Long irons have been a big weakness of mine for a while (not that many people truly consider them a strength), and that's only compounded when I have to tee off with one minus a tidy target to hit towards.
But this course forced a lot of those shots, and often required me to then hit another long iron to the green – not exactly a recipe for birdies. To make matters worse, the tight fairways and overhanging trees mandated that I be able to work my tee shots both ways.
I started off slow, flaring my driver into the pinestraw off the first tee, but I did have a shot at the green on the short par five. I pulled 3-iron, in part because I knew I could get it there, and in part because even an awful shot would leave me a wedge to the unguarded green. I rehearsed the shot I would need – low at the beginning to clear the trees, maybe a little bit of cut to work the ball towards the pin – before stepping over the ball.
And it came off perfectly, a low bullet that landed smack dab in the middle of the putting surface, took a hop or two, and stopped dead for a medium-range eagle putt. (I didn't make it, but this is neither a flatstick review nor an indictment of my putting, so I won't bore you with those details.)
That was a microcosm of my day. Three perfect iron swings on the fourth hole (a three-shot par five) gave me a birdie putt. I hit two great long irons on holes five and six, a great PW into eight, a flushed 6-iron into nine.
My only complaint after the round was that I was hitting the ball too far. Now, part of that was my swing, which I've put a lot of work into over the past few months, and part of it was because my yardages last year (when I was a wreak and taking half-swings just to make solid contact) were obscenely short (I'm talking my 6-iron was my stock 150-yard club, when now that's a soft 8).
But in testing, I hit the Callaway Apex irons just a bit farther than every other set I've got. That includes my Nike VR Pro Combos, TaylorMade RocketBladez Tours and Tour Preferred CBs, and an older set of Mizuno MP57s.
Part of that must be attributed to the Apex irons' strong lofts, which are a degree or two lower than my other sets. Certainly, that's why I was hitting the pitching wedge so long. But I think the more pervasive reason, with the long irons at least, was how high they launch. All of those 3-iron tee shots went criminally high, to the point where I considered purposely hitting a few knockdowns just to get some runout.
In addition to the distance, I also really liked the feel of the Apex irons. The forged soft carbon steel is buttery smooth without being dull or unnecessarily muting on mis-hits. The soles, which strike a good balance between forgiveness and playability from all types of lies, are pretty much the perfect thickness.
As far as I can tell, these irons have two weak spots. First, they're not particularly forgiving. You lose a pretty good amount of distance on heel and toe strikes. That's not a huge deal, though. Obviously I would be more upset if these were Nike Slingshots and you couldn't afford to miss the sweet spot, but for a set of forged irons, these are only average when it comes to forgiveness.
And second, they're a bit big. They're a touch thick, the offset is a bit more than I'd like, and they do feel every-so-slightly unwieldy. Not much, I caution you, but enough.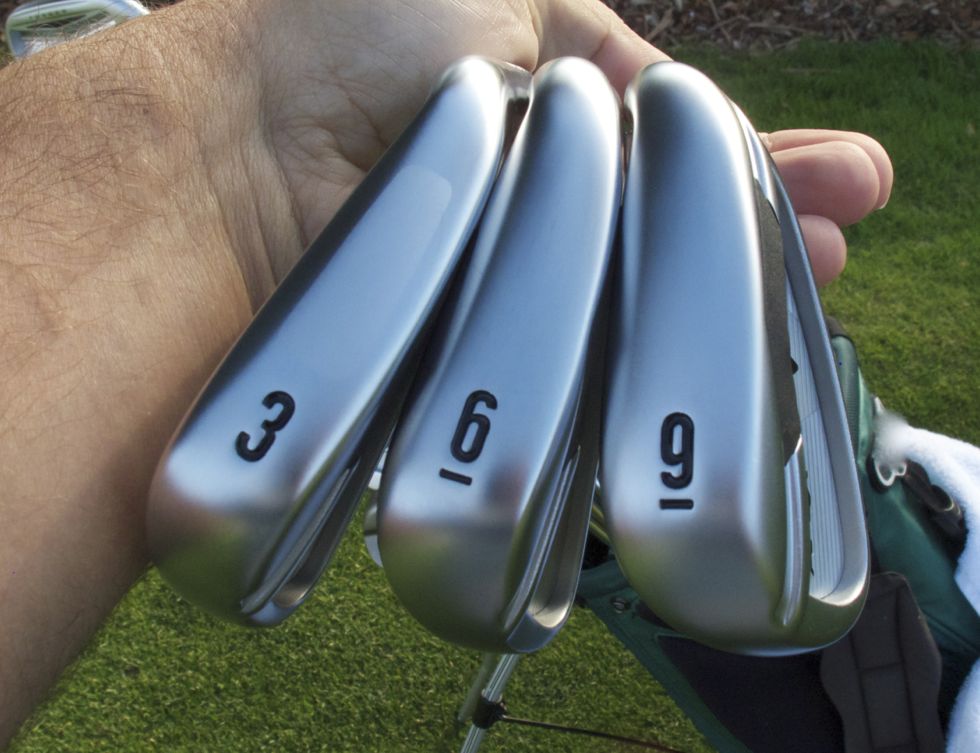 Specifications
Callaway irons are expensive – that shouldn't come as much of a shock. Though Callaway has largely shed the "most expensive golf brand" label that existed for a while, you're still paying a premium over less expensive brands like TaylorMade and Nike.
My review set came in 3-PW (my preferred setup) with steel shafts, and runs for $1100. Callaway is also pretty flexible with their offerings, with sets going down to 3-iron, 4-iron, or 5-iron, and all the way up to PW, AW, or SW. Graphite shafts carry a premium (the stock 3-PW set goes up to $1300).
They also offer individual irons, priced at $140 with steel shafts. Though the pricing is somewhat complicated, I'll always take more set configuration options over fewer.
One problem that golfers might find is with the strong lofts – 45° for a PW and a 19° 3-iron just do not first with my more traditional set makeup (my Nike VR Pro Combos have a 47° PW and a 21° 3-iron), and if I were to play these full time, I'd probably have to make a few modifications. I'd likely have to switch my 54° SW to a 56°, add a GW somewhere around 50°, ditch the 3-iron, and add a few degrees to my 17° 2-hybrid. Obviously, all of those modifications only add to the cost of switching if your current set does not already accommodate stronger lofts.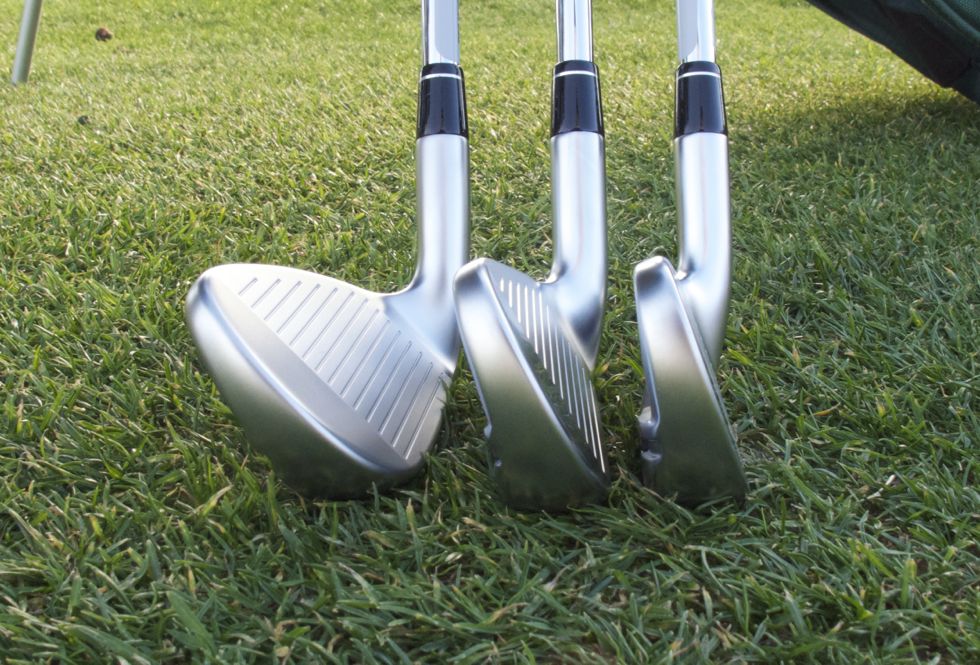 The Apex irons come stock with True Temper's new XP 95 shaft, which I was not enthralled by. I found them a bit too light, and I just didn't love the way they felt. Callaway does offer a bunch of custom shafts, including steel offerings from Aerotech, True Temper, KBS, Project X, and Nippon, as well as graphite shafts from UST and Mitsubishi Rayon. I would recommend at least looking through the custom shaft list.
The stock grip is a bland Lamkin Crossline variant that felt a bit slick to me. I'd replace them.
Club    Loft     Lie     Length    Bounce    Swing Weight
----    ----     ---     ------    ------    ------------
 3I      19°    60.0°    39.00"      2°          D0
 4I     21.5°   60.5°    38.50"      3°          D2
 5I      24°    61.0°    38.00"      4°          D2
 6I      27°    61.5°    37.50"      5°          D2
 7I      31°    62.0°    37.00"      6°          D2
 8I      35°    62.5°    36.50"      7°          D2
 9I      40°    63.0°    36.00"      8°          D2
 PW      45°    63.5°    35.75"      9°          D2
 AW      50°    63.5°    35.50"      10°         D2
 SW      55°    63.5°    35.25"      11°         D2
Conclusion
The Apex irons have received a bit of buzz in the few months that they've been out. The TST forum has had a few threads on the topic, and for the first time in a while, people are talking about a new set of Callaway irons.
I've reviewed a bunch of thesee sort of in-betweener iron sets the last few years – irons that are made to appeal to a wide swath of players, from high-handicappers who need help getting the ball in the air to low-cappers who just want a bit of help.
This sort of irons has to balance both sides well, and I think these Callaway Apex irons do it the best. They launch super high, so unless you already struggle with moonballs, that should help you out. The sole is thick enough that better players won't have any issue there, and they have large enough toplines so higher-handicappers should feel right at home.
The buzz surrounding the Apex irons is sizable, and frankly it should be. I truly feel that just about anyone could play these irons.