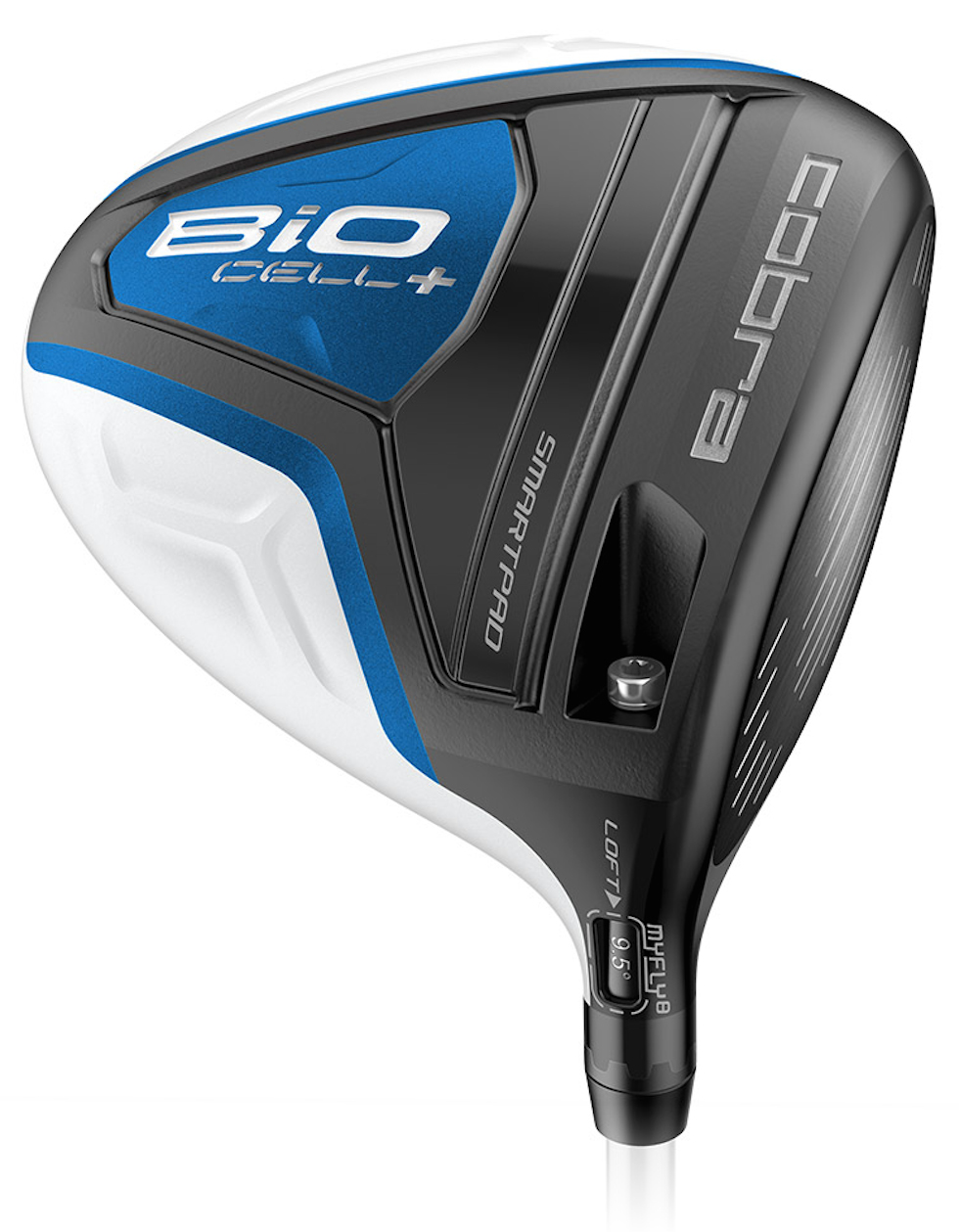 Though I've been quietly admiring Cobra's recent woods from afar, I didn't expect a whole lot from the Bio Cell+ driver when I signed on to do this review. The S9-1 and S2 scream my name every time I walk by the used club rack at my local big-box stores, and the L5V and ZL Encore were some of the few composite drivers that didn't make me want to stuff my ears with Play-Doh, but I had never actually put a Cobra golf club in my bag.
"Had" being the operative word there.
My interest in Cobra waned a bit after their spinoff from Acushnet (and thus Titleist) and subsequent purchase by Puma, though I'm realizing now that was a mistake. Cobra was one of the first OEMs to jump on the adjustable hosel bandwagon, which you can find in nearly all of the woods and hybrids they make.
They've also gone all-in on offering an assortment of colors, moving past "ghosting" to personalization, surely thanks in no small part to Rickie Fowler's fondness for orange.
But the changes this year aren't just esthetic. Cobra has introduced multi-material construction to go along with their E9 forged faces, which they say should give golfers maximum distance and straighter drives.
Let's dive in.

Design and Technology
For a while now, the major OEMs have been in an arms race to lower the CoGs of their drivers. Moving the center of gravity lower allows golfers to launch the ball higher, even on strikes low on the face. After moving past steel, they've attacked the problems in several ways: using carbon composite crowns, shallowing the face, ever-thinner titanium walls, and thick sole plates, to name a few methods.
Cobra, no stranger to exotic materials, was one of the last holdouts clinging to carbon fiber before they finally retired it a few years ago. But carbon composite always had a unsurmountable drawback: it sounded terrible. Drivers with large patches of carbon composite tend to sound dull, almost like there's a crack somewhere that's muting the vibrations.
So Cobra went back to the drawing board, and what they came up with is a material they call "Venollum." It's not a "new metal" per se – they didn't just discover a Venollum mine in Carlsbad or anything- it's just an alloy of magnesium, aluminum, zinc, and zirconium that's never been used in golf clubs.
Cobra is also touting their E9 Bio Cell face, which is machined to variable thicknesses across the face for maximum ball speeds. That's something the Cobra has included for a while, and if you buy the hype, they're one of the OEM leaders in variable-thickness clubface design.
Like many drivers over the last few years, the Bio Cell+ comes in only one loft, and the adjustable hosel (called MyFly8) allows you to select any half-degree increment between 8˚ and 11˚, with the middle three settings also available in draw-biased versions. It looks like this is what all OEMs are going towards, which I appreciate. It's much, much easier to simply pick a loft and a face angle rather than messing with lie angle and various degrees of face angle.
(As a side note: I can only wish that a few of the major OEMs would come up with some sort of standard for these adjustable hosels. As I'll get to later, I really like the Matrix shaft that comes with the Bio Cell+, and it's a shame that I can't use it in my next driver without the totally 20th-century process of pulling two shafts and transplanting the old one into the new head. It could be like Callaway's misbegotten iMix system, just on a larger scale. I can dream, right? Okay, rant over.)
The Bio Cell+ is 440cc, 20cc less than the USGA maximum, which Cobra says contributes to the club's low spin rate.
Esthetics
If we can start on a relatively inconsequential point, I'm not sold on the different colors. Obviously, no one has to get an orange (or in my case, blue) driver, but I'm also not sure why you would want one. College colors, I suppose, but the chance of it matching directly with your school's shade of blue is remote. (I actually got lucky here. Mine didn't come with a headcover, but I had one from my college – the University of Delaware – lying around, and the two match up pretty nicely.)
My real problem, I suppose, is that you cannot get one in all black. (For that you'd need to look to Cobra's Bio Cell or Bio Cell Pro drivers.) Even the "black" version contains a good deal of white.
Though I still prefer an entirely black driver, the drop down-looking crown does frame the ball nicely. There's a tiny Cobra snake logo on the pear-shaped crown near the center of the face as an alignment aid. The black face (which, again, is what I prefer) provides a nice contract with the white.
Most of the club, from the crown to accents on the sole, looks like it was dipped in lacquer. It's all very shiny, with tiny specks of color inside the white. The shaft is similarly sparkly.
To go along with the "Bio Cell" name, the rear of the crown looks like … a cluster of cells? Scales? Neatly arranged stones? It's one of those. The look is interesting, and ultimately non-insulting. It's not a pattern that screams for attention.
The rest of the club looks great. The face has shallow grooves around the edges, and painted lines (in lieu of grooves) in the middle of the face.
The sole is downright sinister, with sharp, angular lines, the "Cobra" script running along the leading edge, and a good mix of colors.
I didn't realize until I got the Bio Cell+ driver how much I like the look of white golf shafts. I'm not exactly sure what it is, but the Matrix Red Tie 6Q3 adds a sleekness that really meshes well with the colorful clubhead. I always liked the way UST's ProForce V2 shaft, which got to be very popular in the mid- to late-aughts, was very easy to pick out from a distance. (Frankly, I've never understood why more shaft manufacturers don't do that.) The all-white Red Tie 6Q3 has a little bit of that ubiquity.
The shaft and clubhead meet at the hosel, which does a good job of concealing an abundance of technology. They've managed to make it look just like a regular hosel, and the relatively small ferrule only serves to hammer that point home. It takes but a quick glance at the hosel to see what the club is set to.
Performance
The first thing I should note is the way the club felt and sounded. Last year, when I put the Nike VR_S Cover Tour driver in my bag for good, I was a bit disappointed in the way it felt. The non-Tour model, despite being the larger, more amateur-aligned version of the club, had the deeper, quieter feel usually found in better-player drivers. I ultimately went with the Tour model, and loved the way it performed, but I was disappointed that I had to make that tradeoff.
Not this time.
The feeling of the Bio Cell+ is a firm "pop" sound that really makes it sound like the ball is rocketing off the face. Even on mishits, though the noise was noticeably duller, it really sounded like a great strike.
Feel was just as fantastic.
The weighting of the club was one of its strongpoints. The Bio Cell+ is 440cc but it has a shallow face and is pretty long front to back, which makes it look a bit bigger than it actually is. (It doesn't look like a Tour-level driver in that sense.) That also makes the weight feel a bit more spread out, which I like. It feels more stable than deeper-faced drivers like the Covert Tour and some other Tour-angled drivers. Because of that, I really had to exaggerate my swing to open and close the face.
The hosel works just as you'd expect. You use the included wrench to unscrew the shaft, twist it to select your preferred loft and face setting, and then screw it back in. It's one of the less fussy versions of the adjustable hosel that I've seen – there are no fidgety rings to twist or alphanumeric diagrams to memorize. I also got none of the dead feeling that some older adjustable hosels were plagued with. It seems the golf industry as a whole is past that.
In testing, I couldn't tell a whole lot of difference between the regular and draw settings. I'm sure players who tend to battle a slice will see it cut down a little, but the adjustment is certainly no substitute for proper instruction. Loft adjustment, however, was noticeable. Setting the loft at 8˚ produced a noticeably lower ballflight than 11˚, and I definitely see where smarter golfers can find a use for that variance.
Specifications
The Bio Cell+ comes in just one loft, and can be adjusted between 8˚ and 11˚. That also means lefties, who quite often have far fewer lofts to choose between, have as many options as righties.
The shaft, a Matrix Red Tie 6Q3 model that is available in regular, stiff, and x-stiff flexes, have weights of 60, 62, and 64 grams. The stiff Red Tie 6Q3 that I tested felt very true in flex to me, which was nice after the whippier shaft that came stock with my Nike last year. Its weight matches nicely with that of the club head, so that I never felt like I was swinging a kettlebell at the end of four feet of string, nor did the medium-weight shaft ever slow down my swing speed.
Again, it looks great in white, and the colorful Matrix logo looks cool as hell.
Cobra also offers two shafts as free upgrades: the Mitsubishi Rayon Diamana D+ 72, which is slightly heavier, and the lighter Project X PXV Tour 52.
The stock grip is a Lamkin Ace 3Gen 360, which is one of the better stock grips that I've tested. It works pretty well as a grip in an adjustable driver because there's no vertical logo (unlike most of Golf Pride's grips), though I have to wonder why they couldn't take that a step further and eliminate any markings that would be moved off-center during adjustment.
The Bio Cell+ retails for $400.
Conclusion
Cobra hasn't advertised the Bio Cell+ as hard as companies like TaylorMade, so I didn't quite know what to expect going into this review. Was I supposed to see 20 extra yards? Should blimps overhead have been afraid of the extra height I was going to get? Should I have expected to be wowed with its adjustably? All their website tells me is to anticipate "longer, straighter drives." Well, duh.
But what that relative lack of expectations let me do was hit this driver with a completely open mind. Free from knowing what Cobra said this club should do, all I know is what I've seen this club do.
And that's quite a lot. I'm not sure I've truly mis-hit a single golf ball the entire time I've had the Bio Cell+. Some were hit off-center, certainly, but the results were so much better than I deserved that I almost felt a little bit guilty. (Almost.) Distance, too, was extraordinary, and I'm not sure I've hit a multi-material driver that has sounded this good. I felt like I could work the ball either way, without an overarching shot shape that I constantly had to battle.
It's going to be in my bag for a good long while, and I urge you to not overlook the Cobra Bio Cell+ if you're in the market.