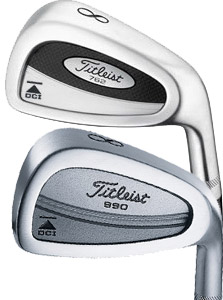 Dick's Sporting Goods (store locator) is having a sale on sets of Titleist's popular DCI 990 and DCI 762 series. Originally $699 and $899 respectively, both sets now sell for $399 and are available with R300 flex shafts.
The DCI 762 features a large volume cavity, progressive offset, and dual hosel lengths to provide for exact weight distribution and careful CG management; a thin face design allows for a larger club face area for increased confidence and playability, and a larger cavity for enhanced forgiveness; multi-piece carbon and metalized mylar cavity insert provide improved feel, increased playability, and modern flight characteristics.
The DCI 990 is designed with the better player in mind; a high performance blade design that features a variable muscle back cavity that provides traditional, solid feel, enhanced workability and consistent performance.