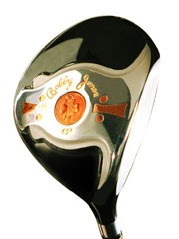 Remember those Orlimar "TriMetal" golf clubs from the late 1990s? The man behind the clubs – Jesse Ortiz – is back. He's found a job with Bobby Jones Golf Equipment Company. The company features two lines of men's equipment – "Collection" and "Players" – and a line of women's gear. All three will be on display at next month's PGA Merchandise show in Orlando.
Ortiz comes from a line of clubmakers. His dad, Lou, made clubs for some folks you may have heard of: Ken Venture and Johnny Miller. The TriMetal was such a success that the relatively small Orlimar couldn't control its success. Orlimar took on investors and eventually succumbed to a problem perhaps best described as "too many cooks in the kitchen." The company floundered under a sea of debt and empty promises.
In June, and with the permission of the Jones estate, Ortiz and a business partner started the Bobby Jones Equipment Company to expand the Bobby Jones brand beyond the apparel line.

The Collection is the flagship line and features a Merlot-colored, 400cc driver with a graphite/composite crown, a Fujikura Speeder shaft, a Beta Titanium face, and a calfskin grip. The fairly high-lofted 10.75° club will carry a fairly high-priced cost as well: $600. (Then again, a Bobby Jones shirt costs $160.) "Typical high-end country club guys," Ortiz said.
The Players line should appeal to the more average golfer, with two 440cc drivers at about $300 and some fairway woods at about $200. The clubs feature the same technology but less expensive materials.
With one of the best names in golf behind him, we wish him the best.