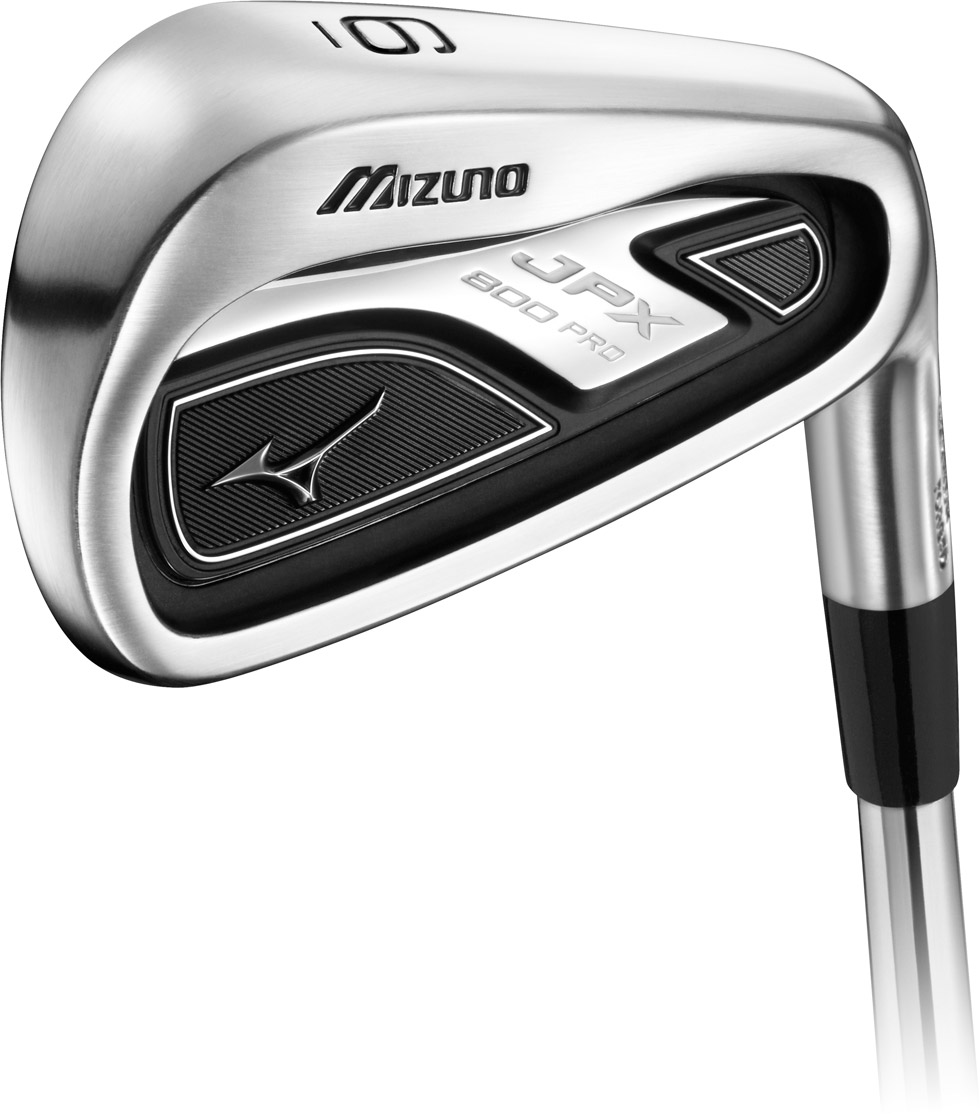 Though Mizuno said goodbye to the MX series this year, they had the new JPX series waiting in the wings to fill the game improvement gap. Of course I jumped at the opportunity to review the new JPX-800 Pro, since this new series would replace that which contained the MX-300s I loved so much.
Though a large number of players may not have been very excited about this change, Mizuno was there to reassure everyone, saying that this was their biggest commitment to the game improvement category yet, and that the JPX series may in fact be a game changer. When a global company such as Mizuno pools all of their talented engineers from around the world, you know they really do mean business. So how did that pay off in real world results?

When writing these reviews, I don't like to use comparison as a way of evaluating a club. The values are nearly impossible to quantify, and it's impossible to know if the reader is familiar with the product being used as the basis for comparison. Still, with Mizuno's new JPX-800 Pro irons, it's nearly impossible for me NOT to subconsciously compare them with their predecessor, the MX-300s, which I reviewed last year. Since the review, that MX-300 set has been a staple in the rotation of clubs in my bag. Needless to say, it's going to be hard to top them.
As soon as I opened the box and pulled out the first iron, my thought was that the new JPX-800 Pro came to impress.
Design
Back in October, when we covered the launch of the JPX-800 Pros (as part of the new global JPX brand), a quote by Iver Maple revealed that the new JPX series is Mizuno's biggest commitment to the game improvement category, ever.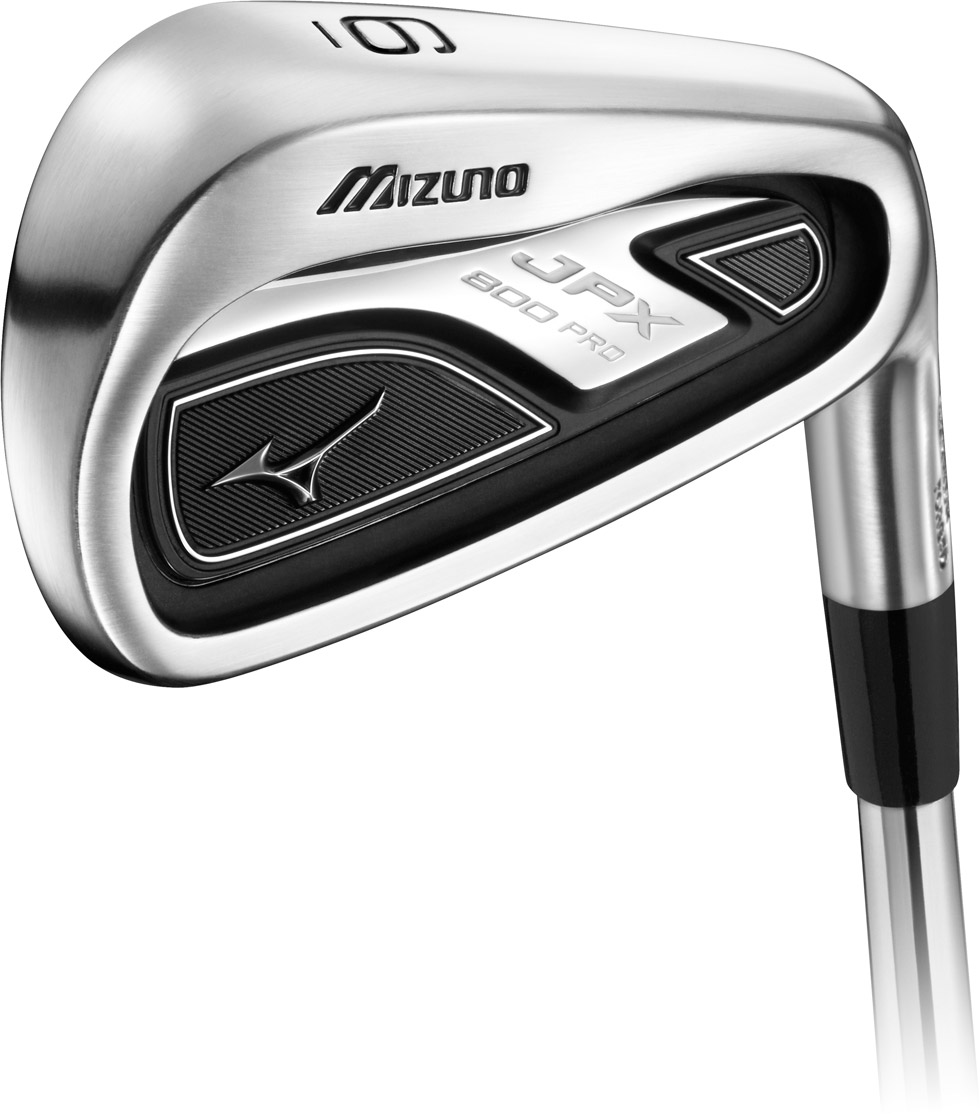 Like the slightly larger JPX-800, the JPX-800 Pro was designed for both distance and forgiveness, though with a smaller head and with a greater degree of control. While the previous generation MX-300 intended to blur the line between game improvement and player's iron, it doesn't seem that line is quite as blurry any more – these sit pretty comfortably in the GI category more than anything. Though they definitely remain at the higher end of the GI spectrum.
Though the JPX-800 Pro may be the first generation of what's sure to be a great lineup for years to come, it certainly has its fair share of attractive technological features for being the first in its series. For starters, it has the largest sweet spot ever found in a Mizuno Grain Flow Forged iron. That means distances should be both long and consistent, even if you aren't striking it perfectly every time. That's not the only title it holds; the JPX-800 Pro also registers as producing the highest CoR values ever recorded with a single piece Grain Flow Forged iron. The bottom line is that the numbers don't lie – Mizuno isn't just giving us a bunch of marketing speak when they say these are among the longest irons they've ever produced.
Research and Development previously operated independently in Japan, Europe, and the United States, but for the creation of the JPX series, all of those islands of independent expertise were combined, effectively pooling all of their technological and design accomplishments. The result is exactly what you read above – extreme CoR, huge sweet spot, and explosive, consistent yardage all rolled up into an wonderfully attractive head.
Like a large number of previous Mizuno irons, they started with soft 1025 "Pure Select" mild carbon steel as the material of choice. By using a very precise CNC milling process, the face was thinned, resulting in greater flexibility in the face, and an increase in ball speed upon impact. An additional benefit comes as a result of this process – it is one of the contributing factors to locating the center of gravity low and deep, further increasing both stability and forgiveness.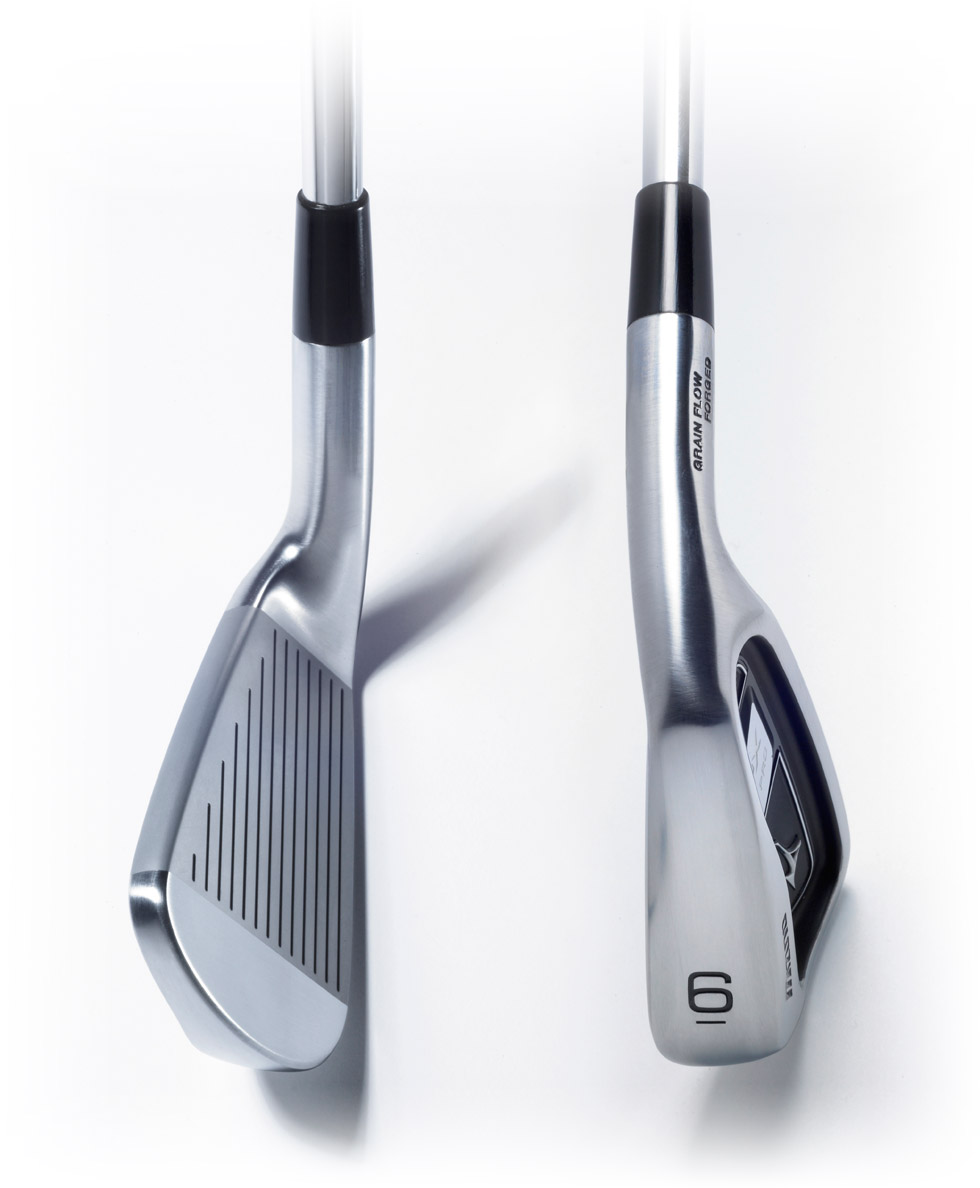 Though distance and forgiveness were key design goals/intentions, Mizuno's engineers didn't forget what has made them so popular – that much praised sound and feel. To achieve their high standard for these qualities, Modal Analysis and Harmonic Impact Technology was used to tune everything to perfection. As a side note, you may not be aware, but the other major contributor to the sound and feel is the Grain Flow Forging process, proving that this quality is a consideration from the very beginning.
As you can probably already tell, the JPX-800 Pro is a little smaller than the JPX-800, and is geared for the player looking for a little more control than it's max forgiveness sibling. They were also designed with considerably less offset than the JPX-800s though just ever so slightly more than the MX-300s (though likely not discernible).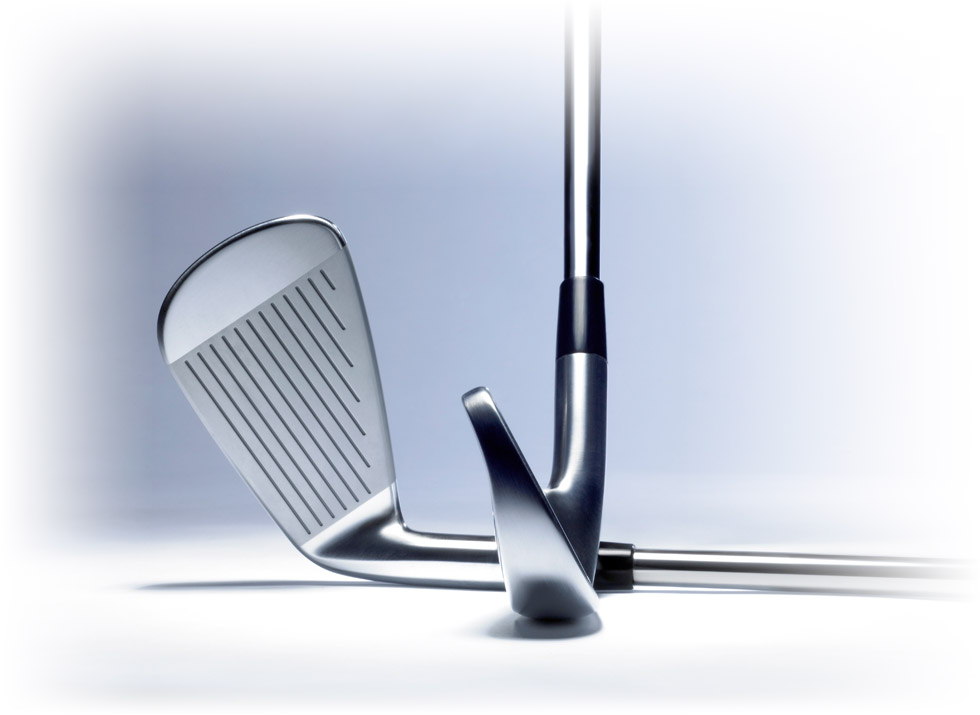 Rounding out the club head is an aggressive Triple Cut sole design, which promotes solid ball striking from all types of lies.
Esthetics
You've got to hand it to Mizuno, they have always done a great job at producing very clean, visually appealing clubs, especially in the game improvement category. I mean, lets be honest, it's not hard to make a good looking blade, but nowadays, a lot of manufacturers tend to get carried away with the appearance of their GI offerings. Mizuno keeps it simple however, as the backs feature a simple black/polished steel coloring scheme. Upon closer inspection, you'll notice tat what you're looking at is raised badging, and appears to actually be two separate pieces. This is a sharp contrast to what existed in the MX-300, though don't take that to mean it's a bad quality, it's just different. In fact, I'd definitely rank the JPX-800 Pro among the cleanest looking game improvement irons to come out this year.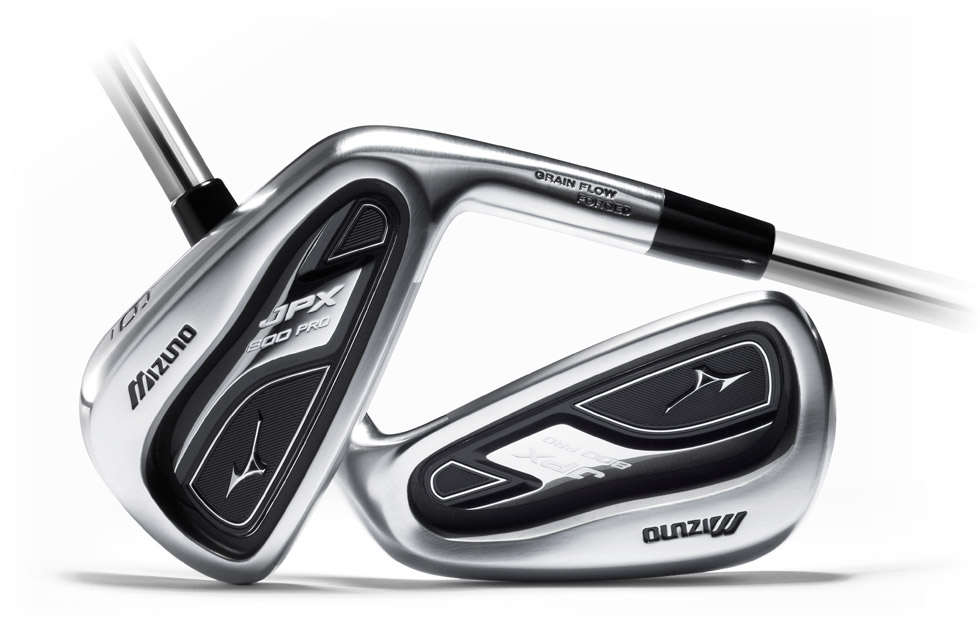 The polished "Y" section of the badge is stamped with the JPX-800 Pro name, and extends nearly from heel to toe, and turns up right behind where the sweet spot should be. Other than thin lines of polished trim, and the appearance of the Mizuno logo, the rest of the back remains devoid of any extraneous decoration. Needless to say, I'm a big fan. In person, the appearance is very clean and attractive. Overly thick, gaudy irons that try too hard drive me nuts, but that's simply not the case here.
Moving down, the Mizuno stylized name is stamped slightly offset of center on the external power bar. The triple cut sole keeps it pretty simple too, as it is simply stamped with the iron number. The hosel itself is standard fare, with only the Grain Flow Forging stamping present. As a side note, when comparing side by side with the MX-300, they appear to be slightly longer from heel to toe, though the difference can't be any more than a few millimeters. The topline, though not as thin as that found in a players' iron, isn't nearly as thick as lots of others in this category.
Performance
Due to some circumstances out of my control, I wasn't able to play nearly as much as I'd like over the last few months. "Rusty" was probably the best way to describe my golf game. I know my game isn't sharp right now, but I refuse to fall back to an iron that's all forgiveness and no feel. Still, I want to put the clubs in the bag that will give me the best chance at playing well and having a good time. So upon receiving the JPX-800 Pros and getting my first look at them in person, I had a feeling they wouldn't disappoint.
As it turns out, that was the correct assumption to make. The JPX-800 Pro played into that exactly well for a number of different reasons. Though I'm a little rusty, I still want enough feedback to let me know where I'm making contact but on the flip side, doesn't punish me too bad either. Not too forgiving though, as something overly forgiving is going to prevent me from working the ball when the situation calls for it. So as much as I'd like to be looking at players irons in the bag, now just isn't the right time.
With that in mind, I gladly accepted the JPX-800 Pros with open arms. Based off of the coverage a few weeks back, they seemed to be aimed directly at the game improvement category, whereas the MX-300 was released with the intention of blurring the line between players iron and game improvement iron. That statement was nowhere to be found in the JPX-800 press release from Mizuno. That's good. Like I said, I could use a little extra forgiveness right now. Turns out, I couldn't have asked for a better balance.
Though I probably don't have to say it, good, on target contact feels exquisite, I mean absolutely exceptional. There were a number of shots I hit that I just couldn't shut up about. However there were a number of other shots where I was making contact out near the toe. I mean, they were absolutely horrible swings. The thing about the JPX-800 Pro is that, yes, it let me know I hit a bad shot – there's no doubt about that, but it wasn't an overly harsh, painful feedback. On shots where I was slightly off center, I could feel a slight difference, though probably equivalent to a whisper, where the extreme toe contact was more along the lines of talking as loud as you can without screaming. It's like a subtle nudge – you know contact wasn't perfect, but your hands aren't punished.
The great thing about it is that your score isn't punished in that situation either. Nearly everything simply flies off the face, with the exception of course being those extreme misses. The consistency of distance on contact across a wide portion of the face is truly exceptional.
In fact, the distance these irons achieve is nothing short of spectacular. For me, it was actually too good in my first round with them. I actually over shot a couple of targets, though after a couple more rounds with these in the bag, and becoming more familiar with them, and that problem no longer exists. What a great problem to have though, right? Dialing in those three quarters and half shots will also take a little work, with a little more touch on my part as well. In this case I suspect my rustiness was the majority of the issue there. Give it a solid swing, and solid contact, and you'll get exactly what you want in return. One big observation is that even though the distance these irons produce is great, I didn't find that they launch the ball ridiculously high. They do get the ball up in the air easily, but a lot of the game improvement irons I've hit really take the ball insanely high in the air in an effort to go longer. That's not the case here. Ball flight is penetrating and boring and is pretty workable up and down. Some irons I've hit have made it nearly impossible to go low, but the JPX-800 Pro does not fall into that category. I was ecstatic with one particular pitching wedge shot that I had to keep low. The flight was actually lower than I had intended – so low that I thought it would skip off the back of the green, but instead it landed, bounced once, and immediately checked up. I couldn't have been happier to leave the wedge in the bag on that trip to the putting green. Overall I was pretty surprised with that aspect, as the Dynalite Gold XP is listed as a high launch shaft.
Steering the ball left or right wasn't all that hard either. At only one time did I not get my desired result in drawing a ball around a tree, but again, this being the lone exception leads me to believe it was my rustiness, not the club. Other than that one instance, the JPX-800 Pros were like mind readers.
When I was able to find the rough, I was extremely happy to discover that the JPX-800 Pro does a great job of getting the ball out without very much effort. I especially liked its performance on a sidehill rough lie. It cut through the grass without any premature twisting of the club face due to longer grass, and the end result were shots straight down my target line. Of course I compensated as well as possible for the ball being above or below my feet, but still, the club cut through the higher grass beautifully. Never at any point did I feel like it dug into the ground excessively either. Instead, it slipped smoothly through the turf after contact and released perfectly.
Back to the Dynalite Gold XP shaft for a sec. I think this shaft is a great match for this iron. I'm used to the Dynamic Gold S300, which weighs considerably more, and I could definitely feel the difference in weight throughout my swing. That was a good thing though – I liked the lighter feel and at this point in time, and I thought it gave me a little more control and consistency over a couple of others I hit side by side with the JPX-800 Pro.
Specifications
The JPX-800 Pro comes equipped with the True Temper Dynalite Gold XP shaft either in R300 or S300, and is an excellent choice of a stock shaft. The Dynalite Gold XP weighs in at 10 grams lighter than the standard Dynamic Gold, and also produces a high ball flight. This is going to help players in a few different areas. First off, the lighter weight is going to lead to less fatigue, and is going to help the player get the club around faster. The high ball flight is going to lead to longer distances and make it more likely for the ball to stick when it lands. Topping it all off is the Mizuno/Golf Pride M-21 58 Round rubber grip.
Mizuno Custom Shop set them up with the specs I needed (+1.5″ long, 2° upright). Keep in mind that there is a half-inch to quarter inch difference in the standard length of Mizuno's irons compared to some other manufacturers.
If the Dynalite Gold shaft isn't your thing, Mizuno offers a wide variety of other shaft options or if it's another grip you desire, they have a number of other grips available as well. A list of those can be found here (shafts) and here (grips). Or maybe you're like me, and just need some adjustment to lie and length. Either way, a call to Mizuno Custom can take care of whatever you need.
Standard Specs:
Club     Loft     Length     Lie     Bounce     Offset
----     ----     ------     ---     ------     ------
3I       20°      38.75"     59.5°     1°       0.171
4I       23°      38.25"     60.0°     2°       0.161
5I       26°      37.75"     60.5°     2°       0.154
6I       29°      37.25"     61.0°     2°       0.146
7I       33°      36.75"     61.5°     3°       0.134
8I       37°      36.25"     62.0°     4°       0.122
9I       41°      35.75"     62.5°     5°       0.110
PW       45°      35.50"     63.0°     6°       0.102
GW       50°      35.25"     63.0°     7°       0.102
Conclusion
Can I say enough about the JPX-800 Pro? Nah, probably not. They're a near perfect combination of what one would want in a game improvement iron- forgiving yet moderately workable, compact and very attractive. I can easily see better, lower handicap players with the JPX-800 Pro in the bag, yet I can also see someone on the low end of the high handicap range playing them as well.
While Mizuno gets a ton of praise for their players irons, they deserve just as much for what they offer in the GI category. This is the second set of irons I've reviewed in that classification, and I gotta be honest, they blow just about anything else I've hit out of the water. They're as easy to hit as a lot of the much bigger, max GI irons out there, yet you look down at them, and they appear only slightly thicker than a blade.
There's no doubt the JPX-800 Pros will be in my bag for quite a while, and I firmly believe that, if you're in the market for new irons and you don't try these out, you'll be selling yourself short. Mizuno absolutely has a winner on their hands with the JPX-800 Pro irons.