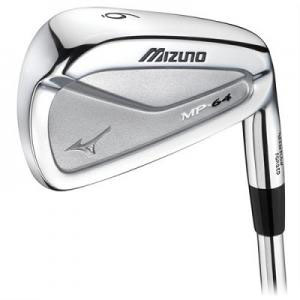 In the golf world these days, everything is about advertising. Every few months one company or another is debuting the latest and greatest in golf technology. It is promised that this new technology will add an insane amount of distance to your game as well as being even more forgiving than whatever is in your bag.
Mizuno Golf, for the most part, has not really followed this route. Of course they advertise, but more than most companies, they let their products speak for themselves.
While they may not be the biggest or most hyped name out there, their clubs, and more specifically their player's irons have developed some what of a cult following for being among the best available. It is clubs in this category that really are the heart of the company, and this is because to many they have a feel that is superior to nearly everything else around. Sure they make some really good game improvement clubs, and their woods and wedges are also top notch, but when golfers think of Mizuno they think of small, compact irons with buttery soft feel.

It is for this reason that many of the games top amateurs and professionals trust their irons to Mizuno and put them into play day after day. While their presence on tour may not be quite as big as some of the other companies, one of the games best, Luke Donald, is on staff and with his input, Mizuno has released their latest iron for the better player, the MP-64. Read on to find out if Mizuno's newest sticks live up to the high expectations that so many have for them.
Test Model Details
The set I received from Mizuno was the standard 3-PW make-up that Mizuno uses for all of the MP line. Like all irons from Mizuno, the company allows for custom options. Off the rack, the Mizuno MP-64 irons come stock with the True Temper Dynamic Gold shafts; however, I was looking for something a little different this time around and decided to go with the KBS Tour in a stiff flex and had them soft stepped once (I'll get into the reasons for this later). My clubs also came with Mizuno's newest stock grip, the Golf Pride M-31 round. This grip is essentially a slightly modified Tour Velvet with the Mizuno logo.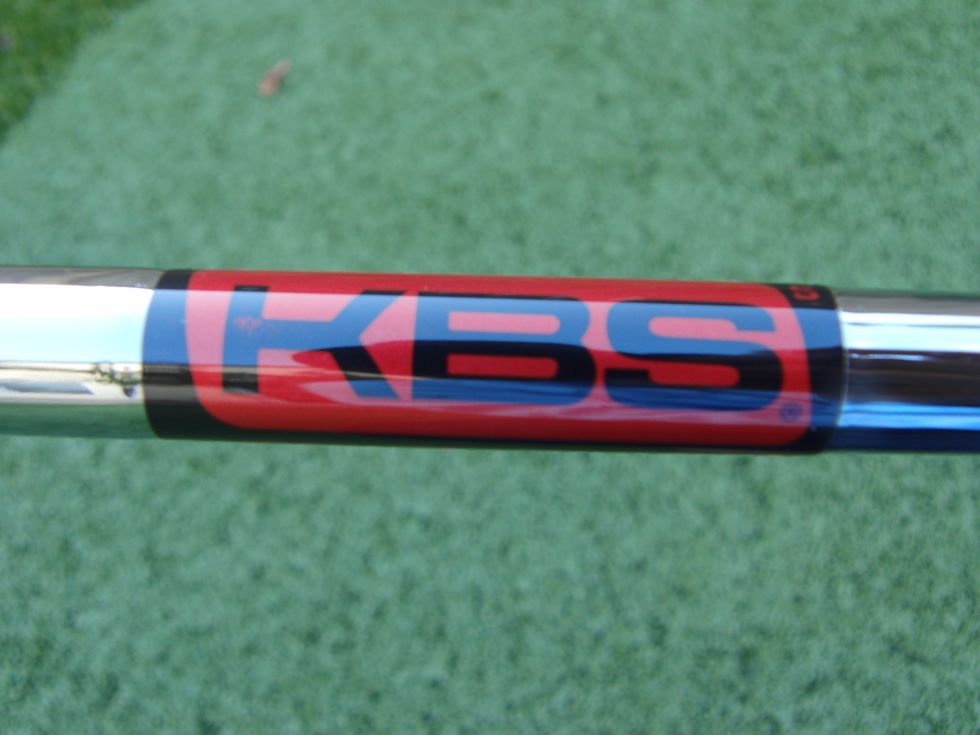 Specifications
Club    Loft    Length    Lie      Offset
----    ----    ------    ---      ------
 3I     21°     38.75"    59.5°    0.122"
 4I     24°     38.25"    60.0°    0.122"
 5I     27°     37.75"    60.5°    0.122"
 6I     30°     37.25"    61.0°    0.114"
 7I     34°     36.75"    61.5°    0.114"
 8I     38°     36.25"    62.0°    0.106"
 9I     42°     35.75"    62.5°    0.106"
 PW     46°     35.50"    63.0°    0.106"
Technology and Design
While many of the new Mizuno irons, including the MP-H4's, JPX-825's, and JPX-825 Pros include a lot of new technology, that is not the case with the new MP-64 irons. However, that isn't to say that these clubs aren't an improvement over last years MP-63 irons or other irons that Mizuno has previously offered as there are a number of refinements which separate these from other clubs. The new design of the MP-64s bring back some of the technology we have seen in previous sets from the company with an increased focus on feel.
With feel being priority number one, Mizuno once again turned to its Harmonic Impact Technology (HIT) to optimize the sound and feel of the club at impact. This is important because much of what a player interprets as feel is the sound that the club makes at impact. When you are known for making some of the best feeling irons around you kind of have to get this right, and this time around it seems that Mizuno has. Through the use of HIT, Mizuno was able to fine tune the vibration frequencies at impact. However, it wasn't just technology that helped Mizuno this time around. They also brought in their top staffer, Luke Donald, to get his input. This is only the first part, however, of how the company makes a great feeling club. The second part is, of course, using premium materials (1025E Pure Select mild carbon steel) and the company's patented Grain Flow Forging process.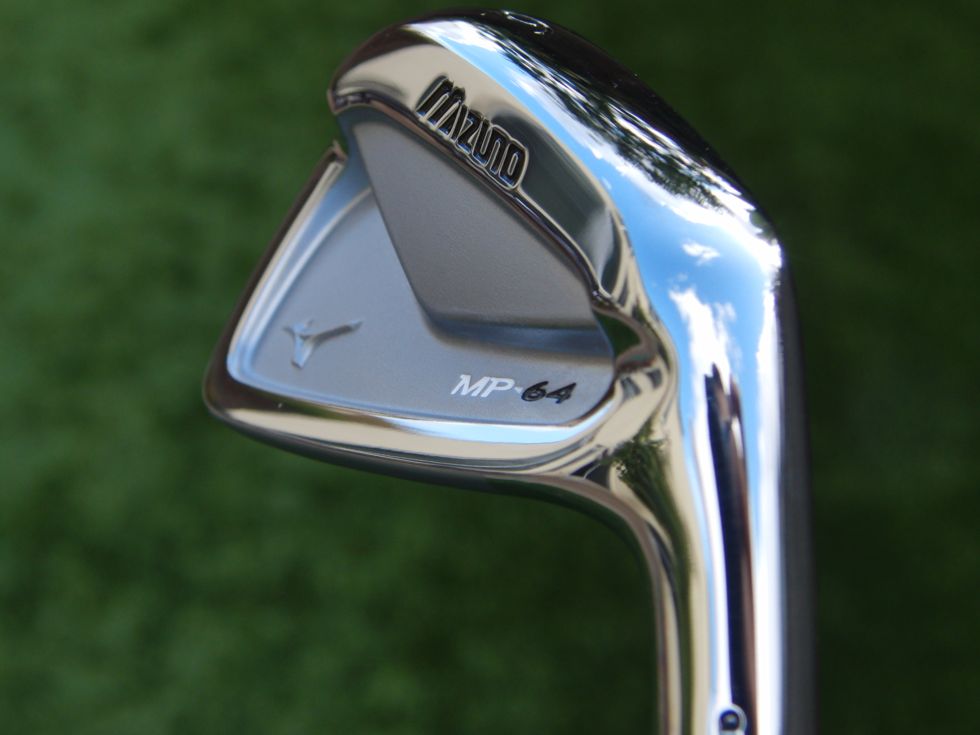 While feel was priority 1A for these clubs, control was 1B. Over the years, Mizuno has employed a number of different muscle designs including the cut muscle, dual muscle, and diamond muscle. With the MP-64 irons, Mizuno has elected to continue with the diamond design, going with what they call the Diamond Muscle Pad in the cavity of the club. Using this design, a fair amount of the clubs weight is positioned directly behind the sweet spot, leading to increased feel, while allowing some of the remaining weight to be moved out towards the heel and toe to increase forgiveness. The clubs also have a progressive flow throughout the set with regards to the depth of the cavity. The cavity on the longer irons is a little deeper than those on the mid and short irons. The Diamond Muscle Pad coupled with the Progressive Flow Cavity design allows for the club to have the feel and control of a blade while adding a little bit of forgiveness. To further enhance the golfers ability to control and shape their shots, Mizuno has gone with at tour confirmed sole and compact head size. The clubs also feature modified U groves to optimize the spin rate maximizing playability in all conditions.
Esthetics
Esthetically, I find these clubs to be simply amazing. If you have read any of the other reviews I've written, you'll know that I'm a fan of sleek and simple designs. These clubs are exactly that. The irons have a beautiful mirrored finish with only three markings on the back of the club; "Mizuno" appears along the top of the club and inside the cavity, which has more of a bead-blasted look, is "MP-64" in the lower right, and a raised Mizuno Run-Bird (the company's logo) in the lower left. The only other markings on the club are the iron's number on the sole and the words "Grain Flow Forged" on the hosel. When set up at address, the grooved portion of the face has a satin finish which frames the ball very nicely. To me, these clubs look like a combination of last year's MP-63 irons and the previous years MP-62's.
For those players seeking a club with a compact head, thin top line, and nearly non-existant offset, these are the clubs. Even though these clubs have a slight cavity back design, you'd never know it with the club as none of the cavity is visible at address, even in the long irons. When set up behind the ball, it wold be impossible to tell if the club was a cavity back or a true blade. While the longer irons feature a touch more offset than the scoring irons, that offset is still practically none. The top lines of the clubs are very thin, and in my opinion this looks great; the same goes for the sole of the club, which retains the same narrow size as the MP-63's but without as much relief. The clubs are also the most compact of Mizuno's 2013 lineup.
Performance
As my first set of true Mizuno player's irons (I also have the MP-H4's, but those are more of a game improvement club), I was just a little afraid that these clubs were possibly a bit over hyped. After all, it seems like any time there is a discussion about the best irons, Mizuno is always mentioned and their "buttery" feel has become almost legendary. However, in my opinion, these clubs more than live up to the company's reputation.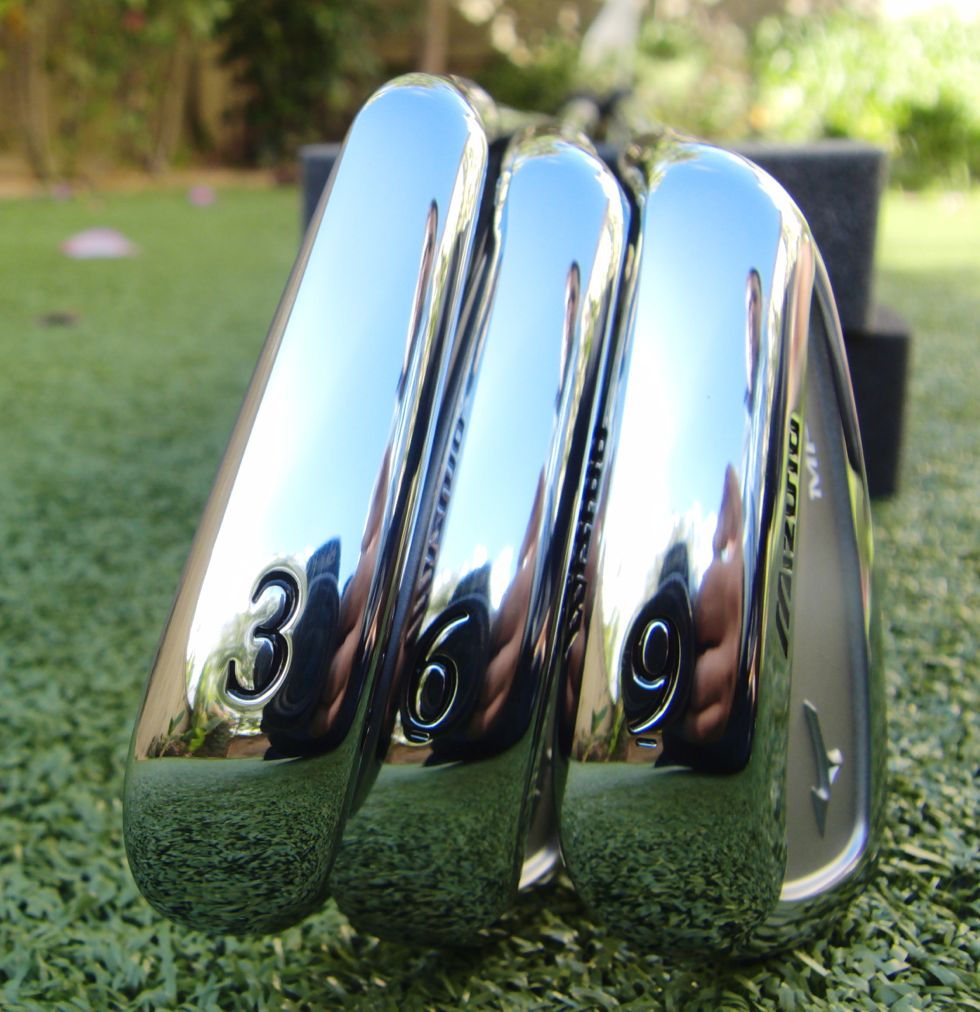 Mizuno recommends that these irons be played by those golfers who have handicaps between +2 and 10, and I'm just on the outside of the recommendation. I find that if I play on consecutive days or have put in the time practicing that I have no problem playing these clubs. However, taking a week off or so and trying to come back to these has been punishing at times. While Mizuno has designed the clubs with a progressive cavity and the Diamond Muscle Pad to increase forgiveness, that by no means mean that these clubs are forgiving. They are not, and if you miss the center of the club by more that a little, you're going to know about it. They don't necessarily feel bad on mishits, but they do not have the solid yet soft feel that a good shot has. Put it this way, while you may notice little to no difference between bad and good shots with a game improvement club, that is not the case with these. The simple fact is that because of the compact size, there is less margin for error. However, to say that a bad shot "hurts" would be an overstatement. Distance wise, if you mishit by just a little, you don't loose too much, but any more than a little and you'll be coming up short.
Enough about mishits though. When the clubs are struck in the center, or at least very close to it, they feel absolutely wonderful. Actually, they feel almost like nothing. That's the best way I can describe it. The clubs provide a nice solid feel at impact that is soft without being mushy, even when using a softer ball (I've been playing the Maxfli U/4 with them). As talked about earlier with the design of these clubs, there isn't a lot there to help players in the way getting the ball up into the air. Due to this fact, I opted to have the KBS Tour shafts (stiff flex, soft stepped once) installed in these over the standard True Temper Dynamic Gold. While I really like the DG shafts (they are in my MP-H4's, as well as other irons I've played), I was afraid that when combined with the head of the MP-64s I might struggle getting the ball up into the air high enough when using long or mid irons. The KBS Tour shaft launches higher than Dynamic gold. Soft stepping them helped to increase the trajectory just a little bit more while also softening up the flex just a touch. This is good for me as I'm in that range between regular and stiff and so this takes them down just a bit as far as flex goes.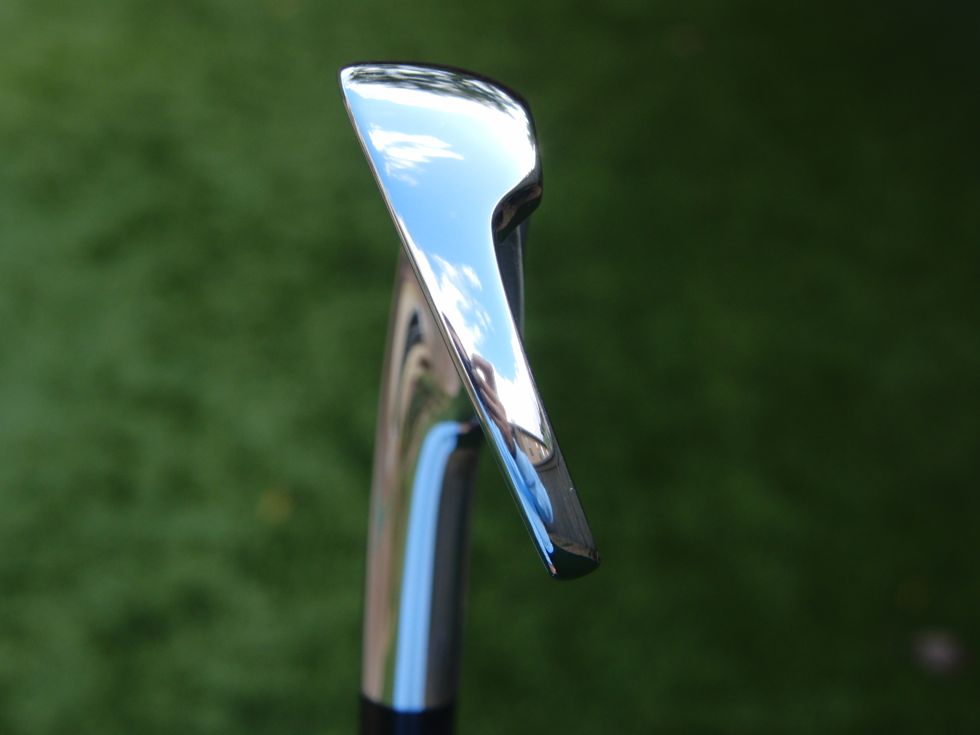 For me, the MP-64 heads with these shafts give me the trajectory that I'm looking for when I make solid contact. The ball comes out nice and high, but it doesn't balloon on me. With the long irons I get just a little bit of rollout as opposed to the scoring irons which drop and hop forward just a little bit. Hitting say a 9 iron into the green will normally leave the ball within a few yards of the ball mark. I've been lucky lately not to have to play windy conditions often, but the few times I have, I haven't felt like the clubs have hurt me. One thing that I've been very impressed with is the feedback that the club offers. I've used smaller cavity back designs in the past but over the last couple years have played slightly larger clubs. Living where I do, this is the time of year that I practice a lot (beautiful weather right now, as opposed to summer when it'll be 105° on a nice day), and I've put in my fair share of range sessions with these. While having a club that masks your flaws can be nice when you are out on the course and can't afford to suffer the outcomes of a bad shot, it can make practicing a bit more difficult when every shot seems to be a decent one. As I said earlier, these clubs will let you know when you miss it and when you don't and while that can hurt you on the course, I appreciate it on the range. It's also out on the range that I noticed both the dispersion of shots and distance control is very good. I felt like my ball was landing in the the same spot (within a few yards) time after time when swinging well.
Conclusion
In the end, I have found that these are a pretty good set of clubs for me. To start, they are great looking clubs, and while ultimately it's the performance that matters, it doesn't hurt to have a set that's nice to look at as well. Also, while they can be punishing to play if I'm rusty or haven't been practicing, they offer just enough forgiveness to not hurt my game when I am puting in the necessary time and effort on the practice range. I've also come to appreciate the increased feedback these clubs offer versus other clubs I've been using, especially when on the rage. Yes, bad shots may not feel great, but I like the fact that they are masked by the club.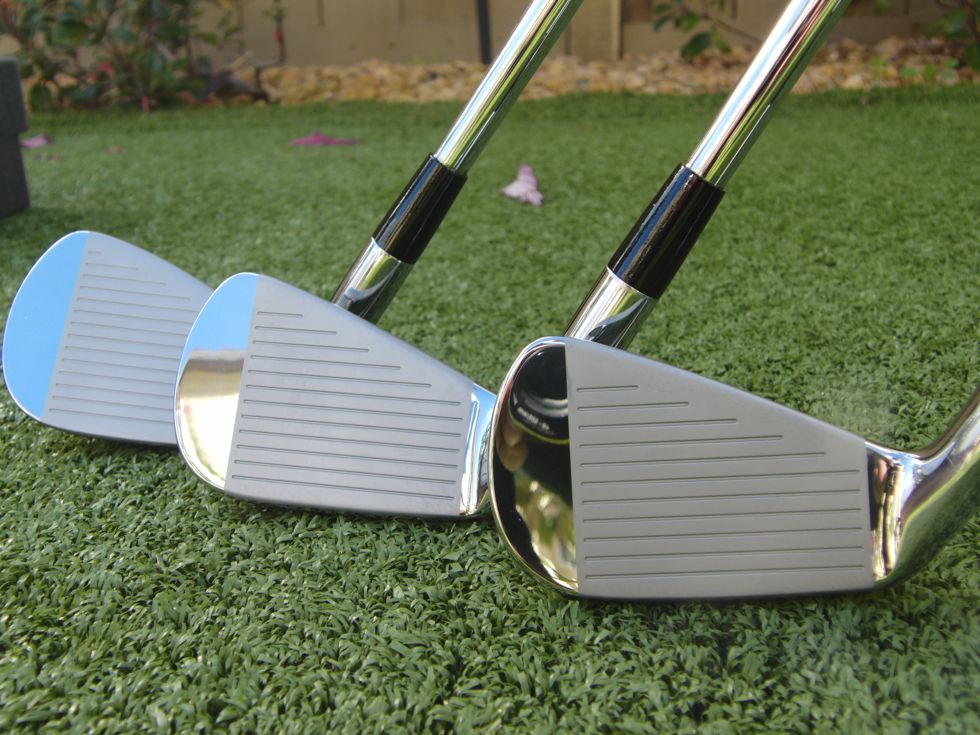 But of course, the biggest reason people read these reviews is to see if the clubs are a good fit for their game. So, are the MP-64s the right club for you? Well, as I said earlier, Mizuno recommends these for players with a 10 handicap or better, and honestly I would say that is right about dead on. If you can play to a 10 or better, than I don't think these clubs would cause any issues for you. Once you are down to a single digit your swing is normally consistent enough for clubs like these in my opinion. However, if you aren't quite at that level yet, then you have to be honest with yourself. I think that if you are close AND have the time to practice and play on a regular basis, then these clubs should be fine (this is kind of the category I'm in). If you don't have the time practice a few times a week and are more of just a "weekend warrior" type of guy, there may be better clubs out there for you.
Overall, Mizuno has done very well with the MP-64s. I found that they lived up to the expectations that I had for them, which were that they'd be a great feeling iron, with great looks, great feedback, but little forgiveness. If you are a better golfer or at least one with enough time to practice, then I absolutely recommend these clubs.