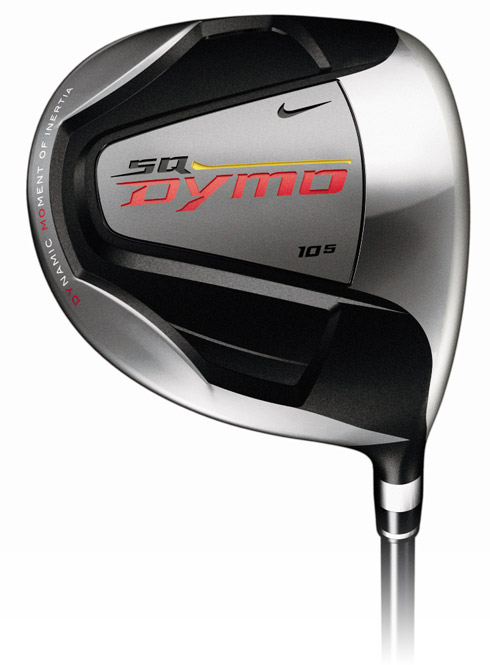 When I first saw that Nike had come out with another set of drivers I have to say I wasn't all that excited. My experience with Nike's golf gear has been favorable for the most part. I have carried their clubs in my bag from time to time, but I have always found myself going back to the manufacturers that have been around a little longer. I am a traditionalist at heart, and Nike's drivers just always seemed a little "out there" for me. They had these goofy two tone crowns and the noise, the sound that emitted from them was ear shattering at best. There was always that one little thing about my Nike club that bothered me. Not bad equipment, but just not my cup of tea.
So when these two new Dymo series drivers arrived at my doorstep, I gave myself a little pep talk in the form of "Let's give 'em a shot!" I am happy to report that I'm glad I did. Nike seems to have read my mind and improved on their drivers in virtually every way they could have (to me). It looks to me like a great deal of good traditional golf club design went in to the making of these. And out came what I believe to be the best product I have seen Nike put out to date.

Design and Technology
The folks at Nike, like many other companies and Nike themselves in previous years, are offering two models in the Dymo line: the Dymo and the square-headed Dymo2. The square head geometry is about "straight and long," say the Nike people. This is the same technology that Tiger Woods does not play because he was quoted saying the ball went "too straight." The more traditional and workable Dymo, Tiger's new driver, remains rounded.
The name DYMO stands for DYnamic MOment of inertia. This is different from the previous SUMO models which stood for SUper MOment of inertia. The designers at Nike have tried to maximize performance by tweaking the club specifications for each different loft. Things like lie angle, MOI, overall head size, face depth, and center of gravity vary from one loft to the next. Nike engineers say their new "Progressive Powerbow Weighting puts the center of gravity where it is most needed" for each different loft. The CG is higher and more forward for the lower lofts to reduce spin and create a more penetrating ball flight. The CG is moved lower and more to the rear of the club for the higher lofts to increase spin rates and help get the ball into the air.
All this head design is coupled with a new stock UST wide body shaft design with an AXIV core. A larger overall shaft diameter is supposed to enhance shaft stability through impact and UST's new AXIV core material in the shaft's tip will help deliver more power to the ball. Of course both head designs can be special ordered with most custom shafts available today.
Esthetics
It is in this area where I believe Nike has made great headway (no pun intended). Thank goodness, gone are those ridiculous looking silver "Powerbows" around the back of the crown. Nike has instead decided to tone that area of the clubhead down by replacing the silver with a much smaller, darker grey Powerbow. The difference is great. To me the old silver areas utterly failed at making the clubhead look more compact, one of their stated goals if I'm not mistaken. Instead, they made the clubhead look large and clunky and did nothing but detract from the overall look of the club.
The sole of the clubhead has also been toned down. The loud yellow SUMO from past models has been replaced by an easier-on-the-eyes red DYMO. The rest of the sole is black or a muted grey color except for a small yellow line that links the DYMO with the SUMO.
The black and yellow stock shaft is another thing altogether. You will love it if you happen to be a big fan of bumblebees. I unfortunately am not and will be looking for another shaft to replace it. I guess it's not that bad – I just don't know why the Nike people just didn't go all the way and completely reinvent the looks of these drivers, shedding the past (yellow) and looking to match the black/grey/red scheme found elsewhere in the DYMO. Someone at Nike must just be a big fan of yellow.
Performance
We as golfers have heard and seen it all, time after time. Every year the club manufacturers flood the market with the next best thing that, without even a little effort (or practice), promises to instantly drop five strokes off your game.
I tell you, it's amazing with all the scientific tinkering that goes on in these R&D departments that we all are not shooting Golden Tee-like scores by now. But we are not, and will not. There is no special club out there that will instantly fling open the doors to Scratchville and invite the average player to come on in. Not even the new Dymo line from Nike.
That said, these are very good drivers. So good that many of my own playing partners have offered to send them back to Nike for me at no charge! I first took the pair out to the driving range at my local course to get used to the feel and see how they perform. It would be safe to say they did well though the two do perform as differently as they look.
Both the Dymo and Dymo2 came to me with the stock UST shaft, extra stiff, and with 8.5° of loft. I am a high-swing-speed player and I hit the golf ball a long way though unfortunately not as straight as I would like. My length is a great asset that, on one or two holes each round, turns into a liability. I am a fan of the driver, I like to hit the driver, and I probably hit the driver at times when I shouldn't. But enough about me.
I felt that if I was going to give both clubs their due I should use each one for at least three to five rounds. That way I could more easily get the feel for each and be able to compare. I first took out the round-headed Dymo. Being that it was supposed to be the more workable of the two I put it through the paces hitting draws and fades and adjusting tee height to see what I could get it to do.
First off, trajectory was higher than what I expect from an 8.5° driver. The ball got way up in the air right away. Even teed lower a bit I had a hard time keeping the trajectory down. This could probably fixed with a different shaft which is why you should always get fitted. The high trajectory did not, however, adversely affect distance. I hit the Dymo just as far or farther than my own driver. The big high drives were impressive to watch but I certainly wouldn't want to have to play it with more than a breath of wind.
Workability with the Dymo is right on with what Nike promises. The rounder head makes way for the player to be able to work the ball in the direction you choose, as long as you choose high draw or high fade. Off-center hits were forgiven just like one should expect from a modern 460cc head, but not excessively so.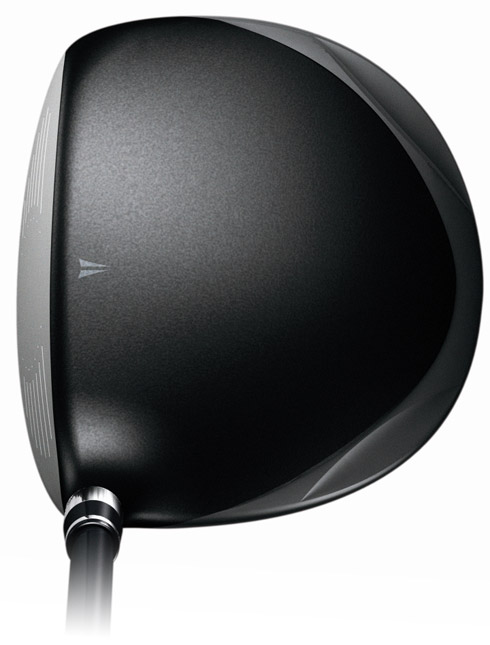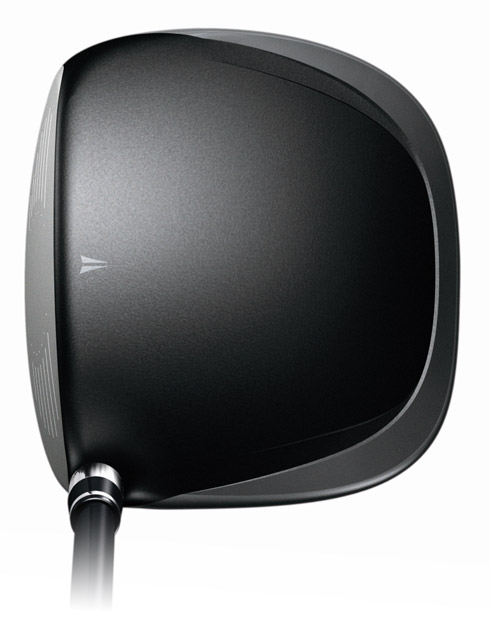 With modern clubs I feel the sound at impact is an important factor when choosing a driver. The sound the ball makes coming off the Dymo is by no means a thing of beauty, but is also not as bad as its Sumo predecessors. At least nobody ever stared at me on the range.
After several rounds with the Dymo, I decided to take the Dymo2 on the course. As I have stated above I am more of a golf traditionalist and have scoffed many, many times at the mere mention of a square driver. A square golf club? I mean… what a ridiculous concept! So realize how painful it is for me to eat my own words. The Dymo2 is a very good golf club. Very good at going straight. So good that it looks to make it into my bag for this season.
This is one of the straightest drivers I have ever hit. I have averaged 44% of fairways hit over the past two years. In fact out of my last 40 rounds I have hit above 50% of the fairways only a handful of times. By comparison, the two times I have taken this driver on the course I have hit 10 and 11 fairways respectively. The ball seems to be drawn to the fairway. Even most of my not-so-great swings sent drives right down the middle of the fairway. Straight is this driver's middle name. Yeah, you heard me right: Nike Straight Dymo2. Says it right here on this Cabbage Patch-like birth certificate I've got. OK, I made that part up.
To be fair, even though I really liked this club, I have to give one warning. Watch out, straightness does come at a price. The ability to work the ball is highly diminished. I now understand why Tiger decided against putting it in his bag. If working the ball around the course is your thing, this is not the driver for you. Just about all swings produced a ball flight best described as either "dead straight" or "slight fade." Attempts to draw the ball were unsuccessful except for a few baby draws that would have probably been big hooks with other drivers.
Oddly, the trajectory and height was better and easier to control with the Dymo2. My ball flight was right on where I like to see it, and I was able to hit the ball lower or slightly higher if needed with Dymo2 than with the Dymo. That's good, since I will have to hit it over trees from now on instead of curving it around them.
Again the sound from impact was much like its sibling: not great, but not ear shattering either.
Specs and Str8-Fit
Both the Dymo and Dymo2 are available for right handers in 8.5°, 9.5°, 10.5°, 11.5°, and HL and have a 45.75 inch shaft standard. Lefties will find them in 9.5°, 10.5°, and 11.5°. The ladies' model comes in 11.5° and HL with a 44.5 inch shaft.
For the tinkerers out there Nike has also introduced the Str8-Fit Line. The Str8-Fit line comes with an adjustable hosel that allows the user access to eight unique head positions to help correct or tweak ball flight. The Str8-Fit line also comes standard with a slightly upgraded UST AXIV shaft.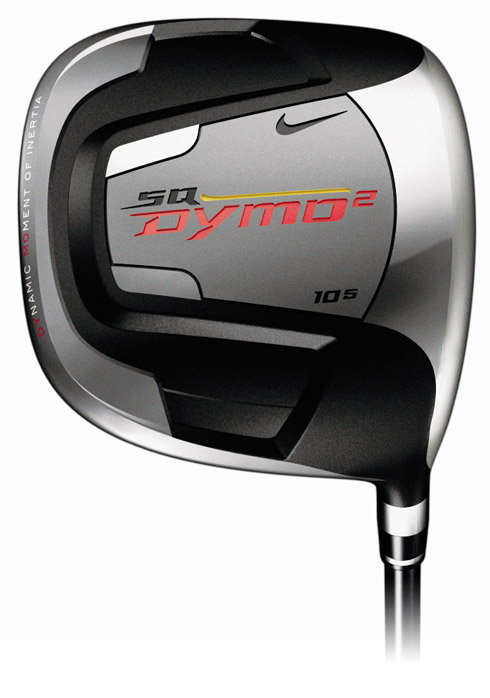 Of course they all come with the most poorly designed headcover in the industry. It is both hard to get on and does a poor job protecting the head. They designed a good club now maybe they might turn their attention to the headcover, but then again there are always aftermarket headcovers that will do the job nicely.
Final Thoughts
I am truly impressed with what the Nike folks have put out this season. The Victory Red line of forged irons are beautiful and now the Dymo line gives them a solid driver to go with them. Someone at Nike golf has been working overtime and it's starting to pay off.
I think Nike will be very happy with the reception this whole series gets. I believe anyone who is looking for a new driver this season will be doing themselves an injustice if they don't at least hit the Dymos. You never know these could be the next club you can't live without.
Nike got off to a rough start, and may have lasted only this long due to someone named Tiger, but they're now a serious contender in the golf game.