For years now, TaylorMade has been one of the industry leaders in golf club design and manufacturing. They continually put out some of the best golf equipment available. Though they are probably best known for their drivers, with such past beauties like the r7, they also have made some absolutely fantastic fairway woods over the years as well.
I still think back to when my father first came home with his first Raylor or his Tour Spoon. They were great clubs and well ahead of their time.
I've never had a 3-wood I've completely trusted. Many of my playing partners have that "go to" fairway wood that they know will find the short grass when the chips are down. Such a club would be a great find as it would take some of the pressure off my driver. So as you can expect when I heard I had one of the new R9 TP 3-woods coming my way I was full of anticipation. I already had a Burner TP 3-wood in my bag and I was ready to put the new one to the test to see if I needed to switch.

Technology and Design
The designers at TaylorMade have decided this year to leave their MWT (Moveable Weight Technology) off the fairway wood line and have employed their new FCT (Flight Control Technology) instead.
FCT gives golfers the ability to set the face angle, loft, and lie to eight different positions to help us optimize our trajectory and shot shape. This is accomplished by rotating a metal sleeve fitted over the tip of the shaft into eight different positions. Each position provides for a different setup and launch conditions. Basically, you remove the shaft from the head by loosening the FCT bolt with the new (white) wrench, twist the shaft to the position you prefer, and screw the whole thing back together again. For the tinkerer out there this is just about as much fun as you can have with a wrench and a driving range.
The R9 fairways come standard with Fujikura Motore shafts that have been developed with H.I.T. (High Inertia Tip) technology. Fujikura claims its new H.I.T. technology delivers more power to the ball by keeping more energy in the tip of the golf shaft. The TP model comes with a slightly upgraded Fujikura Motore F1 shaft.
The head design has been dubbed "new classic" by TaylorMade due to its successful combination of both modern and classic head shapes. It looks like Taylormade has outdone themselves again. If nothing else they should win the award for golf club brand with the most acronyms and nicknames!
Esthetics
As I mentioned above, TaylorMade has dubbed the head design as "new classic" due to a modernizing of the classic head shape. Whether this is true or a lot of fancy PR I don't know, but I like it either way. The triangular shape isn't as excessive as some "geometric" metal woods, and it's rather rounded as well, which helps.
The crown is a dark shiny black with nothing but a small TaylorMade logo as an alignment aid. This is definately a return to the classic look for TaylorMade as the crowns on their 2008 Burner line had more graphics and lines on them than a set of high rise blueprints.
The soles are also beautifully understated as they are a brushed silver with simple TaylorMade and R9 graphics adorning them. I personally like this as I believe a club's performance should set it apart, not its snazzy paint job.
The Fujikura Motore F1 shaft is maroon and silver in color with simple graphics to match. Really the only thing out of the ordinary at all on this club, that would alert someone to its unusual abilities is the hosel area where they have put the FCT position aids.
Simply stated, TaylorMade has removed anything and everything from this club that might detract from its overall look and left behind nothing but what is necessary for it to function as a good golf club. This is somewhat of a breath of fresh air in a time where it seems neon colors are finding their way onto clubheads at an alarming rate.
Performance
This R9 TP 3-wood came to me with the standard Fujikura Motore F1 stiff shaft 15° of loft. I first took it to the range to play around with the FCT positions. I started with the position I like which is standard lie 2° open (the R position), and worked it all the way around trying all positions until I got to 2° closed. I was struck by really how little each move affected my ball flight.
Afraid I was unconsciously adjusting my swing for each position I employed a friend to help me by changing the positions without telling me where they were. This blind test produced slightly different results, with me being able to tell the difference between the 2° closed and 2° open but not any of the positions in between. Not only that I found the position I liked most was 1° closed which is very odd for me. I fight a constant hook and to have a club work best for me when it's closed sent up red flags.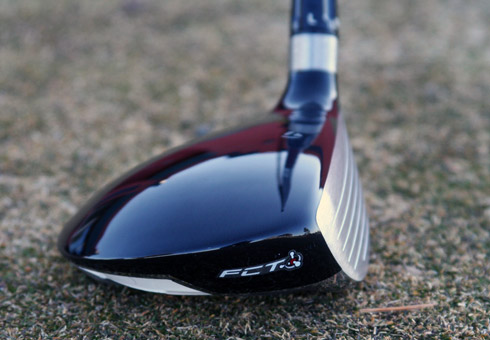 Ball flight and workability were fantastic. Though certain shots were possibly slightly easier to hit from certain FCT positions, I was still able to hit draws and fades with the hosel set in all positions. I have a difficult time fading the ball with my current Burner 3-wood and I was very happy to see this club allow for a left to right ball flight. I was also able to control my trajectory quite easily as well. I was slightly surprised by this as I thought the FCT might hurt workability. The opposite actually came true as the hosel position ended up having less to do with ball flight than the swing did. Again this is the way I believe it should be. A player should produce the shot, not the club.
Distance from this club was also very nice, if you want to hit your 3-wood as far as your driver. I hit this club at least 25 yards farther than my 2008 model Burner TP 14.5° 3-wood. The ball jumped off the face. I would go as far as to hypothesize that this comes from the new Fujikura shaft technology, but I am not entirely sure. I'm also not entirely sure that I really need to hit a 3-wood that far, but it's nice to know I have that in the bag.
I hit the Taylormade out of a number a different lies from hardpan to thick rough. It did well from most of them, especially the tight lies. The only lie that gave it a little trouble was long, thick grass. I had to try very hard to keep the face from turning over as the grass grabbed the hosel. Again, this is a guess, but the FCT hosel area is thicker than normal an may not pass through grass quite as easily. Regardless, I seriously doubt anyone would be hitting a 3-wood from that kind of lie in the first place.
Off-center hits were forgiven to a point one would expect with a Tour Preferred version fairway wood. Good enough to keep slight misses from being effected too much yet finicky enough to give good feedback. I personally wouldn't have it any other way. I would venture a guess to say the non TP version and its more flexible shaft with slightly more torque might be a touch more forgiving.
As I have mentioned in other reviews I believe the sound the comes from hitting a ball is also a very important part of choosing a club. The sound that comes from the R9 fairway woods is just like the rest of the club: nice and understated. There was nothing more than a muffled crack, no tinny metal sound at all.
Specs and Extras
The R9 Fairway Woods will be available in 13°, 15°, 17°, and 19° models and come standard with a 70-gram Fujikura Motore shaft for both righties and lefties. The TP model, (tested here) is available in the same lofts but instead comes standard with a tour-grade 85-gram Fujikura Motore F1 shaft. The MSRP will be $275 and $360 respectively.
The FCT has 4 main positions with a halfway position between each. The main positions are (L) 2° closed standard lie, (NU) Square 1° upright lie, (N) Square 1° flat lie, and (R) 2° open standard lie.
Each model comes with the new white wrench for removing the FCT bolt from the shaft. The company warns users not to use the old yellow and black MWT wrenches as they do not provide the 40 inch pounds of torque necessary to keep the head securely on the shaft. Also provided is a pamphlet outlining the process of moving the head around to find your best fit.
As always I like to mention the headcover. The Taylormade R9 headcovers both look and work very well. Mostly white and black they are the sock type that do a good job of protecting the shaft as well. I appreciate a good headcover design. There is nothing worse than fighting a headcover on and off six times a round.
Final Thoughts
I know some say we seem to give a lot of favorable reviews here on The Sand Trap, and this is a positive review. I do have to say I am not completely sold on the Flight Control Technology as a whole. I found it difficult at best to see any real changes in ball flight from one setting to the next. This leaves me to believe that the average 15 handicapper won't be able to see a difference at all.
This is not to say that this is not a good golf club, because it is. It's actually a really good club. I believe that any handicap could probably benefit from putting solid equipment like the R9 fairway woods in their bags. It would be a winner in my book even without the FCT.
So why the abundance of positive reviews? Because it's rare for a company to introduce a dreadful club these days. With millions of dollars at stake, it doesn't happen. TaylorMade, you could say, pushes the envelope a bit more than some other companies, but in the end, it comes down to what you like. I like the R9 fairway wood, and think you might too if you give it a try.