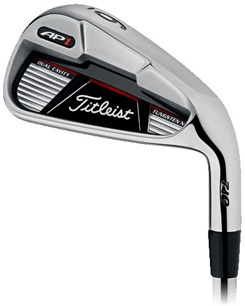 Like a sports car (or any vehicle for that matter, I guess) evolves as model years pass, so has Titleist's Advanced Performance irons. The newer models might look pretty similar at first glance, and in some ways, they are, although there are loads of significant updates that shouldn't be overlooked. As you know, more weight here, less offset there, and some added horsepower under the hood can make a world of difference.
In 2008, Titleist broke their own mold a bit with the release of the AP1 and AP2 irons. Never before had the (in Alan's words) "traditionally traditional" Titleist released irons with more visible technology and with that they stirred quite a buzz. Fast forward to August of 2009 where we learned that Titleist had done some fine-tuning and enhancement to both the AP1 and AP2 irons. Luckily, I had the chance to give the Titleist 710 AP1 irons a spin.

Design
So what's in this 710 AP1 that wasn't there last year? Lots, actually. Like I said, there's nothing fundamentally different, but enough tweaks to bring some significant improvement to the clubs as a whole. I mentioned that the offset was reduced, but that's not the only thing that's smaller. In a move sure to please lots of players, the top line is thinner, and the blade length is shorter.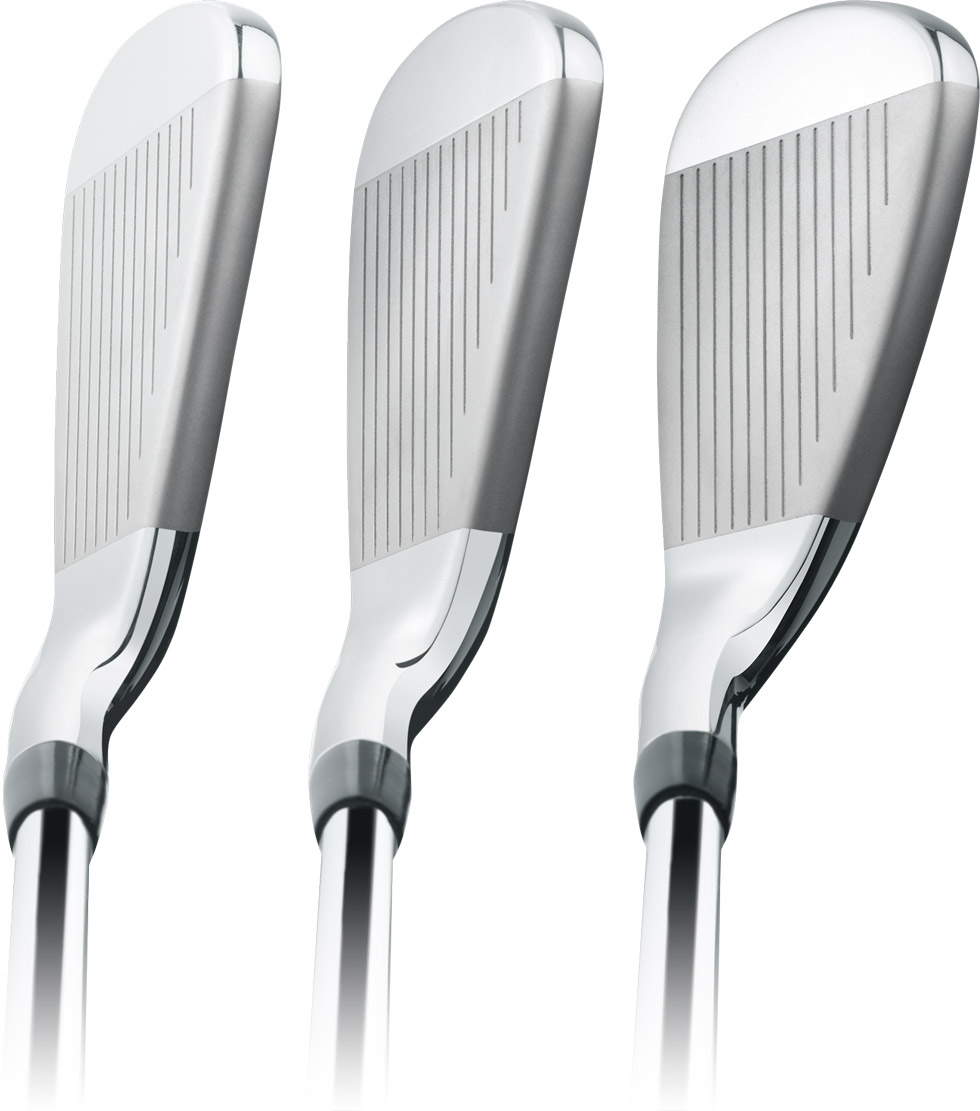 The introduction of the new Tuned Feel System is said to improve both the sound and feel of the AP1. The Tuned Feel System is, in a nutshell, a co-molded medallion of soft elastomer and aluminum plating. The aluminum and elastomer face combined with a larger rear cavity produce a hotter and more active face, leading to longer distance as well.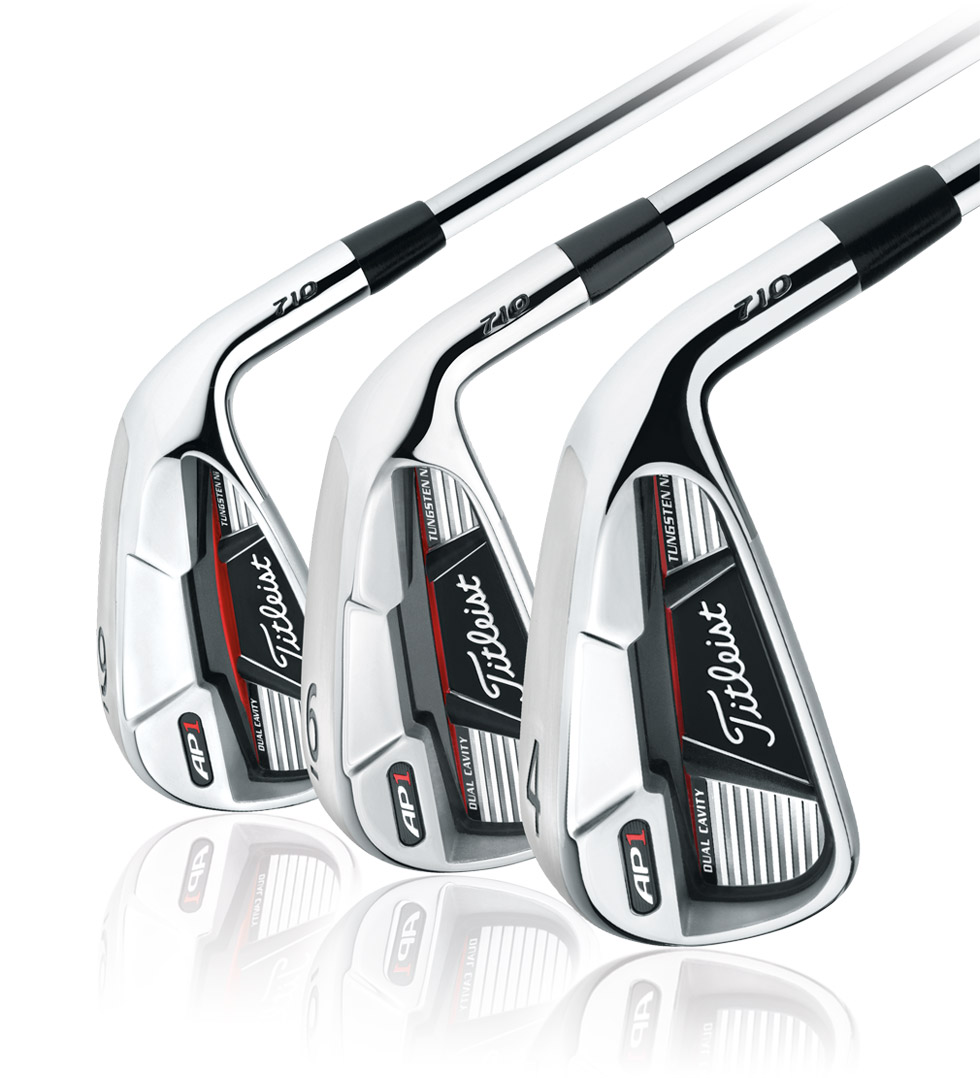 Speaking of the rear cavity, another improvement that's certainly worth noting is the introduction of the new thermoplastic urethane arms (TPU arms, for short) that are visible in the back, behind the face. Looking at the cavity a bit closer, you may notice that the TPU used in these "arms" also outlines the entire perimeter of the cavity and back of the face. The new TPU arms and ring around the cavity are a considerable piece to the puzzle of improving the feel of both the AP1 and AP2 as well.
Another contributing factor to improving the feel is the previously mentioned tungsten nickel sole bar. It does this by dampening low frequency vibrations, something which I'm sure your hands will appreciate. The sole bar actually serves an additional purpose – moving the center of gravity lower. One of the more visible traits that further helps move weight low and outside is the notch that you'll see in the back bar, which is, in more technical terms, called a perimeter-weighted back flange. Keeping this weight low and deep helps to drive the MOI, forgiveness, and stability up.
If you look closely across the full set, you will see that the toplines of the short irons have much more of a flowing arc shape than that of the others, which keep a pretty straight line down to the hosel.
Esthetics
My initial impression was that the AP1 is a great looking iron, certainly one of the best looking ones in its category. The designs of the more forgiving irons has gotten little crazy but Titleist kept the AP1 pretty straightforward and simple, not that we'd really expect anything different from Titleist. At first glance, it appears that there's not much visible difference from the previous AP1, but upon closer inspection a number of things jump out. First and foremost is the visible black TPU arms, which reside in an area (behind the face) that was primarily flat in the original AP1. These arms connect to a full ring of the thermoplastic urethane material that outlines the back and the cavity. This ring, however, is barely visible and easy to miss.
Long time Titleist fans can say what they want about the appearance of the AP1, but in my opinion, they have a much cleaner appearance than something like a Burner SuperLaunch or Diablo Edge. Of course, the timeless Titleist script etched in the black badge found in the back instantly adds a touch of class. On the toe side of the notched back flange is a small oval "AP1" badge that maybe could have been placed somewhere else on the back, but it's not much of a distraction from the overall appearance of the club. The 710 stamp on the hosel easily helps identify which product family these irons come from.
One of the most frequently talked about aesthetic qualities is the thickness of the topline. This year, you'll be looking down at a topline that is slightly thinner than that of the previous AP1. Blade length is also a bit shorter in the short irons. These two improvements combine to give the AP1 a much improved shape and feel that will likely appeal to many players as it did to me.
Performance
As usual, first on the list was to take them to the range and get a feel for how they set up and how much of an adjustment there was from my other irons. I always begin my practice routine with a number of partial shots with a shorter club such as a pitching wedge or gap wedge. Pretty quickly I figured out that it doesn't take much work with these irons to get the ball moving very quickly and very far. Even on my short warm-up swings, the ball would launch nice and high, and on a straight line towards my target. The Nippon shaft has a bit of a different, considerably lighter (17 grams lighter to be exact) and "flexier" feel than the Dynamic Gold S300 I'm used to. Because I prefer a heavier shaft, it did take a few swings to become accustomed to, but wasn't really that big of a deal.
I'd like to note that at times the AP1 didn't feel as stable during the downswing, towards impact as what I normally like, but I attribute that to the shaft. "Whippy" isn't quite the right word for it, maybe a better way to describe it was slightly loose. It was by no means unplayable, in fact, it was quite the opposite, and I don't think it affected the performance of the irons in terms of distance, but it did leave a little bit to be desired at times. If anything, they were a little longer, and they certainly got the ball high in the air though this could be due to the lighter, softer shafts coupled with lofts a bit stronger than the irons I normally play. Still, the overall feel on a flush shot was superb. In fact, the feel of shots struck across a very large part of the club face was great. I know there were some shots I hit with the AP1s that I really shouldn't have gotten away with, but instead I watched the ball rise quick and fall gently very much near my target line.
Full disclosure – I was supposed to have this review completed a good while ago, but due to some situations out of my control, I wasn't able to finish it as fast as I'd like to have. It turns out, the delay was a sort of blessing in disguise. I recently attended a demo day in which Titleist had representation, and luckily they had a wide array of 710 AP1s (as well as AP2s, CBs, and MBs), in a variety of popular shafts aside from the stock Nippon NS Pro. To be quite honest, my opinion of the AP1 changed significantly after trying it with both the Rifle Project X 5.5 and True Temper Dynamic Gold S300.
Let me make it very clear that I do prefer a heavier shaft such as the S300 (130 grams), so just because I had better experience with it doesn't mean that the NS Pro isn't an excellent choice, it's just that the S300 woke the AP1 up for me, so to speak. I'll go as far as saying that after trying the AP1 with various shafts, I now know what these clubs are truly capable of.
Anyway, let's not get carried away on just the shaft. After all, the AP1 overall is a great club. Taking them out to the course for the first time was a good experience. One aspect I was particularly pleased with is the performance of the long irons. So much so that I was longing for the AP1 3 iron. I don't care what the magazines say, I love my 3I, and based on how much I liked the AP1 4I and 5I, the 3I is surely just as good.
The long irons were, well, long, and very straight as well, with a high, piercing ballflight. This is one place where having the NS Pro shaft might be an advantage, as that's surely a contributing factor to that high launch. Most everything I hit with the long irons landed softly with little rollout. I found it a little tougher to go low with them, but it was by no means impossible. The same goes for working the ball left or right. Usually, I try to keep it straight with the long irons, but every once in a while the situation just calls for it. That added MOI made the AP1 a little more unpredictable when working left or right, but with a little more time in the bag and a little more familiarity, that problem goes away.
The mid irons were pretty strong as well. With the 7 iron, I was able to hit a number of different shots without much of an effort. It was pretty easy to hit a very high 155-160 yard shot that would land soft and stick, but the long, hard 165-170 yard bullet was slightly more of a challenge. I'm not saying it couldn't be done, it's just that I couldn't hit it as consistently as I usually do. The lower center of gravity in these clubs is designed to really launch the ball high, and to that I give the AP1 an A+.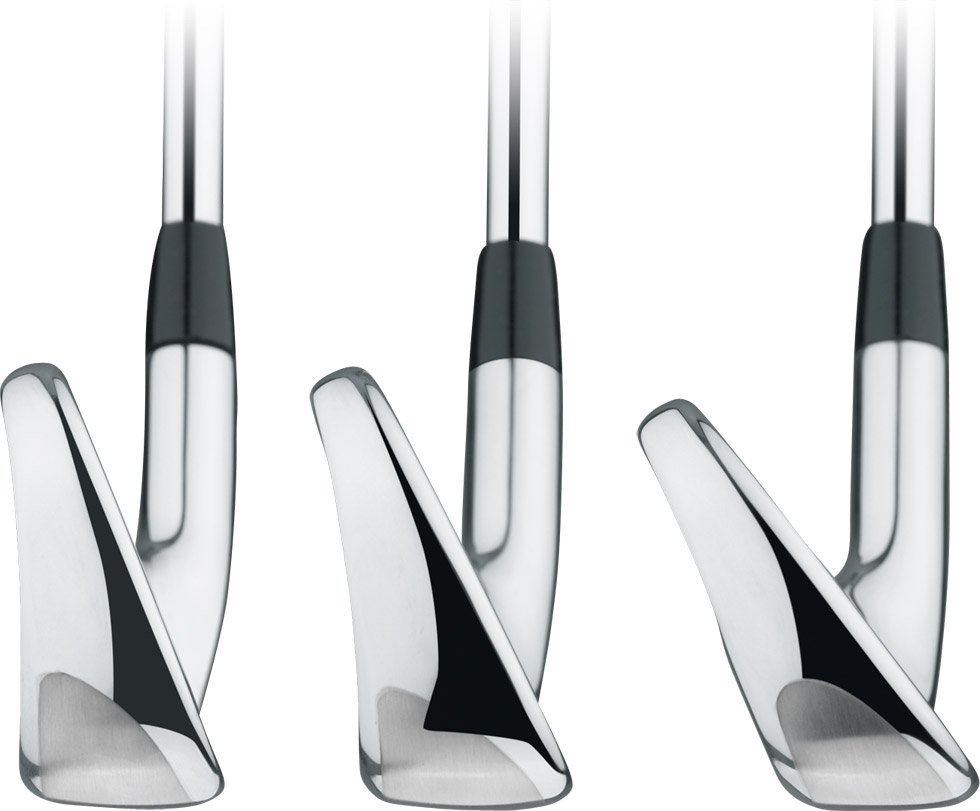 Across the entire set, the AP1 produced a smooth feel on contact made anywhere remotely close to the center. That doesn't mean that your hands aren't punished for lack of accuracy – you definitely are. It's just that even though your hands are left stinging, there's a good chance you're not sitting in too bad of a situation after it's over with.
Thanks in large part to the thickness of the sole and generous bounce, I never once had an issue with the AP1 digging too much into the turf. They performed equally as well the few times I had to call on them to get out of fairway bunkers. Those same qualities helped the AP1 move through thick grass with ease as well, as the sole helped to prevent the long stuff from wrapping around the club head. I had no problems executing great shots even out of some pretty areas, in fact places where I know I've struggled getting out of successfully in the past.
Specifications
The AP1's are lofted pretty much in line with other GI irons, that is, a little on the strong side, but nevertheless, it's nothing you haven't seen before. Available is a 3I up through a 50 gap wedge, though the 3I is a special purchase, as the stock set contains 4I-GW. As I mentioned earlier, the stock steel shaft is the NS Pro 105T, while it's graphite counterpart is the VS Proto-T 75. Both come wrapped in Titleist Tour Velvet rubber grips.
Of course, I'd be doing a disservice to them if I didn't mention Titleist's Custom Department. Not only did they get the AP1s set perfectly to my specs, they also offer a wide variety of custom shafts and grips in order to meet the needs of just about anyone and everyone. Among the popular shafts offered are the Dynamic Gold, Rifle, and Project X, as well as a number of graphite options if you prefer lighter options. Also, just in case the question crossed your mind, yes, the modified U grooves are conforming to the USGA and R&A's conditions of competition.
Standard Specs:
Club   Loft     Length     Lie      Bounce   Offset
----   ----     ------     -----    ------   ------
 3I     20°     39.00"     60.0°      1°     0.245"
 4I     23°     38.50"     61.0°      1°     0.220"
 5I     26°     38.00"     62.0°      2°     0.195"
 6I     29°     37.50"     62.5°      2°     0.170"
 7I     33°     37.00"     63.0°      3°     0.145"
 8I     37°     36.50"     63.5°      4°     0.125"
 9I     41°     36.00"     64.0°      5°     0.110"
 PW     45°     35.75"     64.0°      6°     0.105"
 GW     50°     35.50"     64.0°      7°     0.100"
Conclusion
There were only two aspects of the AP1 that I thought could have used improvement. The first of which was the shaft, but I still say to take that with a grain of salt, as preferences of that component differ so greatly from player to player. The other issue I had was with the durability of the chrome finish. After just a couple of rounds of normal play, I noticed a lot of weird scratches and streaks along the backs and the hosels, scratches that my other irons don't have. The more I paid attention to it, the more scratches I'd see accumulate. This hardly effects their ability to hit the ball well, and it's really not that big of a deal, just one I thought the potential buyer needed to be aware of.
Still, if there is one word I would use to sum up the new AP1 set, it's "balanced." By that, I mean there is a great deal of balance in all key aspects of the clubs, including feedback, playability, and appearance. They won't punish you as much as something like the 710 MB, but they're also not going to make everything feel good, like some max game improvement irons do. I'd recommend them to just about anyone, though with that recommendation, I'd also stress getting fitted for them. They'd make a good option for a player fairly new to the game, as they do provide enough feedback to tell the player when they're really off, yet they're forgiving enough to allow that player to get through a round without making it miserable. On the flip side, I've seen pictures of some of Titleist's pros playing them, so you know they do all that level of player demands as well.
The bottom line is the Titleist AP1 irons are a great option for a wide variety of players with a wide variety of goals for their game. I'd especially recommend them to a mid to high handicapper looking for a club that will fit them as they continue to progress in their pursuit of a lower index, and I'm quite certain that if you gives the AP1 a try, you'll walk away wanting them in your bag.