Most of the professional tours are starting to wrap up their respective seasons. The college golf season, on the other hand, has just begun. Last season's national champion was crowned just a few months ago, and it's time to get it started again. Between now and next June, the top programs in the country will fight it out for supremacy.
The Sand Trap will be covering college golf from now on, and rightfully so. Many of the world's best, including Tiger Woods, Phil Mickelson, and Jim Furyk, made their way through the college ranks before striking it rich at the professional level.
There is no better way to get the ball rolling than a season preview. I've put together my top-20 rankings, as well as my prediction for national player of the year, freshman of the year, and national champion. Sit tight and enjoy.

The Sand Trap Top 20
1. Oklahoma State
Oklahoma State starts this season where they finished the last. The Cowboys won their 10th National Championship behind the great play of Pablo Martin (National Player of the Year) and Jonathan Moore (National Freshman of the Year). Martin and Moore return this season, along with Tyler Leon, Trent Leon, and Ryan Posey. The Pokes will be tough to beat and will be in the hunt for the title all season.
2. Clemson
Clemson bounced back last season after a shaky 2004-2005 campaign. The Tigers lost two key seniors in Stephen Poole and Brian Duncan, but they will replace them with arguably the two best freshmen in the nation. Sam Saunders (Arnold Palmer's grandson) and Kyle Stanley will have a lot to prove, but they have more than enough talent to get the job done. The top returners for Clemson include Vince Hatfield, Tanner Ervin, and David May.
3. Georgia
Georgia was on top of the rankings nearly the entire 2005-2006 season before crumbling in the NCAA Championship. The Dawgs lose two senior leaders but they return their top three in scoring average (seniors Chris Kirk and Brendon Todd and sophomore Brian Harman). Georgia will be in the hunt once again, but they will need a couple youngsters to step it up and fill out the starting rotation.
4. UCLA
UCLA finished seventh at last year's NCAA Championship, and they return all their key pieces. Erik Flores is a first-team All American type of golfer, and Daniel Im and Kevin Chappell will provide stability as well. Incoming freshman Jason Kang will only makes things better. If the young Bruins can gel together, they will make a lot of noise next June.
5. Georgia Tech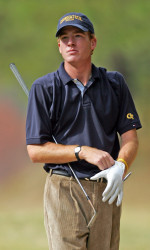 Georgia Tech missed the cut at last year's NCAA Championship, but they are loaded this season. The Yellow Jackets return four of their top-five in scoring average from a year ago, including Roberto Castro, Cameron Tringale, and Kevin Larsen. They also added three impact freshmen: Daniel Bowden, Chesson Hadley, and Paul Haley. Georgia Tech has all the tools to win the big one this season.
6. Lamar
Former coach Brad McMakin left the team to coach at Arkansas, but that won't stop the Cardinals from doing great things on the golf course this season. All five starters from a year ago return, including All-American candidates Dawie van der Walt and Oliver Bekker. The Cardinals won seven tournaments last season and will win their fair share this year as well. Lamar isn't necessarily a household name in college golf, but it will be after this season.
7. Wake Forest
Led by head coach Jerry Haas and my preseason Player of the Year Webb Simpson, Wake Forest will be in the mix once again this season. The Demon Deacons finished in a tie for third at the NCAA Championship this past June, but they will have to replace key seniors Kyle Reifers and Barr Blanton. Chris McCartin, Sean Moore, and Dustin Groves will provide stability, and freshman newcomers Brendon Gielow and Travis Wadkins (son of Lanny) could become a factor in the near future.
8. Florida
Florida lost four of five starters from a team that finished second in the NCAA Championship. The Gators always seem to reload, however, and that should be the case this season as well. Billy Horschel, who was the medalist at the U.S. Amateur Championship this past month, will be very tough to beat this season. Toby Ragland and Manuel Villegas (brother of Camilo) will have to step up their games this season, and incoming freshmen Tim McKenney and Robbie Wight might be tossed into the spotlight early.
9. BYU
BYU might fly under the rader this season, but they have the talent to win a lot of golf tournaments. The Cougars finished 15th at the NCAA Championship, and they return their top three golfers this year. Jake Ellison, Daniel Summerhays, and Clay Ogden all have All-American potential, and they will lead BYU to a fourth consecutive top-15 finish. If another youngster steps up, the Cougars could finish even higher than that.
10. East Tennessee State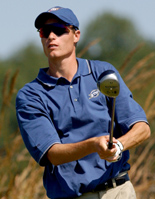 East Tennessee State missed the cut at the NCAA Championship last season, but they will do much better this time around. Their entire roster is from Great Britain & Ireland, and they are talented to say the least. Potential player of the year, Rhys Davies, will join junior Gareth Shaw to create a very formidable duo. Cian McNamara, Jordan Findlay, and Adam Hodkinson will more than likely fill out the starting five for the Buccaneers.
11. UNLV
UNLV returns five of their top six from a season ago, and they welcome incoming freshman standout Roberto Galleti Jr. as well. Top returners from last season include Jarred Texter, Seung-su Han, and C.J. Gatto. UNLV has a recent history of producing top professional golfers (Chad Campbell, Adam Scott, and Ryan Moore), and they have the talent this year to sneak up on some teams in college golf.
12. Minnesota
Minnesota is coming off a great 2005-2006 campaign where they finished in a tie for third at the NCAA Championship. Bronson LaCassie, who finished sixth in the individuals, also won the Western Amateur this summer. LaCassie will be one of the best golfers in the country this season, but he won't be doing it all for the Gophers. Niall Turner, Victor Almstrom, and Clayton Rask all return as well and will give Minnesota a huge boost.
13. USC
The Trojans didn't even make it to the NCAA Championship last season, but they will be much improved this year. USC lost two of their top three golfers, but they will replace them with one of the best recruiting classes in the nation. Great things are expected out of newcomers Rory Hie and Jamie Lovemark, and they are definitely talented enough to deliver. Top returners for the Trojans include Joshua Wooding and Jordan Nasser. Keep an eye on this young group of guys.
14. Texas A&M
The Aggies are one of three teams to advance to the NCAA Championships the past three seasons, and they should make it four in a row in the 2006-2007 campaign. Texas A&M returns four of their top six from last season, including potential All-American Bronson Burgoon. Other key returners include Bobby Gates, Martin Piller, and Trey Todd.
15. Kentucky
Kentucky had a great 2005-2006 season, finishing fifth at the NCAA Championship. They return three of their top five scorers from a year ago (Brad Doster, Ben Fuqua, and Andy Winings). Cale Barr, who missed last season, also returns for the Wildcats. Kentucky should return to the NCAA Championship, but they will be hard-pressed to improve on last year's finish. They are a solid squad nonetheless.
16. Arizona
Arizona would have been a national championship contender this season, but honorable mention All-American Henry Liaw unexpectedly turned professional. Nonetheless, the Wildcats still return nine of their ten best golfers from a season ago. Ben Fox, Josh Esler, Trey Denton, Brian Prouty, and Nicholas Park will certainly be able to hold the fort down. However, it might be a year of "what might have been" in Tuscon.
17. Washington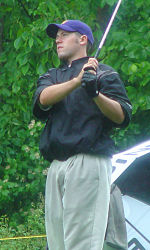 The Huskies lost senior and 2005 NCAA Champion James Lepp, but they still have potential All-American Alex Prugh. On top of that, they return three more starters from a year ago in senior Erik Olson, junior Zack Bixler, and sophomore John Wise. The Huskies always seem to reload, but they will need to have a near-perfect season to improve on their tie for ninth finish at last year's NCAA Championship.
18. North Carolina
North Carolina missed the cut at last season's NCAA Championship, and they will be on the bubble this year as well. The Tarheels return two key components in senior Martin Ureta and sophomore Robert Riesen. Ureta and Riesen will both have solid seasons. In order for this team to be a contender instead of pretender, Chase McFarland, Barden Berry, and Reed Darsie will have to step up and have solid seasons.
19. Duke
Duke struggled a little last season before finishing 12th at the NCAA Championship. The Blue Devils also lost their best player, Ryan Blaum, to graduation. Things may not be as good as they should be for the Dukies, but they still return a few key components. Potential All-American Jake Grodzinsky will be a good front-runner for the team. Clark Klaasen, Justin Hare, and Andrew Giuliani (son of Rudolph Giuliani) are all talented sophomores, and they will be asked to do a lot for this team to return to prominence.
20. Coastal Carolina
Coastal Carolina flew under the rader last season and missed the cut in a playoff at the NCAA Championship. The Chanticleers return one of the best golfers in the country this season, Dustin Johnson. The rest of the top five from a season ago return as well, including Moises Cobo, Joachim Fourquet, Cameron Hooper, and Zack Byrd. If you are looking for a team to suprise people, Coastal Carolina may be the one.
On the bubble: Arizona State, Alabama, Georgia State, Charlotte, Stanford.
Season Awards
National Champions – Georgia Tech Yellow Jackets
Player of the Year – Webb Simpson (Wake Forest)
Freshman of the Year – Kyle Stanley (Clemson)
First Team All-Americans
Pablo Martin – Oklahoma State
Jonathan Moore – Oklahoma State
Cameron Tringale – Georgia Tech
Webb Simpson – Wake Forest
Dustin Johnson – Coastal Carolina
Rhys Davies – East Tennessee State
Erik Flores – UCLA
Bronson LaCassie – Minnesota
Second Team All-Americans
Brian Harman – Georgia
Dawie van der Walt – Lamar
Jake Grodzinsky – Duke
Billy Horschel – Florida
Chris Kirk – Georgia Tech
Alex Prugh – Washington
Niklas Lemke – Arizona State
Rob Grube – Stanford
Third Team All-Americans
Mark Haastrup – Georgia State
Luke List – Vanderbilt
Oscar Floren – Texas Tech
David Merkow – Northwestern
Roberto Castro – Georgia Tech
Martin Ureta – North Carolina
Jake Ellison – BYU
Scott Stallings – Tennessee Tech
Five Things to Watch
1. Will Oklahoma State go Back to Back?
The Cowboys have all the pieces in place to win back-to-back NCAA Championships, but whether they will actually do it remains to be seen. No men's team has won back-to-back college golf titles since Houston did so in 1984 and 1985. Obviously the odds aren't with the Pokes to repeat.
They are clearly deserving of the number one spot because they won it all last season, and they return a lot of their top guys. However, it's just too tough to win two in a row in this day and age. Georgia Tech may not be the best team right now, but they will be by the time the 2007 NCAA Championship rolls around. Their experience and youth will come together to bring the school its first-ever college golf title.
2. Can Clemson's Dynamite Freshmen Replace their Departed Seniors?
It's pretty risky starting Clemson out at number two in the Sand Trap Top 20. They lost arguably their two best golfers to graduation. Their two stud incoming freshmen aren't regular newcomers, however.
It seems like Sam Saunders should already be graduating college instead of entering it. We have heard a lot about him already because he is Arnie's grandson. Saunders has a lot of hype to live up to, and he could come crashing down rather quickly. That's not going to happen though because he will be able to handle the spotlight. The talent is there, and everyone will see that this season.
Sam Saunders will be awesome, but Kyle Stanley will be even better. Stanley won the Sahalee Players Championship and Southern Amateur Championship this summer, and he will be ready to contend in college golf from day one. It's easy to see how Clemson will be even better with the youngsters than they were last season. I'm not a big Clemson fan, but it's definitely a good time to be one.
3. Which Top-Ranked Team Might Have a Let Down Late in the Season?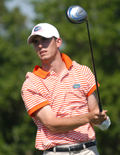 This category definitely isn't a friendly one. No top-ranked team wants to find their name on this list, even though a couple top teams struggle down the stretch every year. This year, the answer is pretty clear.
The Florida Gators are always loaded with talent like I mentioned above, but they aren't battle-tested this year. Other than Billy Horschel, who is only a sophomore by the way, nobody else has been in a big-time tournament. The Gators will still be good enough to make it to the NCAA Championship, but I'm seeing a missed cut for them once they get there.
4. Who Will be This Year's Surprise Team?
Last season, Loyola-Marymount came out of nowhere to make the NCAA Championship. They finished in last place in that same tournament, but at least they made it into the field of 30. When it comes to the surprise team for 2006-2007, Jacksonville is the first that comes to mind.
In Golf World's college preview, both Duncan Stewart and Russell Knox are on the top-50 college golfers list. Stewart and Knox are both seniors from Scotland, and they could take their team to great heights this season. The Dolphins also return their next three in scoring average: Jamie Kennedy, Matt Kleinrock, and Christian Martin. All in all, it won't surprise me one bit to see Jacksonville in the NCAA Championship next June. They might just make the cut as well.
5. Can Casey Martin Bring Respect to the Oregon Program?
You really don't have to be a golf fan to know the name Casey Martin. Martin battled it out with the PGA Tour for the use of a golf cart. This past June, the Oregon native was named the head coach of the Oregon Ducks golf team. The Ducks finished dead last in the Pac-10 Conference last season, and there is definitely a lot of work to be done.
Martin has stated his passion for the Oregon program and how he wants to turn the program into an elite one. The name recognition alone will bring in more top recruits than in the past. Also, the Great Northwest is a great area for golf.
Casey Martin may not turn things around this year or the next, but it's only a matter of time before the Oregon Ducks become synonymous with the NCAA Championship. Oregon is one of the colleges I follow closely, and I wish Martin and the golf program nothing but the best.
Thanks for reading The Sand Trap's 2006-2007 college golf preview. If you have any predictions of your own or anything else to add, feel free to comment below or discuss it in the forum. Enjoy the season!
Photo Credits: © RamblinWreck.com, © GoHuskies.com, © ETSUBucs.com, © GatorZone.com.